Do the Proud Boys Deserve To Be in Prison Forever?
Plus: A listener question concerning porn verification laws.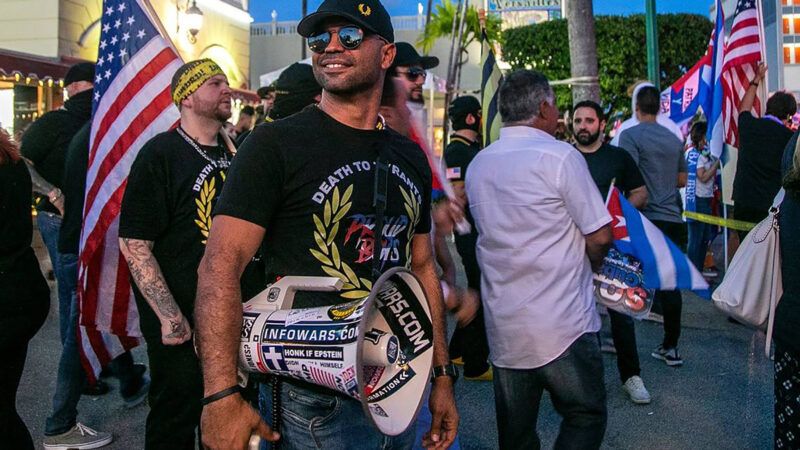 (Pedro Portal/TNS/Newscom)
In this week's The Reason Roundtable, editors Matt Welch and Katherine Mangu-Ward welcome special guests C.J. Ciaramella and Joe Lancaster to consider the particularly long prison sentences handed out to Proud Boys leaders for their roles in the January 6 Capitol riot and discuss President Joe Biden's use of email aliases.
2:19: Proud Boys leaders sentenced for their roles in the January 6 Capitol riot
20:24: President Joe Biden's email aliases
30:44: Weekly Listener Question
48:38: The aftermath of Hurricane Idalia
Mentioned in this podcast:
"Proud Boys Leader Sentenced to 17 Years in Prison Over January 6 Riot," by Robby Soave
"Punishing Rioters Is Wise. Bogus 'Seditious Conspiracy' Charges Are Not." by J.D. Tuccille
"Do These Seditious Conspiracy Convictions Prove the Capitol Riot 'Was Not Spontaneous'?" by Jacob Sullum
"Fani Willis Is Abusing Georgia's Terrible RICO Law," by Joe Lancaster
"Joe Biden's Email Aliases Are a Potentially Serious Transparency Problem," by C.J. Ciaramella
"Protecting Kids on Social Media Act Cloaks Attack on Privacy Behind Concern for Children," by J.D. Tuccille
"In Scathing Rulings, Federal Courts Block Arkansas and Texas Age Verification Laws," by Elizabeth Nolan Brown
"Federal Prison Guards Confessed to Rape and Got Away With It," by C.J. Ciaramella
"Subsidized Flood Insurance Makes Storm Damage Worse," by Joe Lancaster
"Immigrants Welcome Here: Puzzle #5," by Stella Zawistowski
Send your questions to roundtable@reason.com. Be sure to include your social media handle and the correct pronunciation of your name.
Today's sponsor:
Left-wing megadonors are shoveling money into pet projects that don't reflect American values. What's more, lawmakers continue to push bloated, big-government policies—like so-called student loan cancellation—and other programs that will inevitably raise prices and fail to reach the people they are meant to help. All isn't lost, though. You can help turn the tide with a charitable-giving account at DonorsTrust. DonorsTrust is a refuge from the storm of harmful, progressive philanthropy and big-government wheeling and dealing that's hurting our institutions and, more importantly, our loved ones. So, take cover and let my friends at DonorsTrust help you maximize your giving while minimizing your tax liability. Whether it's defending speech; empowering entrepreneurs to offer educational alternatives; or fighting green-energy extremists that want to consolidate power and raise prices on individuals and families, DonorsTrust is the charitable-giving-account provider for you. Visit www.donorstrust.org/reason to learn more.
Health insurance is broken. Premiums are increasing, deductibles are getting larger, and claims denials are becoming more common. The headache of health insurance is exactly why CrowdHealth was created. It's not health insurance—it's a better way to pay for health care through crowdfunding. CrowdHealth gives their members the freedom to efficiently and affordably break free from the antiquated insurance system, and into a health care option that fits your needs. The insurance companies don't give you the peace of mind you need. CrowdHealth does. That's why your $50/month membership includes the tools and services you need to get the highest quality health care. You'll get access to telemedicine visits, discounted prescriptions, and so much more—without doctors' networks messing things up. Plus, you'll have access to your own personal care advocate, who will help you navigate the complexities of health events and even negotiate bills on your behalf. And of course, you'll join the Crowd: a group of members just like you who want to help pay for each other's unexpected medical events. It's time you opt out of restrictive health insurance plans and let CrowdHealth help fit your health care needs. Get started today for just $50 per month. Use code ROUNDTABLE to get the health care you deserve.
Audio production by Ian Keyser; assistant production by Hunt Beaty.
Music: "Angeline," by The Brothers Steve
---