Fani Willis Is Abusing Georgia's Terrible RICO Law
Trump and his acolytes' conduct was indefensible, but the state's RICO law is overly broad and makes it too easy for prosecutors to bring charges.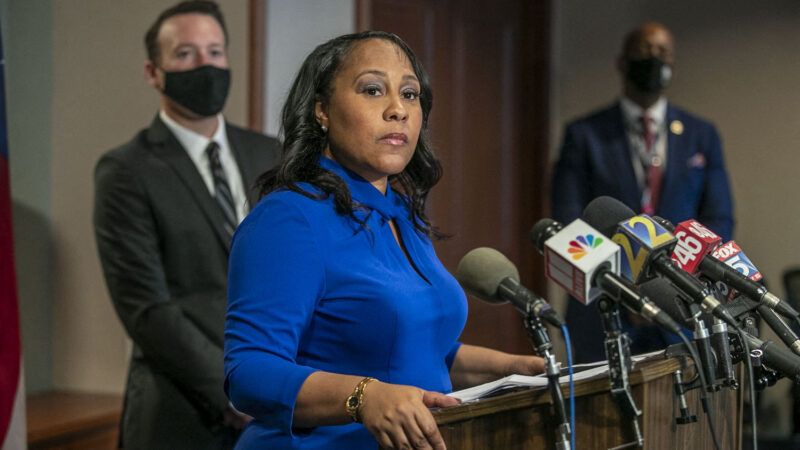 (Alyssa Pointer/TNS/Newscom)
This week, District Attorney Fani Willis of Fulton County, Georgia, charged former President Donald Trump and 18 others based on their collective efforts to subvert the results of the 2020 election and keep Trump in power. Among 41 felony counts, Willis charged each defendant under Georgia's Racketeer Influenced and Corrupt Organizations (RICO) Act.
Reason's Elizabeth Nolan Brown and Jacob Sullum have detailed the charges against Trump, et al., including the RICO portion. The defendants' conduct was indefensible and a jury will likely decide whether it rises to the standard of "constitut[ing] a criminal organization," as the indictment alleges. But even apart from this case, Willis' proclivity for RICO charges is concerning.
The original federal RICO law was drafted for use against the mafia, allowing prosecutors to bring conspiracy charges based on certain predicate acts. It quickly expanded to include all manner of activity that was already illegal but could now be charged more aggressively. As Reason noted all the way back in 1990, "Ambitious federal prosecutors have now discovered RICO's many uses, and this poses a great danger to civil liberty and free enterprise."
Georgia's RICO law is even more expansive than its federal counterpart—for example, it does not require multiple defendants or an extended timeline to establish a conspiracy. Former prosecutor Chris Timmons told ABC News, "Somebody could go to JC Penney, shoplift a pair of socks, walk next door to Sears and shoplift a second pair of socks, and they can be charged with RICO."
The law also makes it easier to bring racketeering charges than the federal statute: As former federal prosecutor Ken White noted on the Serious Trouble podcast this week, federal cases must satisfy numerous "elements" to support RICO charges; the Georgia statute, on the other hand, doesn't specify any requisite elements, making it much easier to charge on flimsier evidence.
Willis is unapologetic about her use of the statute, saying in August 2022, "I'm a fan of RICO." As a deputy D.A., Willis was the lead prosecutor on the case against Atlanta public schoolteachers accused of cheating in order to inflate standardized test scores. While the state's decision to charge teachers and administrators as racketeers was controversial, it worked: Prosecutors secured 11 convictions and 21 guilty pleas.
Willis noted this week that her office has pursued 11 RICO cases since she became D.A. in January 2021. She has primarily used it against gangs, bringing RICO charges in 2022 and 2023 over a series of Atlanta shootings and home invasions. In 2022, she also charged 28 people—including Atlanta rappers Young Thug and Gunna—under the state RICO statute as members of the YSL gang, incorporating allegations going back to 2013.
RICO statutes allow prosecutors to bring charges using guilt by association. Kerry Martin wrote in the Michigan Journal of Race & Law that RICO "is not supposed to criminalize mere membership in a gang, but it comes dangerously close to doing so." Georgia's statute is even worse.
Perhaps Trump and his co-conspirators truly did "constitute a criminal organization," as Willis's indictment alleges. And it's entirely possible that Young Thug was party to committing felonies, either alone or as part of the YSL gang. But a conspiracy charge should require more thought and preparation than the "kitchen sink" approach currently available in Georgia and favored by one of its most prominent prosecutors.