Joe Biden's Email Aliases Are a Potentially Serious Transparency Problem
Multiple administrations have allowed senior officials to use alias email accounts. The practice undermines the Freedom of Information Act and encourages secrecy.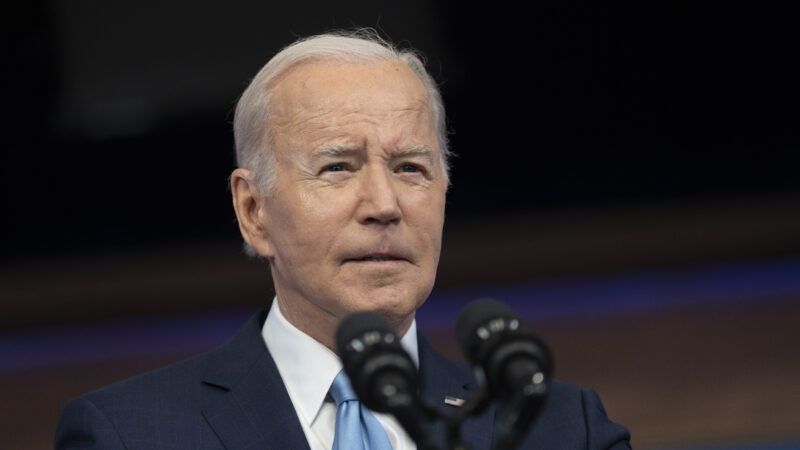 (Chris Kleponis - Pool via CNP/picture alliance / Consolidated News Photos/Newscom)
The National Archives and Records Administration (NARA) has more than 5,000 potential emails from three aliases President Joe Biden used while serving in the Obama administration, according to a Freedom of Information Act (FOIA) lawsuit filed Monday.
The New York Post first reported in 2021 that Biden used at least three pseudonyms—"Robin Ware," "Robert L. Peters," and "JRB Ware"—on emails that mixed family and government business. The aliases were reportedly discovered in emails found on Hunter Biden's infamous laptop.
The Southeastern Legal Foundation, a legal nonprofit group, filed a FOIA request in June 2022 for all emails associated with the aliases. In its initial response to SLF's FOIA request, NARA said it had identified roughly 5,400 records potentially responsive to its request. However, NARA has yet to turn over those records. On Monday, the SLF filed a FOIA lawsuit to compel production.
"All too often, public officials abuse their power by using it for their personal or political benefit. When they do, many seek to hide it," SLF General Counsel Kimberly Hermann said in a press release. "The only way to preserve governmental integrity is for NARA to release Biden's nearly 5,400 emails to SLF and thus the public. The American public deserves to know what is in them."
House Oversight Committee Chairman James Comer (R–Ky.) also asked the National Archives earlier this month to turn over the records. The House Oversight Committee has been investigating Biden's business affairs and allegations of influence peddling. Biden has insisted that he maintained an "absolute wall" between family business and government affairs.
Whether or not those emails contain government business or evidence of impropriety that Republicans have been searching for, the use of multiple pseudonymous email addresses and aliases, at the very least, creates suspicion for FOIA requesters. How are watchdog groups and records requesters supposed to know the government is performing complete searches if the existence of alternate or private email addresses isn't revealed?
However, despite criticisms from transparency groups, the practice has been fairly widespread for at least the past few administrations. Obama-era EPA Administrator Lisa Jackson used the alias "Richard Windsor" and her private email address in messages with lobbyists. Former Attorneys General Eric Holder and Loretta Lynch also used alias email addresses. Trump-Era EPA administrator Scott Pruitt had four government email addresses.
The Obama administration defended using alternate government email addresses as necessary for high-level political appointees since the flood of emails to their public inboxes made those accounts unreasonable to manage.
At a 2013 press conference, then-White House press secretary Jay Carney assured reporters that "this is a practice consistent with prior administrations of both parties, and, as the story itself made clear, any FOIA request or congressional inquiry includes a search in all of the email accounts used by any political appointee."
Carney also stressed that the officials still used government email addresses, not private ones. "It is obviously counseled very clearly that we do not use and should not use private email accounts for work," he continued.
NARA guidance is clear that private email should not be used for government business except in extraordinary circumstances. If it is, the messages should be promptly forwarded to an official account for archiving. 
A couple of years later, the scintillating topic of email retention policies became the crux of a presidential election and a significant contributor to former Secretary of State Hillary Clinton's defeat. Despite Democrats' attempts to wave away Clinton's private email server scandal with "but her emails," it was an intentional and serious mishandling of public records, for which Clinton refused to take responsibility until it became clear that it was a significant political liability.
The details of the server scandal have receded into the partisan fog of history, but it's helpful to remember that it wasn't just Clinton. State Department employee and Clinton aide Huma Abedin also had an account on the private server. And although Clinton aide Philippe Reines fiercely denied (to myself and roughly a dozen other reporters) using private email for work, he later turned over 20 boxes of emails from a private account in response to a FOIA lawsuit against the State Department.
Two of Biden's three known email aliases were private Gmail accounts. In one email published by The Daily Mail, Hunter Biden emailed one of those private accounts to push for then-deputy White House counsel John McGrail to get a job in the Treasury Department. Biden responded, "Re Johnny call me right away Dad."
As I said, it's unknown what NARA's tranche of emails contains or whether those private Gmail accounts were included. But if their haul involves government business, it will be a major political headache for Biden—of his own making.