Florida Drug Warriors Say They Had to Erase Possibly Incriminating Surveillance Video—for Their Own Protection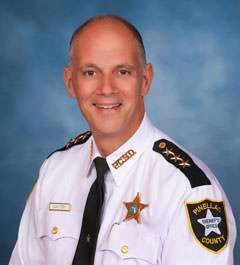 Last month I noted that Pinellas County, Florida, Sheriff Bob Gualtieri (right) was investigating allegations of trespassing and perjury against narcotics detectives who obtained search warrants by claiming they could smell marijuana while standing on public property outside of people's homes. The Tampa Bay Times, which broke the story, reports that Gualtieri faces credibility problems because of lackadaisical internal affairs investigators who seem to have been more interested in averting a scandal that in ferreting out the truth. The story highlights the case of Allen Underwood, a Seminole marijuana grower who says his surveillance cameras caught Sgt. Chris Taylor illegally hopping his fence prior to a 2010 search of his house. Sheriff's deputies seized the surveillance system's DVR during the raid and erased the hard drive—to protect the identities of undercover officers, Taylor claims. The internal affairs investigators who looked into Underwood's complaint seem to have accepted Taylor's excuse from the outset. Here is one of them questioning the officer who reported the erasure of the security footage to the technician who examined the hard drive:
Q: If a suspect or someone during a drug buy recognizes them as a police officer, they could be seriously hurt or even killed, right?

A: That is correct.

Q: It would basically make the detective useless in an undercover capacity?

A: Yes, it would.
The investigators did not pursue the question of why the DVR, which Underwood says contained three weeks of images, had to be wiped clean if the aim was to conceal detectives' faces on the day of the raid. They showed even less interest in the premium cigars and jewelry that Underwood says went missing after the search. Nor did they ask about a report in which a former FAA weather observer concluded that the detectives who claimed to have sniffed out Underwood's pot plants, Paul Giovannoni and Michael Sciarrino, "could not have possibly smelled any scent" at the location and times they reported.
Based on the internal affairs report, the department's Administrative Review Board gave Taylor a five-day suspension for mishandling the DVR but cleared him and the two detectives of trespassing. Gualtieri, who says he signed off on this investigation without reading the underlying documents, promises that this time around he will leave no stone unturned. He has removed Taylor, Sciarrino, and Giovannoni from active duty pending the outcome of his investigation. He has said "many" cases may be thrown out as a result of illegal searches.
Underwood's lawyer remains skeptical. "The same people that were signing off on everything on the Underwood case, now all of sudden when it is brought to public attention, they say they are cleaning it up," he tells the Times. "Where were they a year ago?"
[Thanks to Mensan for the tip.]