Backpage Defense Lawyers Call for Mistrial After 'Inflammatory' Opening Statements
The defendants are not on trial for child sex trafficking, yet prosecutor Reggie Jones wouldn't stop talking about it.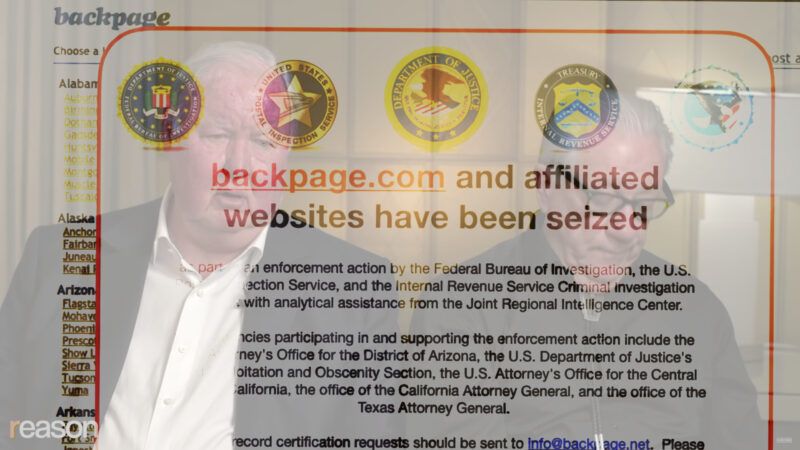 (Background: Reason; overlay: screenshot, Backpage.com)
The federal trial of Backpage.com's founders and former executives launched last week—and it's off to a frustrating start. In the state's opening remarks, prosecutor Reggie Jones misrepresented Backpage ads and the law, while harping on specific crimes of which the defendants aren't even accused. Defense lawyers are already calling for a mistrial.
"The government's opening argument was a parade of horribles about human trafficking destroying the lives of trafficked women and children, with barely any mention of charged counts and zero linkage of any Defendant to any charged count," states their motion. "The opening offended the law, ignored indisputable facts, and consisted of inflammatory, unproven, and unprovable assertions that fail in any event to address what the government must prove to convict any defendant."
On trial are veteran journalists and publishers Michael Lacey and James Larkin, who founded the classified ad platform Backpage in 2004. Four of their former colleagues at Backpage join them. The six were arrested in April 2018—and authorities have been fighting dirty ever since.
(Reason has written about the lead-up to this arrest and the subsequent prosecution many times; you can find all of our coverage here. For a good overview of who's on trial and what's at stake, see this piece from our December 2018 issue and this video. For more on what federal prosecutors said about Backpage behind closed doors and how it contradicts their public statements, see this piece.)
Lacey, Larkin, and others are charged with facilitating prostitution in violation of the federal Travel Act. They are not charged with sex trafficking, a federal crime that involves not just commercial sex acts (a.k.a. prostitution) but the involvement of minors in such acts or the use of force, threats, fraud, or coercion. Though prostitution is not illegal under federal law, it is a misdemeanor crime almost everywhere in the U.S., and the Travel Act—with its invocation of interstate commerce—gives the feds the means to go after people accused of facilitating it. The defendants are also charged with conspiracy and various money laundering offenses related to this alleged facilitation.
Before Backpage was seized by the feds, it operated much like Craigslist, providing a platform for user-generated ads of all sorts, including adult ads. In its indictment, the Department of Justice cites 50 specific adult ads that allegedly prove defendants facilitated prostitution.
Judge Susan Brnovich of the U.S. District Court for the District of Arizona has stressed multiple times that this case is not about everything ever published on Backpage but the specific ads mentioned in the indictment and whether the specific defendants now on trial knew about these ads and knew they were facilitating illegal activity. Brnovich ruled that federal prosecutors can make general reference to the fact that people have accused the site of facilitating sex trafficking but not reference specific crimes or accusations unrelated to the case at hand.
Yet during opening remarks to the jury last Friday, Jones repeatedly threw around sex trafficking allegations, including the broad accusation that the defendants facilitated "human trafficking" and allowed children to be "sold for sex" Twice, Jones showed jurors images of women whose teen daughters allegedly appeared in Backpage ads.
Jones both opened and closed his remarks to jurors with stories about these women and their daughters. But neither of these families, nor the alleged ads that involved them, are part of the ads making up the indictment in this case. (They are, however, the same two women who have appeared in a plethora of lawsuits, government hearings, and press accounts condemning Backpage for around a decade now.)
Trial prosecutors are not allowed to just randomly tie defendants to heinous crimes they're not on trial for… and yet here we are.
The allegation that Lacey, Larkin, and the other executives sold children for sex is "a bald-faced lie," argues journalist Stephen Lemons at Front Page Confidential, a site published by Lacey and Larkin and edited by Lemons (who used to work for the pair at their flagship alt-weekly, Phoenix New Times). Backpage "did not countenance children on the site or illegality of any kind, both banned by the site's terms of use."
Backpage executives and moderators actively tried to weed out ads featuring people under age 18—though, like Twitter and other social media sites, did not succeed 100 percent of the time. Its official policy was to reject images featuring what appeared to be underage individuals (and to report these to the National Center for Missing and Exploited Children). It also cooperated with law enforcement in prosecuting people who did use the site for harm.
"The FBI's ability to identify and locate sex trafficking victims and perpetrators was significantly decreased following the takedown of Backpage.com," stated a recent Government Accountability Office (GAO) report. "According to FBI officials, this is largely because law enforcement was familiar with backpage.com, and backpage.com was generally responsive to legal requests for information."
This is quite different from the picture Jones painted for jurors last week.
According to the motion for a mistrial, Jones mentioned "children" at least 47 times and "trafficking" at least 13 times.
Jones also conflated all sex work ads on Backpage with ads for prostitution, despite the fact that all sorts of legal sex work was advertised on the site and that—regardless of what people were ultimately doing behind closed doors—posters to Backpage were explicitly forbidden from advertising illegal services like prostitution. He said that all of the money Backpage made from adult section postings was for "prostitution ads" and told jurors that "the vast majority of advertisements on Backpage.com were prostitution."
But "the government has no ability or intention to prove this," note defense lawyers, pointing out that "every single ad the government presented during its opening is a facially legal ad; not a single ad says that a sex act will be performed for the exchange of money."
Jones also improperly represented the defendants' legal culpability, telling jurors that because Backpage executives had been put "on notice" of improper ads—state attorneys general, the Auburn Theological Seminary, and CNN had all raised concerns about Backpage ads promoting illegal activity—executives were henceforth legally liable for any unlawful content. But this is an absurd distortion of how the law works. A CNN broadcast generalizing about bad stuff on certain social media platforms doesn't make those platforms suddenly legally liable for any and all illegal content posted by third parties.
In a maddening bit of damned-if-they-do, damned-if-they-don't, Jones continually portrayed any complaints by any party (media, religious groups, government officials) as hard evidence of the defendants' guilt while simultaneously portraying anything done to rid the site of illegal or explicit comment as more evidence of their guilt. In Jones' telling, anecdotes about bad actors should've made them clean up their act, yet any attempts to clean up their act are also evidence that they deserve to be punished.
Meanwhile, throughout Jones' ample inflammatory and inaccurate statements, he hardly brought up any of the specific ads from the indictment or attempted to prove that the defendants knew about these specific ads.
It seems pretty clear that the prosecution intends to try defendants in this case not based on the actual facts and evidence at hand—nor the specific laws the defendants are charged with violating—but on anecdotes, reputation, speculation, and emotional tales. The government wants jurors to send Lacey, Larkin, and the others to prison for the rest of their lives over things like sex workers using the site, CNN condemning it, and two mothers, roughly 10 years ago, finding ads for their teens among the millions of ads posted to Backpage.
At stake in the trial is much more than the freedom of these defendants, however. Their prosecution represents a major new frontier in federal government attempts to quash online content, interfere with sex work in the digital era, and hold social media platforms accountable for third-party posts. As sex worker and advocate Savannah Sly told The Daily Beast last week: "Sex workers are the canary in the coal mine. And the general public better pay attention to what happens with Backpage."
This trial showcases the lengths the government is willing to go to in order to eradicate and punish speech it doesn't like. And, as Reason has been warning for years, they won't stop at Backpage.