The Senate Accused Them of Selling Kids for Sex. The FBI Raided Their Homes. Backpage.com's Founders Speak for the First Time.
An inside look at how indie media veterans James Larkin and Michael Lacey became the targets of a federal witchhunt.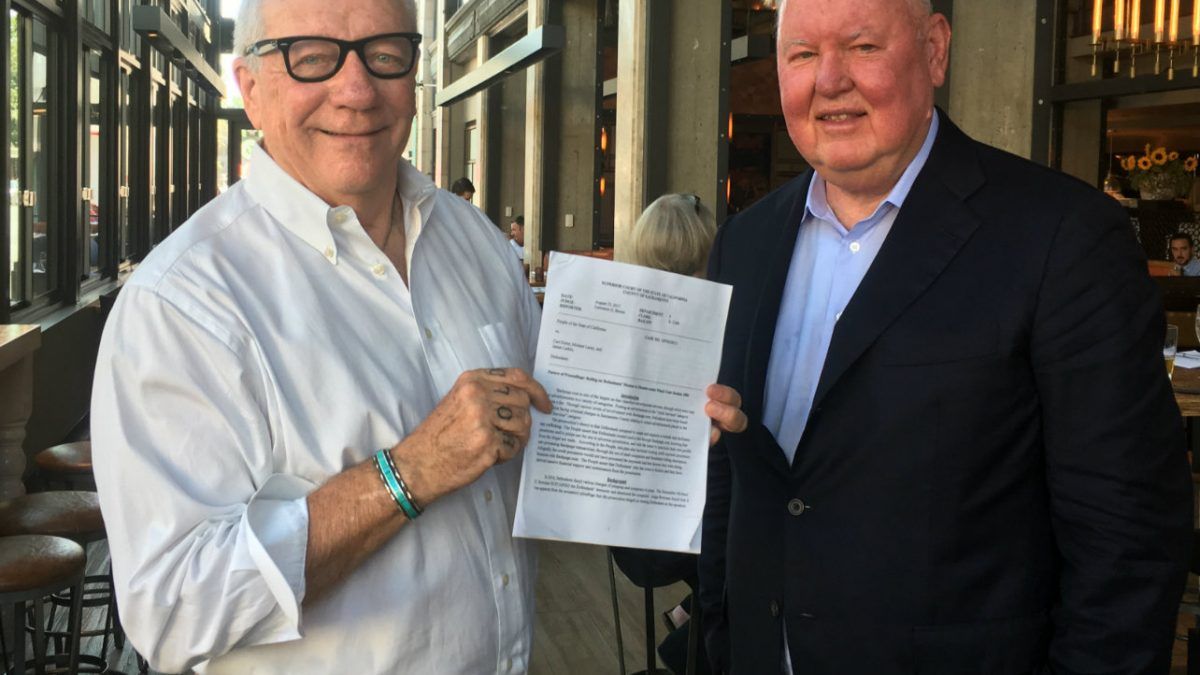 The first time I met Backpage.com co-founder Michael Lacey it was January 2017, and he had just been grilled by a Senate subcommittee over allegations that he and his publishing partner James Larkin had, in the words of the committee report, "knowingly facilitated the criminal sex trafficking of vulnerable women and young girls." The second time, at Larkin's Arizona home in July of this year, Lacey was wearing an ankle monitor.
Both men had been fitted with the trackers three months earlier following an FBI raid on their homes, an experience Lacey likens to the "intense emotional violation" he felt having his house burglarized when he was young. The raid was the culmination of years of legal and political battles between them and both state and federal authorities, including the National Association of Attorneys General, the notorious anti-immigrant sheriff Joe Arpaio, Democratic Sen. Kamala Harris, and John and Cindy McCain.
Now, Lacey and Larkin, ages 69 and 70, respectively, are confined by court order to Maricopa County and stuck wearing homing devices under their pant legs to ensure it. The monitors beep like fire alarms when the batteries get low. "It's a constant slap in the face," says Lacey. It's July, and his monitor is plugged into the wall behind Larkin's kitchen table. Larkin grew up in Phoenix, raised four children in the city, and with, Lacey, built a newspaper empire in the desert. Today, Larkin's front yard is a fortress of cactus plants and other desert greenery.
Their confinement will last through 2020, when their trial is scheduled. Their bank accounts have already been seized. "Everything has been brutal," says Larkin.
Both men argue that the case against them is politically motivated and that current stalling on the state's part is designed to force a plea. But "they're going to have to win this in court," says Lacey, "and we don't think they can. And our lawyers don't think they can."
Officially, Larkin, Lacey, and several of their former colleagues were accused of money laundering, conspiracy, and violating the Travel Act, which says local crimes become federal business when they cross state lines. But in the court of public opinion, you'll hear that they were complicit in facilitating underage prostitution as the founders and former owners of the now-shuttered classified ad website Backpage.
After its 2004 launch, Backpage became inextricably linked in the popular imagination with sex trafficking, thanks to a relentless campaign by well-funded activists, government lawyers, and some of the nation's most prominent politicians. Officials heralded the April 2018 FBI seizure of the website and the arrests of Lacey and Larkin as a major victory against the exploitation of women and children.
Yet even the charges both men face hint at the weakness of that story. Neither Lacey nor Larkin is accused of directly participating in any sexual exchange or of having knowledge about any particular crimes advanced through the platform. In fact, law enforcement sources have over the years consistently applauded Backpage for its help making cases against predators and locating runaway teens.
The story of their arrest, then, is better understood as one of near-religious fervor, government greed, and political retribution, in which an escalating panic over commercial sex coincided with a booming online publishing platform.
"We didn't go looking for this fight," says Lacey, whose knuckles are tattooed with the words HOLD FAST. "But we didn't back away from it either."
New Times & Village Voice Media covers
'We Weren't Going to Get Censored by Anybody'
For most of their careers, Lacey and Larkin were anti-heroes of the "alternative press" scene—scrappy purveyors of what longtime California Bay Guardian publisher Bruce Brugmann called "desert libertarianism."
The pair saw little tension between truth and profits, had no use for partisan posturing, and enjoyed trolling establishment media. Larkin was the more reserved partner and the business brains of the operation, Lacey its erratic editorial genius. Together, the two men built a free newspaper empire on hustle, idealism, an antagonistic attitude toward authority—and paid classified ads.
They began with the Phoenix New Times, co-founded by Lacey in 1970 as an anti-war newspaper on the campus of Arizona State University in Tempe, and would go on to publish papers in 18 cities, including New York, Los Angeles, Miami, Seattle, and St. Louis. Larkin joined in '71, after returning from school in Mexico, where he was inspired by the country's student activists.
From the outset, they wanted to make an impact. "I felt that the paper…really had an opportunity to be politically powerful," says Larkin. But not in the way that the area's existing papers were powerful: New Times never endorsed candidates and didn't shy from digging into the foibles of area powerbrokers.
In Arizona, that meant taking ample swipes at Sheriff Joe Arpaio—who would eventually demand years' worth of personal data on New Times readers and have Lacey and Larkin jailed for writing about it—as well as anyone who cozied up to Arpaio, Republican Sen. John McCain, or his wealthy wife, Cindy. The paper would report on the McCains for their involvement with savings-and-loan scammer Charles Keating; dredge up Cindy's dad's connection to mobsters and murdered Arizona Republic journalist Don Bolles; and out Cindy as an opioid addict who forged prescriptions and stole pills from the children's charity she founded.
"We weren't trying to curry favor," says Larkin. "We didn't line up with the establishments in any city that we were involved in….We didn't really care what politicians saw in us. And that's come back to haunt us."
New Times took a radical approach to topics other outlets wouldn't touch. "It wasn't simply the war," says Lacey. Women's rights and gay rights were also big topics. "One of the first stories we did, I had my girlfriend fly to California to figure out how to get an abortion—you could not get an abortion in Arizona—and we just created a roadmap of, 'if you need to do this, here's how you do it.'" Next to full-page ads from J.C. Penney, "we had a cartoon strip called Ben Gay: The Diary of a Liberated Homo." When New Times' first printer had reservations about the content, "Jim found another printer" right away, remembers Lacey. "We weren't going to get censored by somebody who was merely printing the goddamn newspaper. In fact, we weren't going to get censored by anybody."
The legal battles started early. Ironically, their first big showdown with government would also revolve around advertising.
At the time, it was illegal not only to provide or use abortion services in Arizona but also to advertise them. In October 1971, New Times ran an ad for "Problem Pregnancy Information Service," a group arranging transportation to California, where the procedure was legal. The paper was convicted but filed an appeal. Because Roe v. Wade had been decided by the U.S. Supreme Court in the interim, a 1973 ruling from the Arizona Court of Appeals not only invalidated the conviction but found the state's whole set of abortion statutes unconstitutional.
The following year, New Times would successfully challenge restrictions at the University of Arizona, which had declared that the paper could only be distributed at six points around campus and must pay for the privilege. "The free publication and dissemination of books and other forms of printed matter are within the constitutionally protected freedoms of…press or speech," noted the Court, and it is "immaterial that dissemination takes place under commercial auspices." It also rejected the school's argument that the potential for newspaper littering justified limiting New Times distribution.
Those early fights previewed what would become the paper's typical "stubborn approach to bureaucrats telling us 'you can't do that' or 'we're not going to allow you to do that,'" says Larkin. "We knew what our rights were to distribute opinion and news."
Before long, the attacks would come from far outside of Arizona, as New Times bought up failing alt-weeklies in other cities—first Denver, then Miami and Dallas—and turned them around. In 1990, Phoenix magazine called the two men "the new presslords" and described their plans as "escalating."
That, Lacey said at the time, "defines our response at New Times. You wanna pick a fight? Great. We escalate."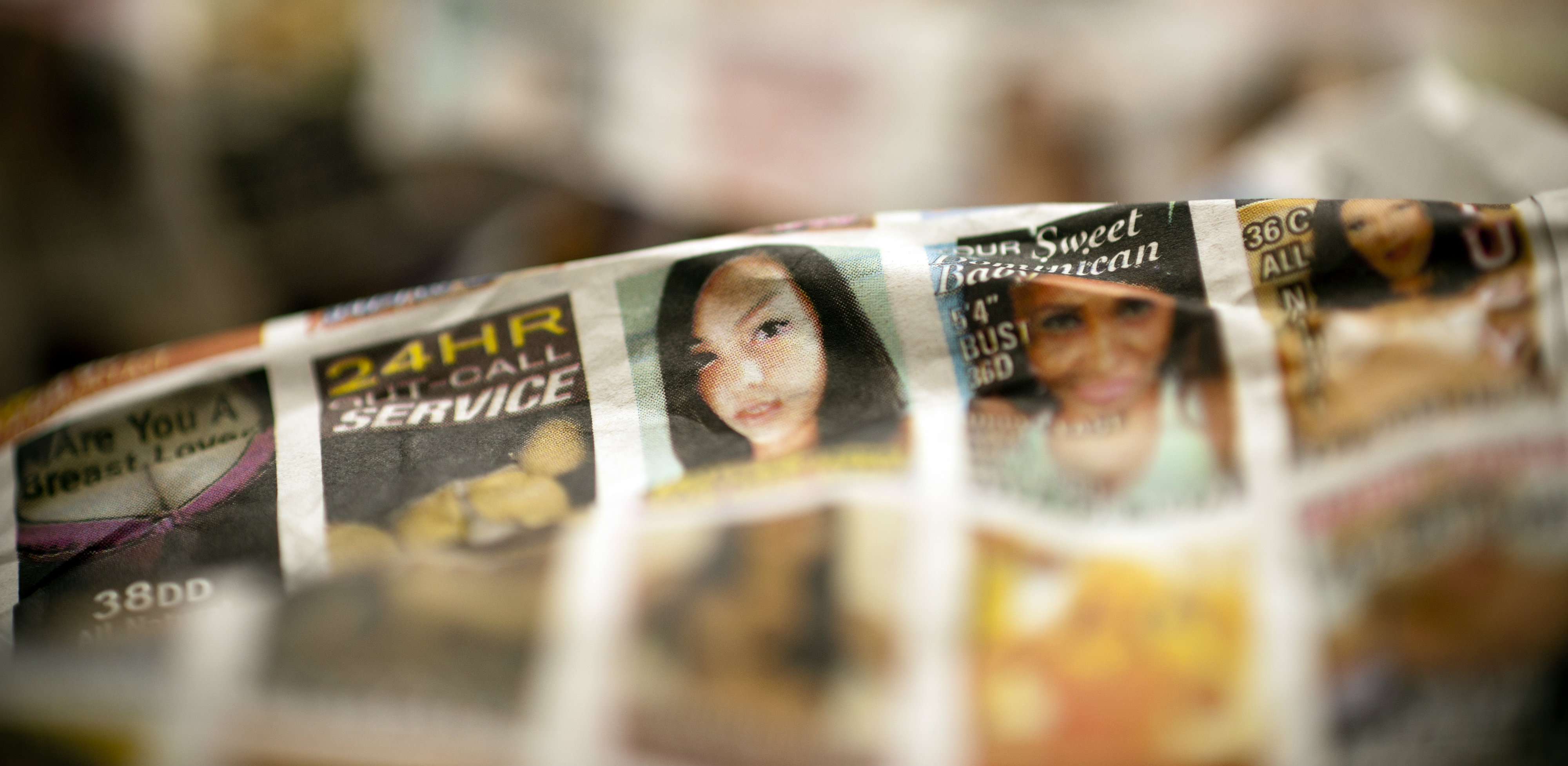 'Sleaze Merchants'
By 2012, Lacey and Larkin sat atop 17 newspapers that, by their count, had won more than 1,400 journalism awards, including a 2007 Pulitzer for Jonathan Gold's food writing in LA Weekly. But their publications offered more than hard-hitting investigative exposés. New Times papers also covered such advertiser-friendly topics as food, arts, and entertainment. Because the papers were free to readers, it was advertising—particularly classifieds—that paid the bills.
The rear section of any New Times paper was packed with such ads—help wanted, for rent, for sale—culminating in a premium-priced ad showcase on the paper's back page.
Starting in 1989, New Times Inc. used "Audiotext"—which combined pay-per-minute 900-numbers with call-in voicemail boxes—to let readers reply directly to personals ads. It would give a huge boost to ad revenues and prove so popular that the company set up its own telephone service.
Pioneered by alt-weeklies, "voice personals" soon spread to mainstream newspapers, becoming a multibillion-dollar business. Like print ads before and online ads to come, these services drew ire from concerned citizens and attorneys general, largely because so many of them were sexually oriented. In 1990, the Associated Press reported that "sleaze merchants" were threatening "to turn '900'-number dialing services into the 'Times Square of telephone services' unless tough national standards are adopted."
By the turn of the century, however, the money began to dry up. Voice personals—and paid, printed classified ads in general—could no longer cover the tab for the journalism they had long supported. The internet, and Craigslist specifically, upended the business model that had sustained Lacey and Larkin's newspapers by providing an online platform for classifieds untethered from articles.
When New Times Inc. acquired Village Voice Media in 2005, the publisher of the storied New York alt-weekly said Craigslist had already cost the paper millions in revenue. It was "the biggest single crisis the Village Voice has faced in its whole 50 years." Alt-weeklies across the country were floundering.
Amid all this, in 2004, Backpage.com was born.
'Can't Do This Without Your Help'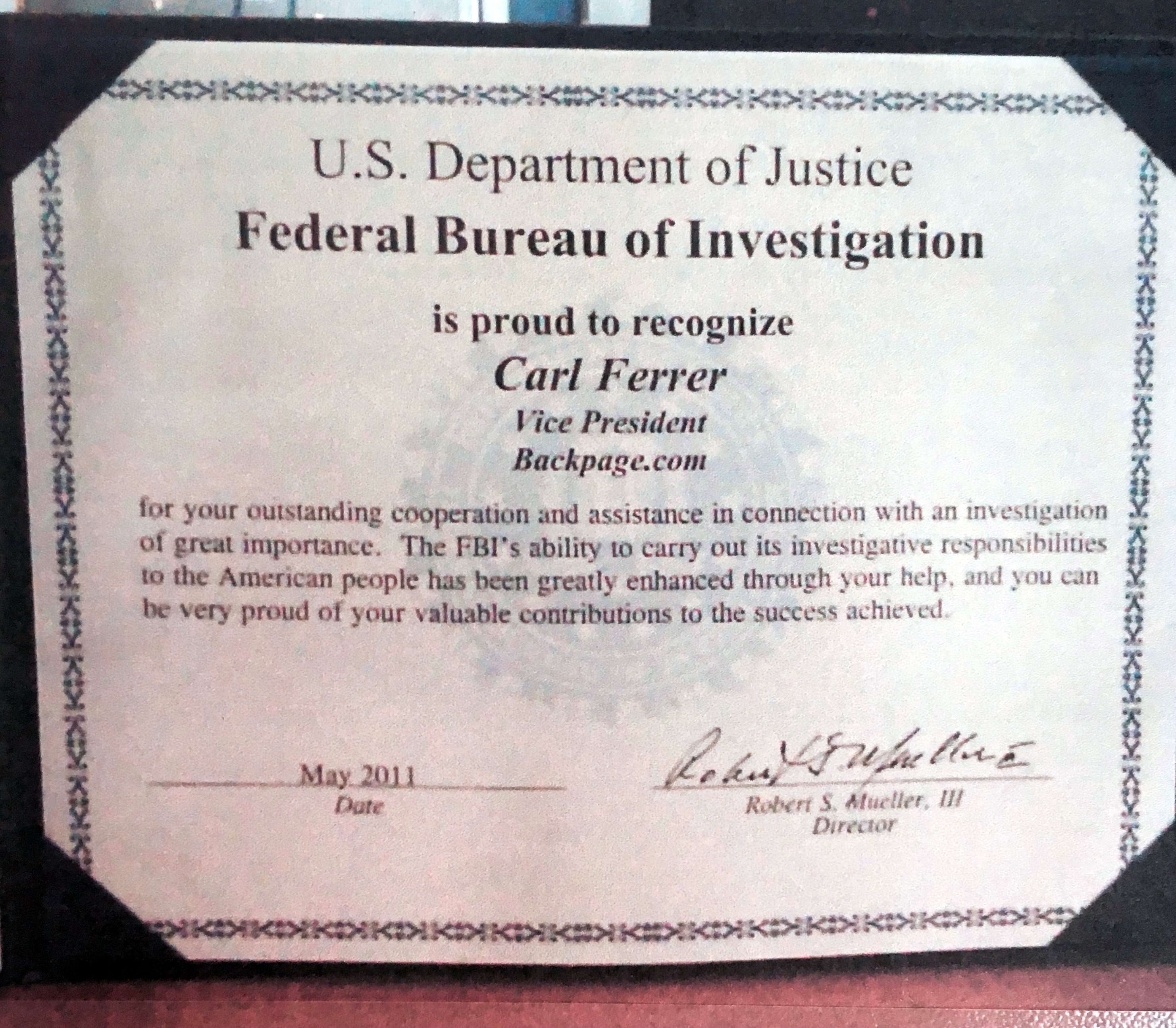 To Larkin, Backpage was a natural extension of the company's long relationship with classified advertising—and a way to adapt to new technologies. Until its April 2018 seizure by the feds, the site was a city-based platform for online advertising, and like so many print classifieds, it would become an online hub for marketing and procuring a variety of sexual services. This was especially true after public pressure forced Craigslist to crack down on "erotic services" ads in 2010.
Like Craigslist, Backpage was divided into categories for different types of posts, most of which had nothing to do with sex work. But the "adult" wing of the site, subdivided into sections for strippers, "phones and websites," "dom and fetish," "male escorts," "escorts," and more, was what garnered the most attention.
Posting in most sections was free, but Backpage charged for adult ads and required posters to pay by credit card—steps specifically enacted at the request of federal authorities and the National Center for Missing and Exploited Children (NCMEC) to help identify abusers. In addition, people advertising in any section could pay for premium features, such as automatic reposting.
As in print, direct offers of sex for money were prohibited under Backpage's terms of service. Yet many ads in the escort section were veiled promotions for adult prostitution.
For many sex workers, web platforms proved cheaper and more efficient than print ads. They had much lower barriers to entry and much higher returns compared to starting one's own website. And finding clients online was also safer than working the streets, plus didn't require the assistance of third parties like pimps or escort services.
Neither Lacey nor Larkin expected serious trouble. New Times "had personals from day one," says Larkin. "We've had adult advertising from 1970."
Initially, the relationship between Backpage and law enforcement agents was cordial and cooperative. Ads that directly indicated underage or forced prostitution were blocked and reported to NCMEC and law enforcement, as were posts deemed suspicious or likely to contain images of someone under 21, the legal threshold for missing children. Backpage lawyers gave tutorials at national police conferences on how to work with Backpage records staff for investigative purposes, and management met with NCMEC monthly.
CEO Carl Ferrer also testified in sexual exploitation cases, and Backpage staff were described by authorities as quick and cooperative in responding to records subpoenas—around 100 per month by 2011. Statements from a wide array of officials highlight the site's value to investigators in solving cases, often noting how much more helpful it was than other web forums.
"Your response has been outstanding compared to most other companies," a Minnesota sheriff's detective wrote in June 2012, according to documents Backpage submitted during a Congressional inquiry last year.
"I know your company is vilified nationally because it is an easy target," wrote one Denver police sergeant and member of the FBI's Innocence Lost Task Force in 2014. "I have told numerous people that Backpage is law enforcement friendly and does not support human trafficking. I've even mentioned how if Backpage is every [sic] shut down, another website will take over, likely overseas, that will not be so helpful to [law enforcement]. …I'd rather have a partnership than an adversarial relationship with your company (or any others) so that when the need arises, we can work together to go after those that are exploiting and trafficking others."
Other law enforcement officials described runaways returned to their families and violent pimps caught because of Backpage assistance. "Can't do this without your help," wrote one FBI agent in 2015.
In 2011, Ferrer even got a certificate from the Justice Department thanking him for his "outstanding cooperation and assistance in connection with an investigation of great importance," signed by then–head of the FBI Robert Mueller.
At the same time, Backpage was becoming extremely financially successful. Between 2004 and 2008, the company launched more than 50 city-specific sites. As it grew, Ferrer and a few others were increasingly responsible for everyday operations, with Larkin and (to a somewhat lesser degree) Lacey swooping in on big-picture issues and serving as public figureheads for the company. By 2012, Backpage's annual revenue had risen to $78 million. Business was booming—and that made Backpage a target.
'Adult Content Advertising [Is] in Our DNA'
As Backpage's fortunes rose, a loose coalition of activists, journalists, politicians, and law enforcement officials began an aggressive public campaign against what they described as unprecedented levels of "human trafficking," with an emphasis on the sexual exploitation of underage girls. In practice, this led to a nationwide crackdown on consensual prostitution, with online classified operations like Backpage caught in the crosshairs.
The campaign started under George W. Bush, whose administration directed millions in grants to task forces and religious groups opposed to sex work. "I think what was different about this fight was that the politics was merged with religion," says Lacey. But the flow of funds, along with political pressure, would only pick up under Obama.
In 2008, state attorneys general began hounding Craigslist over its "adult" ad section. Later, officials started running annual stings with names like Operation Cross Country that were framed as efforts to save exploited children but largely busted adult sex workers and their clients.
Both the Justice Department and Clinton-era ambassador Swanee Hunt would hire the same PR firm to popularize the problem as one of "ending demand." Under this framework, any arrest of a prostitution customer—even if the exchange was totally consensual—could be called a "sex trafficking operation," and any website where prostitution was advertised was complicit. Hunt would go on to orchestrate an annual "National Johns Suppression Initiative" spearheaded by Chicago-area Sheriff Tom Dart, and strike a funding arrangement with Seattle-area prosecutors saying they must frame the arrest of men who wrote on adult-escort forum The Review Board as part of a "sex trafficking website" takedown.
In August 2010, 17 state attorneys general threatened Craigslist again over its adult ads, and the site finally agreed to shut down the section.
"It is possible that this will mean a deluge of adult content ads for backpage.com," Larkin wrote in an internal email (which would later be cited by prosecutors as evidence of Backpage's "aggressive" push to corner the sex-ad market). "We have with the Village Voice probably the longest run of adult content advertising in the US and it is, like it or not, in our DNA."
After Craigslist's sex ads folded, Backpage beefed up measures to catch and report suspected abuse. At the request of law enforcement, the NCMEC tip line was posted atop many of the site's pages, and some advertising terms were banned.
Racy ads could still be found on Craiglist, of course, and some say they became even dodgier in the absence of credit-card requirements. "Craigslist was a cesspool," a professional dominatrix who goes by "Kltty Kat" tells Reason. Backpage "was cheap to place ads on, but you had to pay, and payments are traceable." And unlike Craigslist or platforms that have become popular since its closing, Backpage "also flagged ads pretty quick," she says. "I would report an ad [to Backpage], and their response was flag and remove. Ask questions later."
However, Backpage refused requests by prosecutors to remove its adult ad section completely. Liz McDougall, an attorney who came to Backpage after doing decades of pro-bono work on behalf of women and children, told New York's City Council in 2012 that Craigslist shuttering its adult section "had no practical effect."
Backpage also proactively sued over laws in three states that sought to hold online advertising platforms accountable for user content, successfully arguing that such laws were unconstitutional and collecting attorneys fees from those states.

Perhaps most importantly, Lacey, Larkin, and their papers refused to sign onto the idea that America was in the midst of a child sex-trafficking epidemic or that Backpage was part of the problem. Village Voice reporters pushed back in print against New York Times columnist Nicholas Kristof's whopper-filled op-eds on Backpage, Ashton Kutcher's "Real Men Don't Buy Sex" campaign, and emerging Super Bowl sex-trafficking myths.
Meanwhile, Backpage lawyers defended the company against civil lawsuits and onslaughts from state attorneys general. The company defeated civil challenges in Missouri and Washington after federal judges ruled that the lawsuits were prohibited by Section 230 of the Communications Decency Act (CDA)—a provision that says that for civil tort and state prosecutorial purposes, digital platforms and publishers shall not be treated as the speaker of user-generated content. This ensures that Yelp, Twitter, eBay, Reddit, and other online entities don't face an unending string of personal-injury suits and local criminal charges.
The law was squarely on the side of Backpage. But public campaigns against the site continued—and it soon became clear that Lacey and Larkin's newspapers would pay the price.
"This particular fight is important and not one that we intend to abandon," Lacey and Larkin wrote staff in a 2012 email. "At the same time, Backpage's battles are an enormous distraction to publishers, editors and readers of Village Voice Media." To mitigate that problem, the newspapers were sold off to a group of the company's executives.
Section 230 continued to be a stumbling block for states prosecuting Backpage, so prosecutors declared war on the law. In July 2013, 49 attorneys general petitioned congressional leaders to amend the CDA to allow them to bring criminal charges against Backpage. One of the effort's key backers was then-California Attorney General Kamala Harris, now a member of the U.S. Senate.
In May 2014, Missouri Republican Rep. Ann Wagner introduced the SAVE Act, which created federal criminal liability (and a 10-year mandatory minimum prison sentence) for any person or platform that knowingly advertised a victim of sex trafficking. Wagner repeatedly claimed that 300,000 children were sex trafficked in the U.S. each year, when actual Justice Department data places the number of minors in the U.S. sex trade around 9,000-10,000, with the vast majority doing so without the aid of a "trafficker." The SAVE Act passed in watered-down form as part of the omnibus Justice for Victims of Trafficking Act (JVTA) of 2015, with congressional press releases describing it as a way to directly target Backpage.
Backpage challenged the law immediately. A federal judge dismissed the case but stressed the importance of the knowingly requirement. The ruling "confirms that Backpage is not an appropriate subject of a SAVE Act prosecution," Robert Corn-Revere, a longtime lawyer for Backpage (and occasional lawyer for Reason), told Politico in 2016.
To date, the SAVE Act has yet to be used. But authorities were already working on other ways to bring about the demise of Backpage and its owners. Banks received increasingly stern warnings from federal financial regulators about doing business with sexually oriented enterprises, part of a program called "Operation Choke Point." Major institutions like Chase suddenly terminated their relationships with Backpage and many others, from porn performers to condom companies.
Meanwhile, Sheriff Dart moved from working with Hunt on nabbing prostitution customers to targeting credit-card companies that worked with Backpage. In July 2015, he threatened Visa and Mastercard with legal action if they didn't stop accepting payments from the site's customers. They complied.
In response, Backpage temporarily instituted free ads for all sections, using the promo code FREESPEECH, and introduced alternative payment options including bitcoin—actions which would later be used against them. The company also sued over Dart's actions.
The 7th Circuit Court of Appeals ruled in Backpage's favor, delivering a sharp rebuke to Dart in the process. "If Backpage is violating the law," wrote Judge Richard Posner in a November 2015 decision, "you'd think the sheriff would sue Backpage. But no; he tried that against Craigslist, a classified-ads website that had an adult section similar to Backpage's, and he failed."
So Dart attacked "not by litigation but instead by suffocation, depriving the company of ad revenues by scaring off its payments-service providers," continued Posner. He used "the power of his office to threaten legal sanctions against the credit-card companies for facilitating future speech, and by doing so he is violating the First Amendment." (In October 2016, the U.S. Supreme Court declined to hear an appeal.)
Congress, however, could still take action. In 2015, while Backpage was dealing with Dart, the Senate Subcommittee on Permanent Investigations opened an investigation. Lawmakers demanded that Ferrer—who had purchased Backpage from Lacey and Larkin earlier that year—appear before them to answer questions. (He didn't show, and his attorneys told Congress he was out of the country.)
It was Ferrer's problem now. For the first time in 45 years, Lacey and Larkin were out of the direct business of managing any news, publishing, or advertising venture.
In 2013, Maricopa County paid the two men a $3.75 million settlement for their wrongful 2007 arrest by Sheriff Joe Arpaio. They used the money to establish the Frontera Fund, which gives money to immigrant rights organizations in Arizona. For a brief while, it looked like the two men might settle calmly into their 60s, working on causes close to their hearts and homes.
It was not to be. Backpage had earned the ire of politically powerful enemies on both sides of the aisle, and those enemies were determined to make an example of its founders.
screenshots/CSpan
'It Was a Star Chamber Experience'
On October 6, 2016, Carl Ferrer flew from Amsterdam back to Dallas and was promptly arrested on a California warrant. Kamala Harris' office accused him of pimping, including some counts involving minors. The Texas state attorney general said he was "making money off…modern-day slavery."
Lacey and Larkin were also arrested and charged with "conspiracy to commit pimping." They spent four days jailed in Sacramento, California. Harris, who at the time was running for the U.S. Senate, called them "despicable" and labeled Backpage "the world's top online brothel."
News of the arrest was covered extensively in major media outlets, with Harris quoted prominently. Her complaint was that bad actors and teenagers sometimes used the site—and her evidence that Backpage "knew" this to be true was that it reported suspected underage ads to NCMEC and cooperated with police. Harris was using Backpage's history of working with law enforcement against it.
"Make no mistake," said Lacey and Larkin in statement that month. "Harris has won all that she was looking to win when she had us arrested. Like Sheriff Arpaio, she issued her sanctimonious public statement, controlled her media cycle and got her 'perp walk' on the evening news." While such targeting was not new to them, this was the first time a state had decided it was "okay to consider the First Amendment implications after, not before, hauling people off to jail."
In early December, a Sacramento Superior Court judge dismissed the case. On December 23, with just a few days left in office, Harris tried again, filing new conspiracy-to-commit-pimping charges against Lacey, Larkin, and Ferrer, along with allegations of money laundering. Ferrer also faced 12 counts of pimping. Again, all pimping and conspiracy charges were dismissed, though the judge allowed a money-laundering case to proceed.
By this point, however, Harris was headed to Washington. As a freshman senator she would join the body's permanent subcommittee on investigations, which had authority to compel testimony from Lacey, Larkin, and Ferrer. It did just that in January 2017.
At the beginning of 2017, Ferrer relented and closed Backpage's adult section. A statement from his lawyers said it was "the direct result of unconstitutional government censorship." (Sex ads quickly jumped to the site's other sections.) But even though Backpage had folded—and even though Lacey and Larkin hadn't been in charge of the business since 2015—they were still required to come to D.C. and testify before the congressional committee.
In theory, the January 10 hearing was focused on the narrow question of whether Backpage had "knowingly" edited user posts in a way that would deprive it of Section 230 protection and allow the feds to target it under the SAVE Act. In practice, it was a show trial designed to publicly shame all three men.
"It was a star chamber experience," Larkin says. "They didn't have any interest in anything other than their political grandstanding."
The hearing featured John McCain making an appearance "and his wife is sitting the chamber watching," complains Lacey. Through the McCain Institute, Cindy had been promoting I Am Jane Doe, a documentary about sex trafficking that was intensely critical of Section 230 protections for Backpage.
Two of the film's subjects—a pair of mothers whose teen daughters were allegedly trafficked on Backpage—showed up at the Senate hearing. Both gave emotional testimony about how their daughters had run away from home and been "sold" on the site. Their families had been plaintiffs in the first two civil lawsuits against Backpage in 2010 and 2012; their cases and appeals had been dismissed by federal courts. Since then, the moms had become regulars at government hearings and their daughters' stories fixtures in the media.
No one at the Senate hearing mentioned that in both cases, those who exploited their daughters had been caught and convicted with the help of records provided by Backpage. (One of the mothers said she had seen no restitution money from her daughter's trafficker, even though court records show dozens of payments.)
Everyone from Backpage took the Fifth in response to every question.
A post-hearing statement from Backpage said "we are confident that the courts ultimately will find, as the Supreme Court did after the abuses of the McCarthy era by this same subcommittee, that 'investigations conducted solely for the personal aggrandizement of the investigators or to 'punish' those investigated are indefensible.'"
A month later, at another Senate hearing, Ashton Kutcher would appear as an expert on "ending modern slavery." The actor said his work was "only enabled by the McCain Institution." He called John McCain "a hero on this issue" and blew the senator a kiss.
After the January hearing, I asked Lacey what comes next. "Right now?" he said. "A drink."
It was a temporary respite. A little over a year later, federal agents would invade his home.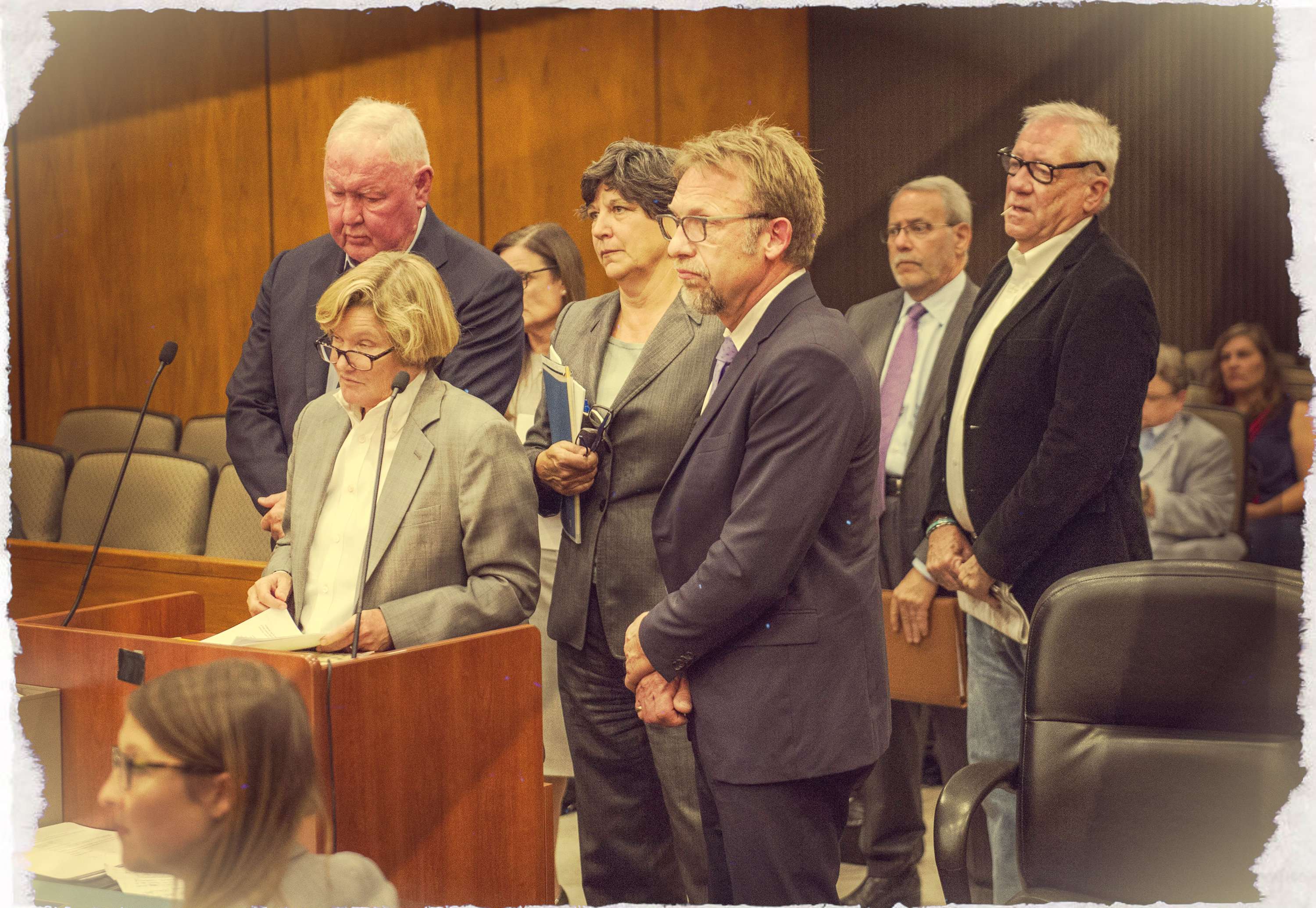 'The Prosecutor Intends to Put Us in Prison for the Rest of Our Lives'
On Saturday, April 7, 2018, Michael Lacey and his new wife, Jill, were scheduled to throw a party at their home to celebrate their recent nuptials. Family and friends had come in from out of town. The honeymoon was booked.
Instead, Michael would spend the second week of April in a federal detention center, with part of that time spent locked up in an isolation cell.
On Friday morning, the feds arrived. "There were 20 to 25 agents on the property in flak jackets, all with guns," Lacey says. Jill was out hiking, but her mother and aunt—both in their 70s—were home. The agents would not permit Lacey to warn the women before they stormed the bedroom and then the bathroom, where Jill's mom was showering.
They "put a gun on her when she was naked, started screaming at her" to get out of the shower, says Lacey. When she asked for a towel, one allegedly responded that when an FBI agent tells you to do something, you do it.
When Jill returned, agents told her to take only her license, her keys, and her older relatives and go. They took her iPad, desktop computer, and two laptops, refusing to return them until she hired her own criminal attorneys and the feds had made a copy of everything. They also confiscated her jewelry—decades' worth of items, almost all accumulated long before she met Michael—and made her provide documentation of where each piece came from before getting it back.
FBI agents "ransacked the house," says Lacey. "They took all the art they could put their hands on," leaving only three big pieces in the living room and a vintage Goldwater poster in the office. ("Apparently, they were Johnson supporters," Lacey quips.)
His cabin in the mountains was raided as well, with agents deciding "to cowboy it—kick their way through doors," Lacey says. "Went up and rummaged through the attic, cut wires to [security] devices…cut wires on TVs."
Larkin's home was also invaded by armed and masked cops. The feds knew he was on a flight back from Scotland at the time—the FBI and the Department of Homeland Security were waiting to handcuff him on the plane once it arrived—because attorneys for both men had made it clear that they would turn themselves in if need be. Instead, a coalition of local cops and federal agents took the splashiest route possible, and the one most likely to ensure that Lacey's and Larkin's loved ones would not be spared.
Less than two weeks later, Dominic Lanza, an Arizona-based U.S. attorney who had helped coordinate the raid and whose nomination to a federal judgeship had been languishing since January, was confirmed by a Senate subcommittee that McCain sits on.
"It is not overly dramatic to say that the prosecutor intends to put us in prison for the rest of our lives," Lacey says.
'This Isn't About Sex Work to Me. This Is About Speech.'
Although the state requested that their trial not be held until 2020, Lacey and Larkin's bank accounts were quickly seized, leaving them struggling to pay their lawyers. Among the federal government's allegations against them was that the decision to allow alternative forms of payment following the pressure campaign against credit card companies and banks working with Backpage constitutes evidence of money laundering. The government also filed liens against any property they owned or had helped to finance.
"An old friend, nearly 80, asked to borrow money for a home," Lacey says. He had his lawyer send her the funds. In late July, U.S. attorneys "moved on her home—as modest a residence as you can imagine, just her and her dogs."
In April, the men were released on $1 million bail each. They are confined to Maricopa County and forced to wear location trackers on their ankles at all times.
On April 5, Carl Ferrer pleaded guilty to one count of money laundering on behalf of Backpage and one count, on his own behalf, of knowingly conspiring to facilitate prostitution. The plea was part of a deal that saw the additional charges dropped and the prosecution recommend that Ferrer spend no more than five years in prison. Under the agreement, he must cooperate with the state's prosecution of Lacey, Larkin, and the other former Backpage executives indicted with them.
Because Ferrer turned state's evidence, the U.S. attorney's office is trying to disqualify Lacey and Larkin's previous lawyers from defending them on conflict of interest grounds, since they had previously represented Ferrer.
"They try to exhaust all your financial resources so that you can't afford these lawyers," Lacey says, and "if the lawyers are still around, they then move to get rid of the lawyer."
"You know, we think we will prevail if we're allowed to defend ourselves," Larkin adds. "If we're allowed to use our resources to defend ourselves in court, we will prevail." But that's a big if.
Until now, few platform creators have had the capital or the constitution to fight back to the extent Lacey and Larkin have. Since Backpage became the biggest target in the crusade against "trafficking," at least three additional adult-ad-specific platforms—MyRedbook.com, Rentboy.com, and The Review Board—have been shut by the feds without a lot of pushback.
Other sex worker resources have also shuttered since the April 2018 passage of FOSTA, Rep. Wagner's follow-up to the failed SAVE Act. The measure finally accomplished advocates' longtime goal of amending Section 230 so state attorneys general and alleged victims can successfully target web platforms over the actions of their users. In addition, the legislation made it a federal crime to host any digital content that facilitates prostitution. The Senate's version of the bill was introduced by McCain and fellow Arizona Republican Sen. Jeff Flake.
FOSTA was sold as a way to hold Backpage "accountable" and was passed over explicit objections from sex workers, sex-trafficking victims' groups, and even the Department of Justice. Trump signed FOSTA into law in May—a few weeks after Lacey and Larkin were raided and jailed. The Section 230 revision, it turned out, wasn't needed to prosecute Backpage. And it has done little to stop the flow of sexually oriented online advertising since.
"You know, there's this old, lame-ass horseshit that priests and nuns will tell you about 'God doesn't give you a burden that you can't carry,'" Lacey says. (Both he and Larkin are products of Catholic schools.) "We will carry this burden, and we will fucking prevail at the end of this goddamn shit. But it's ugly in the middle."
On August 17, former Backpage marketing and sales director Daniel Hyer pled guilty to one count of conspiracy, a class D felony, in exchange for a pass on the multiple counts of money laundering and facilitating prostitution that he was facing. The conspiracy Hyer admitted to was working with Ferrer and former Backpage executive Scott Spear to entice posters from other adult-ad forums to Backpage and moderating ads for adult prostitution to disguise their true nature. His sentencing hearing is scheduled for November 19.
Lacey and Larkin are convinced their prosecution is political. "Part of the reason this has really worked is because you have Cindy and John McCain involved in this," Larkin says, "and they see an opportunity to even a score. We think there's no question that this is partly their doing."
"The fact that the law is clear about this [yet] they can still ignore it and play to the rafters, you know? That's politics," says Lacey.
This time they have no choice but to play along.
"We've never, ever broken the law," Larkin says. "Never have, never wanted to. This isn't really—I know this is probably heresy—this isn't about sex work to me. This is about speech."
"This is the biggest speech battle in America right now," Lacey adds. "The First Amendment isn't about protecting the rights of the McLaughlin Group to speak their mind on television. This is specifically what the fuck it's about. Unpopular speech. Dangerous speech. Speech that threatens the norm. Not only do we have that right, our readers have that right. The [Backpage] posters have that right.
"We spent 40 years doing journalism, groundbreaking journalism, and they want to take all that away," he says—because "they don't like who exercised their constitutional rights to use our advertising platform. And that has no goddamn bearing. The law doesn't say, 'You get to pick and choose who exercises their constitutional rights by whether or not you like their lifestyle.' It's just incredible."
*CORRECTION: This piece originally stated that Lacey and Larkin retained shares in the Village Voice Media spinoff company in 2012; they did not.