North Carolina Banned This Beer Because Bureaucrats Dislike the Label
Now they'll have to explain to a federal judge how this isn't a violation of the First Amendment.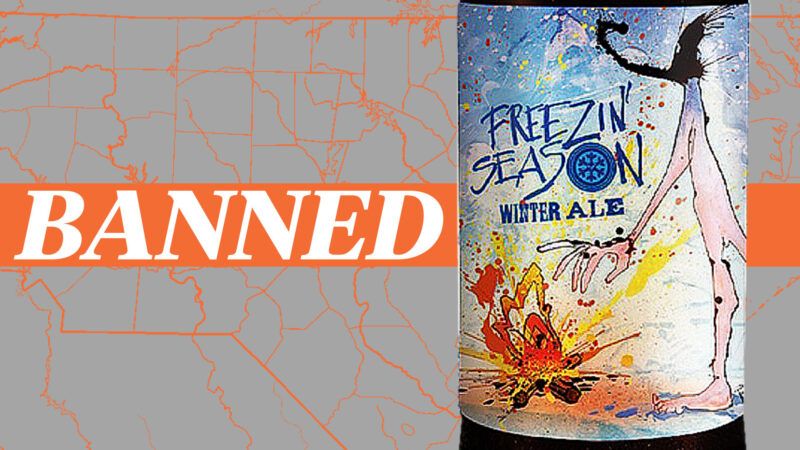 (Illustration: Lex Villena; Flying Dog Brewery)
Alcohol regulators in North Carolina have banned Flying Dog brewery from selling one of its beers in the state due to a label that's been deemed "in bad taste."
Flying Dog CEO Jim Caruso, who has tangled with beer label bureaucrats—and beaten them—in other states, says the North Carolina Alcohol Beverage Control (ABC) Board needs to crack open a copy of the U.S. Constitution. The North Carolina ABC's decision to prohibit sales of Flying Dog's Freezin' Season Winter Ale over the beer's label design "seems like a blatant violation of the First Amendment to me," says Caruso (who is a donor to the Reason Foundation, which publishes this website). 
Later this week, a federal judge will have a say. Flying Dog has filed a lawsuit and is seeking an injunction to prevent the North Carolina ABC from blocking the distribution of the beer in the state. A hearing on the injunction is scheduled for September 9.
The offending label—like all Flying Dog beers—contains a distinctive cartoon image by illustrator Ralph Steadman, whose work with the Maryland-based brewery dates back to its roots in the gonzo-lands near Aspen, Colorado. It's not clear exactly what the state's regulators object to—though the naked, humanoid figure on the beer's label does sport a small appendage between its legs. Caruso says he suspects that "tail-like thing" is what triggered the ban.
Officially, however, all Flying Dog has been told is that the label is "inappropriate" and "in bad taste." That is all it takes for North Carolina to prohibit the beer from being marketed, sold, and distributed. The North Carolina ABC did not return requests for comment on Tuesday.
"The regulation is, on its face, in constitutional 'bad taste,' as it is in clear violation of the First Amendment," attorneys for Flying Dog, including veteran First Amendment lawyers Greg Doucette and Marc Randazza, argue in court documents. They say banning the beer label is an unconstitutional viewpoint-based restriction on speech, similar to restrictions that the U.S. Supreme Court has repeatedly struck down.
One of those cases is Matal v. Tam, in which the Supreme Court ruled that the federal Patent and Trademark Office (PTO) could not prevent all-Asian dance-rock band The Slants from trademarking its name, even if the name violated PTO rules against disparaging "persons, living or dead, institutions, beliefs, or national symbols, or bring them into contempt, or disrepute." Restrictions on commercial speech must serve a "substantial" government interest and must be "narrowly drawn," the high court held in Matal.
Since that 2017 ruling, Matal has been cited by courts that have overturned government agencies' bans on blasphemous personalized license plates, obscene-sounding clothing brand names, supposedly "illegal" Mexican food chains, and more.
"But, the North Carolina government thinks that it can get away with calling something 'in bad taste' and thus restricting commerce?" Randazzo wrote in an email to Reason. "We're not OK with that."
This is not the first time that North Carolina's beer regulators have attempted to censor a product being sold in the state. WECT Channel 6, based in Wilmington, North Carolina, reported in 2019 that the state ABC had blacklisted about 230 beer and wine brands since 2002 for having labels or names that offended the board's sensibilities. Among the "inappropriate" products banned from the state are beers with names like "Daddy Needs His Juice," and "Beergasm."
Ironically, the North Carolina ABC reportedly told Utah-based Wasatch Brewing Company that its "Polygamy Porter" could not be sold in the state because "polygamy is illegal." But the board also banned a beer named "Kissing Cousins" despite the fact that it is literally legal to marry your first cousin in North Carolina.
Perhaps alcohol regulators shouldn't be deciding what can and can't be sold in the state based on the silly assumption that beer branding will encourage people to engage in certain behaviors—as if anyone is making decisions about how to live their lives based on the content of beer labels. Is this a problem in other states with less aggressive branding police?
This also isn't the first time Flying Dog has gone to bat for free speech. The brewery's "Raging Bitch" beer was banned by Michigan in 2009 for having a name like "Raging Bitch." After a lawsuit challenged that ban on First Amendment grounds, Michigan's regulators put their tails between their legs and allowed the beer to be sold. Caruso continued to press the case in federal court and, in 2016, they won on the merits of the case—and used the damages won to launch a new pro–free speech legal center.
The new lawsuit in North Carolina, Caruso tells Reason, "is about defending the First Amendment against petty bureaucrats who want to censor whatever they personally dislike."