Abortion, Guns, Trump, and the New Era of Shout-Down Politics
Plus: The editors respond to a listener question concerning corporate personhood.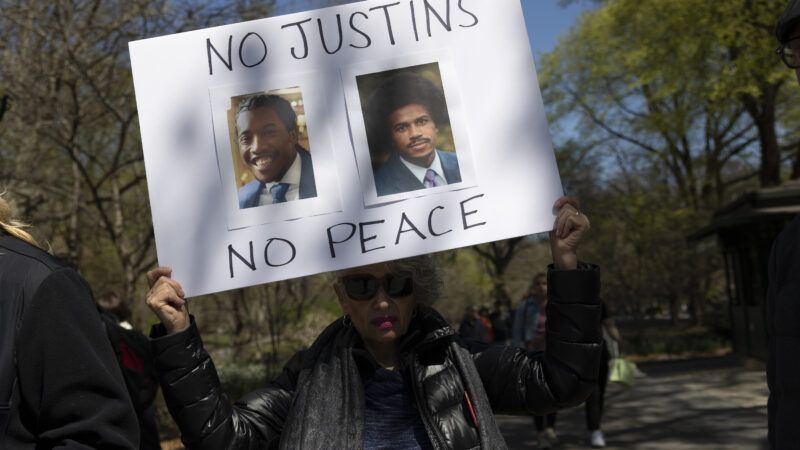 (Credit: Gina M Randazzo/ZUMAPRESS/Newscom)
In this week's The Reason Roundtable, editors Matt Welch, Katherine Mangu-Ward, Nick Gillespie, and Peter Suderman question new opposing decisions from federal judges regarding the abortion pill mifepristone and take up the recent expulsion of two Democrats from the Tennessee state Legislature over their roles in a gun control protest.
2:13: New rulings on abortion pill mifepristone
22:07: Tennessee House expels two Democratic lawmakers
35:03: Weekly Listener Question
45:41: Lightning Round: The Trump indictment, continued
52:40: This week's cultural recommendations
Mentioned in this podcast:
"Dueling Decisions Leave Abortion Pill's Fate Uncertain," by Elizabeth Nolan Brown
"The Abortion Debate Is Messy. Two Lawsuits Against the FDA May Make It Worse." by J.D. Tuccille
"What 'Freedom' Means to Ron DeSantis," by Eric Boehm
"Recent Supreme Court Decisions and Equality," by Eugene Volokh
"Idaho Takes Aim at Interstate Travel for Abortion. Health Care Providers Are Suing." by Elizabeth Nolan Brown
"Blue-State AGs Have A Mifepristone Lawsuit of Their Own," by Jonathan H. Adler
"In Defense of Roe," by Nick Gillespie and Regan Taylor
"Get Ready for the Post-Roe Sex Police!" by Nick Gillespie
"Do 'More Guns Lead To More Deaths'? by Nick Gillespie
"How To Create a Gun-Free America in 5 Easy Steps," Austin Bragg
"3 Reasons Not To Sweat The Citizens United Ruling," by Meredith Bragg and Nick Gillespie
"The Radical Freedom of Dungeons and Dragons," by C.J. Ciaramella
Send your questions to roundtable@reason.com. Be sure to include your social media handle and the correct pronunciation of your name.
Today's sponsor:
Left-wing megadonors are shoveling money into pet projects that don't reflect American values. What's more, lawmakers continue to push bloated, big-government policies—like so-called student loan cancellation—and other programs that will inevitably raise prices and fail to reach the people they are meant to help. All isn't lost, though. You can help turn the tide with a charitable giving account at DonorsTrust. DonorsTrust is a refuge from the storm of harmful, progressive philanthropy and big-government wheeling and dealing that's hurting our institutions and, more importantly, our loved ones. So, take cover and let my friends at DonorsTrust help you maximize your giving while minimizing your tax liability. Whether it's defending speech; empowering entrepreneurs to offer educational alternatives; or fighting green-energy extremists that want to consolidate power and raise prices on individuals and families, DonorsTrust is the charitable giving account provider for you. Visit www.donorstrust.org/reason to learn more about how DonorsTrust can minimize your tax liability and maximize your giving.
Audio production by Ian Keyser;
assistant production by Hunt Beaty.
Music: "Angeline," by The Brothers Steve
---