Idaho Takes Aim at Interstate Travel for Abortion. Health Care Providers Are Suing.
Plus: Australia's failed news media bargaining code, two ways government created an Adderall shortage, and more...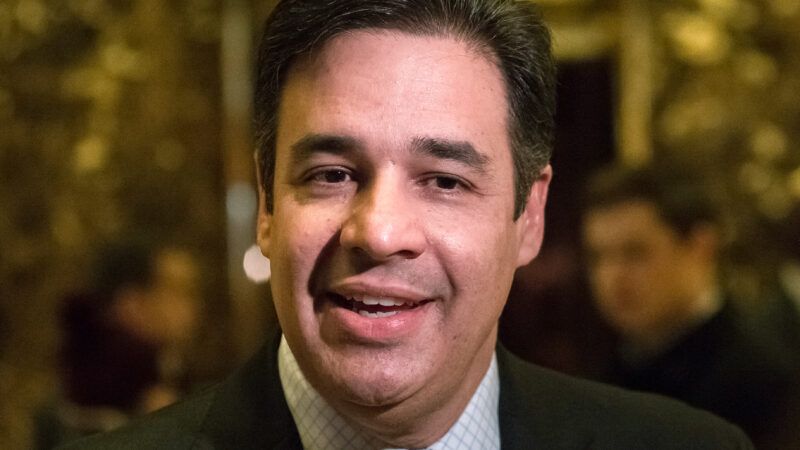 (Albin Lohr-Jones/dpa/picture-alliance/Newscom)
Two doctors and a Planned Parenthood affiliate are suing Idaho Attorney General Raúl Labrador after the Gem State's top cop stated that it's illegal for doctors to refer residents to out-of-state abortion providers. This would represent a clear violation of numerous constitutional rights, they argue.
Labrador's assertion is part of a larger attempt by Idaho Republicans to enforce the state's strict abortion ban even outside of state lines. Abortion is totally banned in Idaho except in cases involving rape, incest, or a threat to the mother's life, and minors in these circumstances can only obtain an abortion with a parent or guardian's permission.
On Wednesday, Republican Gov. Brad Little signed a law creating the new crime of "abortion trafficking." The law makes it illegal to help someone under age 18 obtain an abortion "by recruiting, harboring, or transporting the pregnant minor within this state" without a parent or guardian's permission, with violations punishable by two to five years in prison.
The new law "is somewhat strangely worded," Reason's Emma Camp noted recently, "as it technically does not criminalize the act of crossing state lines to help a minor obtain an abortion without parental consent, which is what would practically be required in a state where abortion is almost entirely illegal." But the abortion trafficking law tacitly takes aim at helping minors travel out of state for abortions, stating that the fact that "the abortion provider or the abortion-inducing drug provider is located in another state" cannot be used as an affirmative defense. So it seems an Idaho resident who helped an Idaho teenager arrange an out-of-state abortion, arrange to purchase abortion pills in another state, or travel at all within the state on the way out of state could still be charged with abortion trafficking even if the abortion itself doesn't take place in Idaho. The law also "allows the filing of lawsuits against doctors who perform such abortions, even if the doctors live outside the state," notes The New York Times.
That the abortion trafficking statute is meant to prevent out-of-state travel is made clear in a Wednesday letter from Little. The measure seeks "to prevent unemancipated minor girls from being taken across state lines for an abortion without the knowledge or consent of her parent or guardian," he wrote.
And the state isn't stopping at trying to prevent girls from going out of state for abortions.
In a March 27 letter to Idaho Rep. Brent Crane (R–Nampa), Labrador wrote that Idaho's criminal prohibitions on abortion "preclude 1) the provision of abortion pills, 2) the promotion of abortion pills, and 3) referring women across state lines to obtain abortion services or prescribing abortion pills that will be picked up across state lines."
Only the first of these prohibitions would seem to be clearly constitutional. A ban on "promoting" abortion bills runs into free speech issues. And a ban on referring women out of state for an abortion may violate speech rights as well as the Dormant Commerce Clause, which prevents states from authorizing barriers to interstate economic activity.
In his letter, Labrador elaborated that it's a felony for "every person, except licensed physicians" to willfully publish "any notice or advertisement of any medicine or means for producing or facilitating a miscarriage or abortion."
But courts have previously ruled against similar statutes in other states, pre-Roe. And the U.S. Supreme Court even ruled— in 1975's Bigelow v. Virginia—that a Virginia ban on abortion advertising violated the First Amendment.
Labrador also claimed in his letter to Crane that "an Idaho health care professional who refers a woman across state lines to an abortion provider…has given support or aid to the woman in performing or attempting to perform an abortion and has thus violated" state law. It's this latter part of Labrador's letter that a new lawsuit takes issue with.
The suit was filed in federal court by two doctors (Caitlin Gustafson and Darin L. Weyhrich) and Planned Parenthood of the Great Northwest, Hawaii, Alaska, Indiana, and Kentucky.
"Labrador's interpretation is unprecedented and amounts to a clear threat that Idaho will seek to punish individuals for speech and conduct related to abortions that take place in states where abortion is legal," they write in their complaint. "Labrador's interpretation attempts to bring plainly First Amendment-protected activity within the ambit of the Total Abortion Ban. Moreover, his interpretation depends on the assertion that Idaho law punishes abortions performed outside of Idaho—a clear Due Process and Dormant Commerce Clause violation."
---
FREE MINDS
Let's not import Australia's failed news media bargaining code. American Affairs takes a look at the effects of Australia's news bargaining code, a stultifying system that some U.S. legislators want to imitate here. "If publishers bargaining for payments from platforms was going to save local journalism in Australia, we'd probably know it by now," Chris Krewson, executive director of LION Publishers, writes:
After all, back in 2021 Australia passed the News Media Bargaining Code, presented as a way for publishers to claw back advertising revenue. In their eyes, their articles, photos, columns, editorials, and letters to the editor—their "content"—was a big reason why the internet platforms (primarily Google and Facebook) had hoovered up nearly all the digital advertising dollars globally available. Banding together in a cartel, as made permissible by the Bargaining Code, would allow those publishers some leverage, and allow them to be compensated for the content.

There are, of course, problems with the idea that platforms derived much of their value to advertisers from news. (In fact, advertisers have for years been trying to move their brands to safer places, and remove their perfumes, cars, and clothes from alighting next to the latest mass shooting or the occasional armed insurrection.)

But—setting all that aside—legislators in Australia passed the Code. So what happened next? If all went to plan, bargaining began; platforms, publishers, and mediators hashed out fair deals in this experiment.

Instead, Google and Facebook each cut side deals with publishers—the details of which are not public, as there are nondisclosure agreements barring further review.
Where is that money going? No one knows. There's "no evidence that the dollars that flowed actually meant more journalism" and not more compensation for publishing execs, notes Krewson. Nor has the money stopped the industry from contracting:
In October 2021, "Australia's news sector has experienced the third largest number of contractions within a single quarter since Covid-19 emerged," per the Australian News Data Report from the Public Interest Journalism Institute.
Meanwhile, most small publishers don't qualify to be part of the bargaining deal, they say.
---
FREE MARKETS
Two explanations for the Adderall shortage but one culprit: government. "Patients diagnosed with conditions like anxiety and sleep disorders have become caught in the crosshairs of America's opioid crisis, as secret policies mandated by a national opioid settlement have turned filling legitimate prescriptions into a major headache," reports Fortune magazine:
In July, limits went into effect that flag and sometimes block pharmacies' orders of controlled substances such as Adderall and Xanax when they exceed a certain threshold. The requirement stems from a 2021 settlement with the US's three largest drug distributors — AmerisourceBergen Corp., Cardinal Health Inc. and McKesson Corp. But pharmacists said it curtails their ability to fill prescriptions for many different types of controlled substances — not just opioids.

Independent pharmacists said the rules force them come up with creative workarounds. Sometimes, they must send patients on frustrating journeys to find pharmacies that haven't yet exceeded their caps in order to buy prescribed medicines.

"I understand the intention of this policy is to have control of controlled substances so they don't get abused, but it's not working," said Richard Glotzer, an independent pharmacist in Millwood, New York. "There's no reason I should be cut off from ordering these products to dispense to my legitimate patients that need it."
More from Fortune here.
Reason also tackled the Adderall shortage problem in its April issue. In addition to the restrictions on pharmacy orders, the shortage also stems from production limits set by the Drug Enforcement Administration (DEA).
"Each year, the DEA sets production limits for the ingredients of Schedule I and II drugs, and manufacturers apply for pieces of the quotas. Total production of a drug cannot exceed the DEA's ceiling," notes Joe Lancaster. "The DEA says it determines the quotas based on the amount that is annually prescribed. But even after the FDA reported a shortage, the DEA kept the 2022 levels intact in its 2023 quotas for Adderall's ingredients: dextroamphetamine saccharate, amphetamine aspartate, dextroamphetamine sulfate, and amphetamine sulfate."
---
FOLLOW-UP
What's next in the Trump criminal case. "The judge presiding over Donald Trump's criminal case said he intends to move swiftly, but between the slow-moving New York court system and Trump's tendency to push for delays in legal matters, analysts expect the case to linger and collide with the 2024 presidential campaign," notes The Washington Post. "One of Trump's lawyers, Joe Tacopina, said Wednesday that he did not expect any significant developments before July." The first Republican primary debate is scheduled for August.
See also: "Prosecutors Are Still Hazy About What Crime Trump Was Trying To Conceal by Falsifying Business Records."
---
QUICK HITS
Robert F. Kennedy Jr. is running for president. The 69-year-old anti-vaccine activist and scion of one of the country's most famous political families is challenging incumbent President Joe Biden for the Democratic nomination. https://t.co/0oTaM5xPhy

— The Associated Press (@AP) April 5, 2023
• Defunding the police is now…a MAGA thing? Following his criminal indictment in New York City, Trump called on congressional Republicans to "defund the DOJ and FBI until they come to their senses."
• Indiana Republican Gov. Eric Holcomb just signed legislation banning gender transition treatments such as hormone therapy and puberty blockers for minors.
• More and more literary classics are being retooled to remove "offensive" language.
• Michigan is now coding anti-police bias incidents as "hate crimes."
• "A leading group of medical experts says the term 'excited delirium' should not be listed as a cause of death," reports the Associated Press. "Critics have said the term has been used to justify excessive force by police."
• A Georgia mom arrested and jailed for letting her 14-year-old daughter babysit her younger siblings has, after three years, "prevailed in her legal ordeal," writes Lenore Skenazy.
• Is telling someone to "die" on Facebook protected by the First Amendment?