The Abortion Debate Is Messy. Two Lawsuits Against the FDA May Make It Worse.
Litigation over abortion drugs turns disagreements about individual rights into a bureaucratic tussle.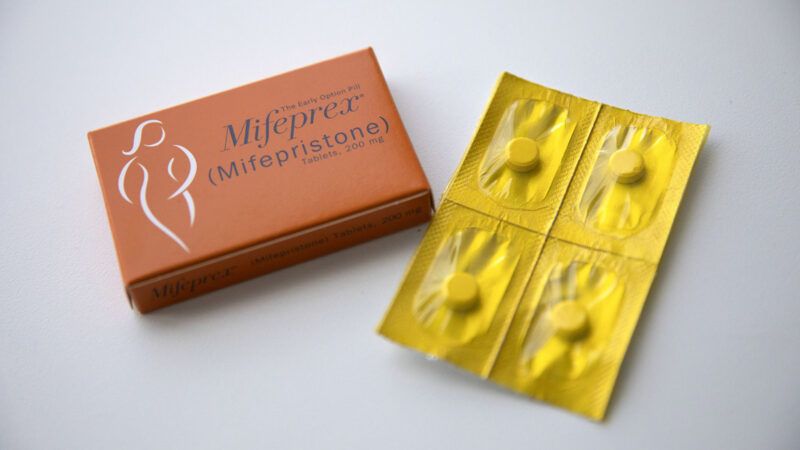 (Erin Hooley/TNS/Newscom)
Wisconsin drew attention this week when a state Supreme Court election flipped control of the body from conservative to liberal as ideologically loaded issues—abortion chief among them—loom large. But while pundits discuss that judicial race, reproductive rights are also at issue in two lawsuits challenging the legal status of drugs used to end pregnancies. With drug-induced abortions preferred by many women over surgery, much is at stake in these cases. But they also illustrate the messiness of seeking courtroom solutions for important national disagreements.
Wisconsin's victorious new Supreme Court Justice Janet Protasiewicz "made abortion a centerpiece of her campaign, saying in ads, 'I believe in a woman's freedom to make her own decision on abortion,'" Reason's Joe Lancaster reported this week.
The Rattler is a weekly newsletter from J.D. Tuccille. If you care about government overreach and tangible threats to everyday liberty, this is for you.
Abortions Usually Come in Pill Form
That's little surprise given the attention the issue has attracted since the U.S. Supreme Court issued its Dobbs decision last summer, overturning national protections for abortion. Depending in where the majority of their residents fall on the issue, states have since moved to protect or restrict the practice—arguably the right approach in a deeply divided country with a federal system of government. But in recent years, ending pregnancies with relatively inexpensive and non-intrusive drugs has become more common than surgical means, especially as the necessary pills became available by mail-order making them accessible to many women in states with restrictive laws.
"Medication abortion accounted for 53% of all facility-based abortions in the United States in 2020," notes the Guttmacher Institute, a non-profit group focused on reproductive research and policy. "Preliminary data, originally published on February 24, 2022, indicated that medication abortion accounted for 54% of all abortions."
"Mifeprex (mifepristone) and its generic Mifepristone Tablets, 200 mg (collectively mifepristone) are approved, in a regimen with misoprostol, to end an intrauterine pregnancy through ten weeks gestation (70 days or less since the first day of a patient's last menstrual period)," according to the Food and Drug Administration (FDA), which first approved the drugs for the use in 2000.
And since the pills can be dispensed "in-person or by mail" they make abortions possible for women even where surgical methods are banned or unavailable. That puts pro-life activists in a litigious mood.
"In 2000, the FDA approved two drugs that are used together to complete a chemical abortion—mifepristone and misoprostol," charges Erik Baptist, counsel for the Alliance Defending Freedom and attorney for the Alliance for Hippocratic Medicine in a federal lawsuit filed in Texas against the FDA. "The FDA approved these drugs illegally because it failed to evaluate the risks to minors even though it approved the drugs' use for young girls. It also misused its authority to expedite approval of these two drugs."
High-Stakes Litigation Over… Bureaucracy?
As Baptist's accusations suggest, while abortion is front and center in the case, the lawsuit isn't actually about ending pregnancies, but rather about the FDA's approval process for the drugs widely used in such procedures. Rather than the high moral principles of right and wrong usually raised in debates over abortion, the complaint is all about bureaucratic methods. The plaintiffs seek an injunction ordering the FDA to withdraw approval of mifepristone based on the argument that it "acted unlawfully" and "eviscerated the safeguards for women and girls who undergo this dangerous drug regimen." A committed pro-lifer who also thinks the FDA is excessively restrictive and should get out of the way of personal decisions about medication would have good reason to feel conflicted in this case.
Even as a federal judge in Texas mulls an injunction against mifepristone, another federal lawsuit seeks to loosen restrictions on abortion-inducing drugs. That's the goal of a lawsuit filed in Washington by a coalition of pro-choice state officials.
"Oregon Attorney General Ellen Rosenblum co-led a lawsuit with Washington Attorney General Bob Ferguson, and joined by 10 other Attorneys General, against the Food & Drug Administration (FDA) for unnecessarily singling out the medication abortion drug, mifepristone, for excessive regulation," announced the Oregon Attorney General's office. "Despite evidence that the drug is safer than Tylenol, burdensome restrictions on prescribing and dispensing mifepristone (restrictions known as REMS) expose patients to needless anguish and confusion. The restrictions also subject providers to bureaucratic oversight that makes providing care much more complicated than necessary."
"The Attorneys General are also seeking a preliminary injunction, asking the court to stop FDA enforcement of the REMS while the lawsuit is pending," the Oregon AG's office adds.
Again, while abortion is at issue, the lawsuit itself focuses on bureaucratic procedures. But in this case the plaintiffs want to do away with red tape, including a certification process for health care providers who dispense mifepristone and mandatory patient agreement forms for women who take the drugs.
Lawsuits Can't Actually End Medication Abortions
A decision on the injunction in the Texas case is expected at any time. But even if the plaintiffs get their way, that doesn't mean an end to drug-induced abortions. For one thing, Washington state officials have stockpiled several years-worth of mifepristone to meet residents' needs. For another, the injunction targets only mifepristone, one of the two drugs used in non-surgical abortions; misoprostol can be used on its own.
"Mifepristone and misoprostol combined together is now an established, highly effective and safe method for medical method of second trimester termination," found a 2018 medical study. "However, when mifepristone is not available or affordable, misoprostol alone can also be used effectively, although a higher total dose is needed and side effects are higher than with the combined regimen."
Misoprostol, it should be noted, is approved for the treatment of gastric ulcers; its use in abortions is widespread but "off-label." Sourced from Mexico where it's sold without a prescription, the drug was sought by women in abortion-averse states to end pregnancies for years before the current litigation.
"Since Texas passed a strict anti-abortion law in September, more and more women along the southern border have been going to unregulated pharmacies in Mexico to get abortion pills," NPR reported last May.
Efforts to curtail access to misoprostol are therefore daunting if not impossible. That's why the Alliance Defending Freedom's Erik Baptist charges that "mifepristone and misoprostol both have dangerous, potentially life-threatening consequences" but he seeks an injunction only against one drug.
Don't Expect These Cases to Resolve Anything
Regarding the issues in the pro-choice lawsuit, the Biden administration defends the targeted restrictions as a split-the-difference effort to "reduce the burden on the healthcare delivery system while ensuring the benefits of the medication outweigh the risks." A decision in that case could potentially conflict with one in the Texas case and land the whole mess before the U.S. Supreme Court.
Ultimately, battles over bureaucratic procedures are a poor substitute for debates over individual rights and underlying moral issues—especially when they're intended as end-runs around those discussions. And while waiting for the outcomes of these lawsuits, Americans will continue to make their own decisions about reproductive matters, even if that means buying ulcer medicine from Mexico.