Politicians Say They Want To Fight Climate Change. So Why Are They Fighting China on Electric Vehicles?
Rather than posing a national security threat, the growth of China's E.V. industry is an opportunity for global innovation.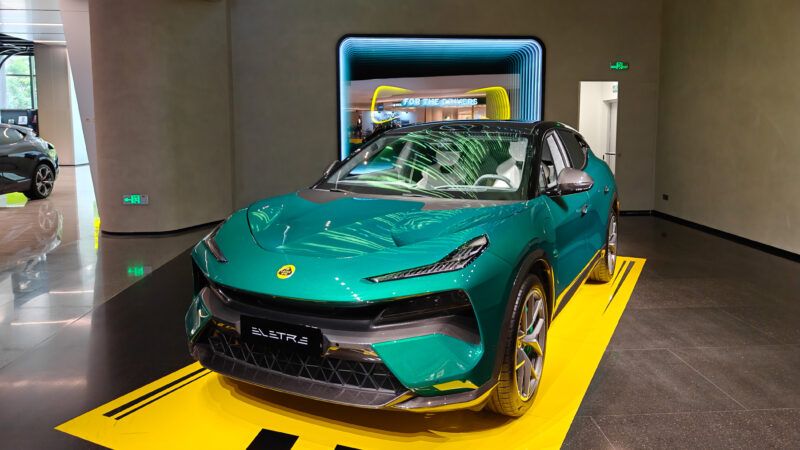 Much of the banter surrounding the rise of China's electric vehicle (E.V.) industry and the implication for the global economy is misleadingly alarmist. When our government gets involved in such narratives, it calls into question the sincerity of its insistence that E.V.s are essential to an existential battle against climate change. If China's foray succeeds, the world gets cleaner cars and non-Chinese automakers are obliged to improve their own products.
A common concern among government officials is that while China faces strong headwinds, the country still might have what it takes to firm up its position and maintain dominance as an E.V. producer and exporter. Such worries aren't confined to U.S. officials. Governments around the world are melding to cut China out of the E.V. market.
I find it bizarre. We are constantly reminded of the importance of investing in green technology as the world faces a pressing need to reduce carbon emissions and combat climate change. By dispensing gargantuan subsidies to support both U.S. electric car production and purchases, the Biden administration clearly wants American voters to believe that it's taking climate change seriously and that more E.V.s are part of the answer.
We should rejoice in China's increased focus on electric cars, which reflects the global shift toward cleaner and more sustainable transportation. Better yet, Chinese E.V. manufacturers seem to have moved beyond merely imitating American and European automakers. Chinese automakers are now producing vehicles that can compete with top-tier Western competitors in large part because their cars are so much cheaper.
Of course, there are questions about whether China will be able to maintain its dominance in E.V. production. For one thing, its heavy-handed approach, known as industrial policy, has never improved the overall economy of any country. A myriad of subsidies and support to the Chinese E.V. industry could end up hurting it by making it less flexible and subject to mal- or overinvestment. Beyond a self-inflicted economic slowdown and major fiscal and demographic troubles, China is also facing rising hostility from foreign nations, which could cause real troubles for its E.V. industry.
Yet the question remains: Does China's current dominance in the E.V. market truly hurt us? After all, China is now producing lower-priced, decent-quality cars for consumers who, unlike Chinese citizens, aren't shouldering the costs of the subsidies propping up the industry. If anything, Americans should be upset that their access to these E.V.s is obstructed by a 27.5 percent tariff on Chinese-made cars imposed by former President Donald Trump's administration and maintained by President Joe Biden.
Rather than posing a national security threat, the growth of China's E.V. industry is an opportunity for global innovation. Its engagement in the sector adds significantly to the international exchange of ideas, technology, and expertise. Cross-border collaboration can accelerate the pace of innovation, benefiting not only China but the entire global electric car ecosystem. U.S., Japanese, and European innovators have successfully done this for decades but have not yet delivered enough affordable clean vehicles. This approach is far more constructive than viewing China's strides as a strategic problem and resorting to protectionist measures.
Furthermore, any related national security concerns are often rooted in misconceptions about the technologies themselves. It's important to differentiate between civilian and military technologies. E.V. manufacturing primarily involves civilian tech that's unlikely to have significant national security implications. The focus should instead be on enhancing international cooperation and dialogue to ensure that technologies with security implications are managed appropriately.
Finally, for all the alarmist talk from politicians about the threat of China's E.V. dominance, many of their own policy inconsistencies make truly cutting ourselves off from these vehicles unlikely. E.V. batteries require a lot of lithium. While the U.S. is home to huge lithium reserves, new mining here is frowned upon by local communities, leaving America with only one active mine producing a whopping 1 percent of the global lithium output.
Even if it weren't an uphill battle to mine much more, it would never be enough to satisfy all our needs. As such, we will likely continue to rely on some Chinese lithium batteries. China is also a manufacturing hub for many Western brands that rely on it to export to the rest of the world. All of this means that even if it were desirable, decoupling our economy from China is unlikely.
There are plenty of reasons why treating China's growing E.V. industry as a strategic problem is a narrow and counterproductive perspective, especially if we claim that fighting climate change is a priority.
COPYRIGHT 2023 CREATORS.COM.