Where Does Big Tech End and Government Start?
Plus: It's National School Choice Week.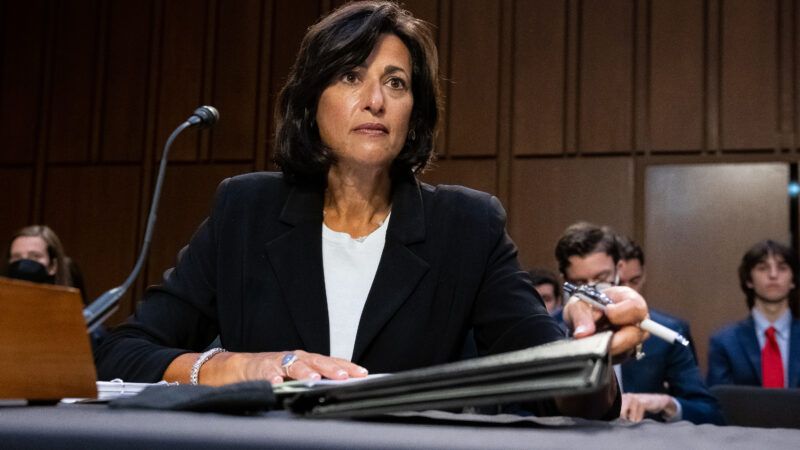 (Graeme Sloan/Sipa USA/Newscom)
In this week's The Reason Roundtable, editors Matt Welch, Katherine Mangu-Ward, Peter Suderman, and Nick Gillespie discuss the Facebook Files, which revealed the considerable influence the Centers for Disease Control and Prevention (CDC) wielded in regard to what users were allowed to say on Meta platforms during the COVID-19 pandemic.
0:55: The CDC silenced COVID-19 dissent on Facebook.
27:25: Weekly Listener Question
36:53: National School Choice Week
55:09: This week's cultural recommendations
Mentioned in this podcast:
"How the CDC Became the Speech Police," by Robby Soave
"Inside the Facebook Files: Emails Reveal the CDC's Role in Silencing COVID-19 Dissent," by Robby Soave
"Emails Show CDC Policed COVID Speech on Facebook. Live with Robby Soave, Nick Gillespie, and Zach Weissmueller," by Zach Weissmueller and Nick Gillespie
"Inside the CDC's Campaign To Police COVID Speech," by Elizabeth Nolan Brown
"The Biggest Education Innovation Is Growing Use of School Choice," by J.D. Tuccille
"Kentucky's Governor Wants School Choice for His Kids, But Not Yours," by J.D. Tuccille
"School Choice Is a Noble Cause," by John Stossel
"Does School Choice Help Students Learn? All Signs Point To Yes," by Nick Gillespie
"N.Y. Can't Teach Kids To Read on $30,000 a Year," by Nick Gillespie and Regan Taylor
"Watch Elizabeth Warren Lie About Her Son's Private School Education," by Nick Gillespie and John Osterhoudt
"It Can Happen Here," by Arnold Kling, David R. Henderson, and Maurice McTigue
Send your questions to roundtable@reason.com. Be sure to include your social media handle and the correct pronunciation of your name.
Today's sponsor:
Self-reliance…planning ahead…using our heads. These are just a few of the things we believe in here at The Reason Roundtable. That's why we'd like to tell you about AirMedCare Network membership and how it can take a financial worry off your plate. AirMedCare Network is America's largest emergency air ambulance membership network. AirMedCare Network providers operate state-of-the-art helicopters. And their specially trained medical personnel provide the highest level of pre-hospital medical care in emergency situations. Even with insurance, these flights can be VERY expensive. But when you're an AirMedCare Network member, you won't see a bill for your flight when flown by one of their providers. This is a financial safety net you should have. Membership is amazingly affordable: only $99 per year and just $79 for seniors. And your entire household is covered. Right now, our listeners get up to an $80 Mastercard or Amazon electronic gift card when they join AMCN and use offer code: REASON. Simply visit AirMedCareNetwork.com/reason today.
Audio production by Ian Keyser
Assistant production by Hunt Beaty
Music: "Angeline," by The Brothers Steve
---