Does School Choice Help Students Learn? All Signs Point To Yes
National School Choice Week, an annual event designed to promote educational options for K-12 students and parents, is underway.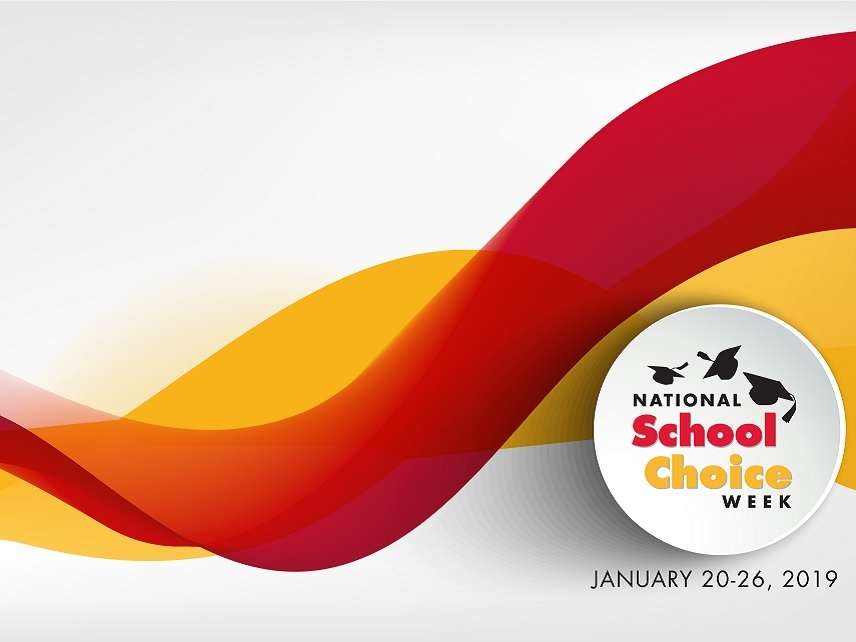 National School Choice Week, an annual happening that organizes tens of thousands of events celebrating all varieties of educational choice for K-12 students and parents, kicked off yesterday. To find out more information about school-choice policies and events in your state, go here.
As a media sponsor of School Choice Week, Reason publishes articles, videos, and podcasts related to school choice during this week. For coverage from past years, go here.
If you're in the Washington, D.C. area, please attend our Wednesday, January 23 event featuring former Reason Director of Education Policy Lisa Snell talking with Johns Hopkins' Ashley Rogers Berner, author of Pluralism and American Public Education: No One Way to School. The event is free but RSVPs are required (more information here).
The organizers of School Choice Week promote all forms of educational reform that give students and parents more options. So that means they don't support, say, voucher plans over charter schools, homeschooling, tuition tax credits, or private scholarship funds. Bring it all on, they argue.
Which leads to a basic question: Does increasing choice yield better results from an educational perspective? Here's some evidence about choice programs that get students into private schools from A Win-Win Solution: The Empirical Evidence on School Choice, by Greg Forster (Fourth Edition, 2016):
Eighteen empirical studies have examined academic outcomes for school choice participants using random assignment, the gold standard of social science. Of those, 14 find choice improves student outcomes: six find all students benefit and eight find some benefit and some are not visibly affected. Two studies find no visible effect, and two studies find Louisiana's voucher program—where most of the eligible private schools were scared away from the program by an expectation of hostile future action from regulators—had a negative effect.
Thirty-three empirical studies (including all methods) have examined school choice's effect on students' academic outcomes in public schools. Of those, 31 find choice improved public schools. One finds no visible effect. One finds a negative effect.
Twenty-eight empirical studies have examined school choice's fiscal impact on taxpayers and public schools. Of these, 25 find school choice programs save money. Three find the programs they study are revenue neutral. No empirical study has found a negative fiscal impact.
Ten empirical studies have examined school choice and racial segregation in schools. Of those, nine find school choice moves students from more segregated schools into less segregated schools, and one finds no net effect on segregation. No empirical study has found that choice increases racial segregation.
Eleven empirical studies have examined school choice's effect on civic values and practices, such as respect for the rights of others and civic knowledge. Of those, eight find school choice improves civic values and practices. Three find no visible effect from school choice. No empirical study has found that school choice has a negative effect on civic values and practices.
Over the past few years, charter schools have probably become the most popular and politically viable form of choice in K-12 education. Charters are publicly funded and regulated by state boards of education, receive less funding per pupil than traditional public schools, and have greater autonomy in creating their curricula. Between 2000 and 2015, reports the National Center for Education Statistics, the number of K-12 students attending charters rose from 1 percent to 6 percent, or from 400,000 kids to 2.8 million kids (seven states still don't allow charters). In virtually all cases, charters are run by nonprofits and it's typical for charters to enroll at-risk students from disadvantaged economic, racial, and ethnic groups.
A few years ago, comedian and talk-show host John Oliver devoted a highly watched segment of his HBO show Last Week Tonight to painting charters as particular hothouses of corruption and failure. There have indeed been some real funding- and education-related scandals involving charters, but that's also the case, on a much-bigger scale, in traditional public school systems (here's just one example). The biggest difference is that when charters are revealed as corrupt or ineffective, they actually shut down while traditional school districts merely replace bad actors with new ones. Public K-12 education is a $670 billion industry and the forces of the status quo—including teachers unions, educational bureaucrats, a wide variety of builders, technology companies, and curriculum companies—are always trying to blunt disruptors. But how do charters stack up when evaluated against comparable conventional public schools?
University of Arkansas education researcher Jay Greene summarizes the data on "randomized control trials" (RCTs), which compare students who enrolled in charters and other who wanted to but were not able to due to limited slots. Because most charters use lotteries to enroll students, it's possible to match the effect of attending a charter versus a traditional school. As Greene puts it:
Speaking as a parent, I can say that few things are more anxiety-inducing and emotionally fraught than sending your kid off to school. When my older son went off to kindergarten for just a few hours a day (the district we were in hadn't yet established "full-day kindergarten," actually meaning six hours), it felt much more consequential than having him attend daycare for 40 hours a week. Education is supposed to help shape so many aspects of students' lives and can, at its best, improve the options and outcomes for kids who are starting off in tough situations. And yet, even in an age of increasing mass personalization and focus on customer service and individual needs in most parts of our lives, we're supposed to believe that increasing options and choice in education is somehow suspect. Parents aren't equipped to make smart choices, either in picking a school in the first place or evaluating its effectiveness in the second, goes this line of thinking. Without questioning how hard it is create and sustain a good school, that sort of argument is deeply insulting to parents (and students) and fails to explain why total expenditures for K-12 education has increased by 2.5 times in real dollars since 1970 while educational outcomes for graduating seniors have remained flat. The establishment has been a lot of time and money to increase its performance but has failed to.
When parents have choice, they tend to use it. For instance, in the Los Angeles Unified School District (LAUSD), the nation's second-largest, fully half of all students are either in charter schools, magnet schools, or schools that have some form of competitive entrance; the biggest problem for parents is a lack of available slots at charters and other alternatives to traditional assignment based on where you live. Teachers at LAUSD are currently striking, in part because the district has lost a staggering 245,000 students over the past 15 years, leading to various political and financial pressures. That decline is partly due to demographics but according to recent research by Reason Foundation, the nonprofit that publishes this website, the powers that be at LAUSD "attribute…an unduly high percentage of its decline in enrollment to charter schools, which outperform the district at most every measure." The education establishment, in Los Angeles and elsewhere, view charters and school choice more broadly as an existential threat precisely because the new alternatives are good at what they do.
Bonus video: "What We Saw at the Save Our Schools Rally." This 2011 video was shot during an anti-school-choice rally where actor Matt Damon spoke and then went off on Reason's host, Michelle Fields, and videographer, Jim Epstein. Take a look: