Judge Dismisses Trump Lawsuit Against The New York Times
Plus: Senate Judiciary Committee considers the EARN IT Act, the FTC has A.I. in its crosshairs, and more...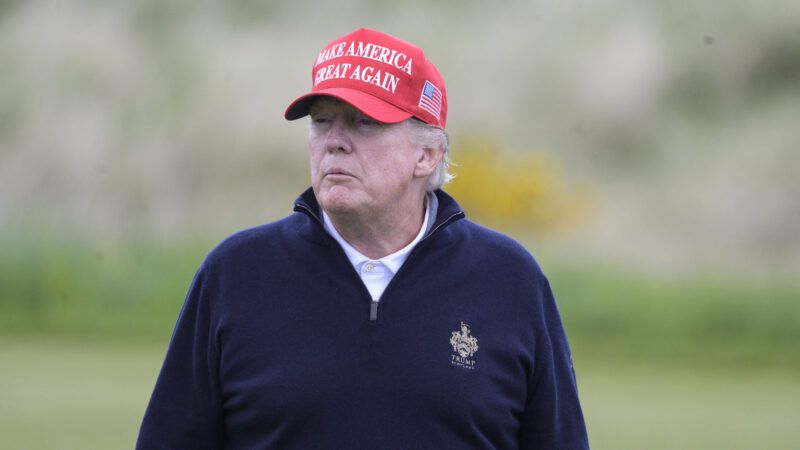 (Wattie Cheung / MEGA / Newscom)
A judge has dismissed former President Donald Trump's lawsuit against The New York Times. Trump sued the paper after it published a 2018 story on Trump family business dealings and Trump's "dubious tax schemes during the 1990s." Trump's lawsuit, filed in 2021, accused the paper and three of its reporters of conspiring with his niece, Mary Trump, to get his tax records through illegal means. He sought $100 million in damages.
"The crux of [Trump's] claim is that a reporter for The Times caused his niece, Mary Trump, to take 20-year-old tax and financial documents held by her lawyer and disclose them in violation of a 2001 settlement agreement," noted Justice Robert R. Reed of Manhattan's Supreme Court. (In New York, there are 62 supreme courts—one for each county—while the highest court is called the Court of Appeals.)
Trump "does not specifically dispute the truth of any statements made in the article,"  Reed pointed out. "Rather, [he] alleges that The Times defendants' interaction with Mary Trump resulted in her breach of certain confidentiality provisions of the 2001 settlement agreement, rendering The Times and its journalists liable for tortious interference with contract, aiding and abetting tortious interference with contract, unjust enrichment, and/or negligent supervision."
But Trump's allegations against the Times and its reporters "fail as a matter of constitutional law," wrote Reed in a Wednesday decision.
"Courts have long recognized that reporters are entitled to engage in legal and ordinary news-gathering activities without fear of tort liability — as these actions are at the very core of protected First Amendment activity," Reed wrote.
The judge ordered Trump to pay the legal fees of the three Times reporters he sued and the paper's legal fees.
It's unclear whether Trump will appeal the ruling.
Trump also sued his estranged niece and the court has not yet ruled in this case.
Reed's decision marks a series of losses for Trump and his team in lawsuits against media outlets. Earlier this year, a federal judge dismissed a defamation suit that his 2020 reelection campaign had filed against The Washington Post. Federal judges have also dismissed defamation suits filed by the Trump campaign against The New York Times and CNN, while the campaign agreed to dismiss a suit against Wisconsin NBC affiliate WJFW.
"The Trump campaign framed the lawsuits as a strike back against habitually dishonest and unfair reporting by major media outlets," noted Reason's C.J. Ciaramella:
Trump has repeatedly complained over the years that libel laws need to be "opened up" to remove the strong protections that news outlets have enjoyed from defamation lawsuits since the landmark 1964 Supreme Court case New York Times v. Sullivan. The ruling in Sullivan established that, to prevail on a defamation claim, public figures must show that the publishers knew the statements were false or acted with reckless disregard for the truth.

On the 2016 campaign trail, Trump said, "I'm going to open up our libel laws so when they write purposely negative and horrible and false articles, we can sue them and win lots of money. We're going to open up those libel laws. So when The New York Times writes a hit piece which is a total disgrace or when The Washington Post, which is there for other reasons, writes a hit piece, we can sue them and win money instead of having no chance of winning because they're totally protected."

In 2018, Trump once again said his administration would take "a strong look" at libel laws after his erstwhile personal lawyer, Michael Cohen, filed a defamation lawsuit against BuzzFeed News for publishing a dossier full of salacious claims about the president. "Our current libel laws are a sham and a disgrace and do not represent American values or American fairness," Trump said.

But complaining does not overturn Supreme Court precedent, and the Trump campaign's lawsuits have all so far flamed out for failing to meet Sullivan's high bar.
---
FREE MINDS
The Senate Judiciary Committee is scheduled to consider the Eliminating Abusive and Rampant Neglect of Interactive Technologies (EARN IT) Act today. The bill—which was also introduced in 2020 and 2022—is yet another matter that would threaten the privacy of all internet users in the name of stopping sexual predators.
EARN IT and another bill before the Judiciary Committee—the Strengthening Transparency and Obligation to Protect Children Suffering from Abuse and Mistreatment Act of 2023 (STOP CSAM Act)—would "lead to peoples' private messages being scanned and reported to the government," warned the Electronic Frontier Foundation (EFF) earlier this week. EFF is one of more than 100 advocacy groups that oppose the EARN IT Act.
In a Tuesday letter to Judiciary Committee leaders, 132 organizations asserted that EARN IT would "make it harder for law enforcement to protect children…result in online censorship that will disproportionately impact marginalized communities," and "jeopardize access to encrypted services, undermining a critical foundation of security, confidentiality, and safety on the internet." You can read their whole letter here.
---
FREE MARKETS
Federal Trade Commission (FTC) head Lina Khan seems to have never met a new tech tool she didn't want to regulate intensely. Her latest crusade is against artificial intelligence (A.I.) tech. In a New York Times op-ed yesterday, Khan compared our current stage of A.I. to the early days of social media platforms like Facebook—a platform the FTC has repeatedly taken aim at. (At present, it's trying to prevent Facebook parent-company Meta from making money off of users under age 18.)
"As the use of A.I. becomes more widespread, public officials have a responsibility to ensure this hard-learned history doesn't repeat itself," argued Khan. "As companies race to deploy and monetize A.I., the Federal Trade Commission is taking a close look at how we can best achieve our dual mandate to promote fair competition and to protect Americans from unfair or deceptive practices."
That's bureaucrat-speak for "we're going to try our damnedest to stifle innovation and competition in this market before it really has a chance…"
---
QUICK HITS
• PEN America warns of "a troubling new trend in censorship legislation that affects higher education: a shift from bills that ban lists of so-called 'divisive concepts' in classroom instruction, toward a new class of bills that specifically restrict the content of curricula, including majors, minors, and general education."
• The Free Speech Coalition is suing to stop a Utah law (S.B. 287) that requires porn platforms to verify the ages of all visitors from Utah.
• "New York's new state budget includes a provision banning gas stoves in new residential construction," reports Reason's Christian Britschgi.
• TikTok is raising eyebrows after suspending the account of the Acton Institute after the think tank shared clips from a documentary about Hong Kong pro-democracy activist Jimmy Lai.
• Capping credit card fees will hurt the poor, writes Veronique de Rugy.