A Federal Judge Has Dismissed the Trump Campaign's Defamation Lawsuit Against The Washington Post
The last of the reelection campaign's defamation lawsuits against media outlets looks like it is headed for defeat, like all the others.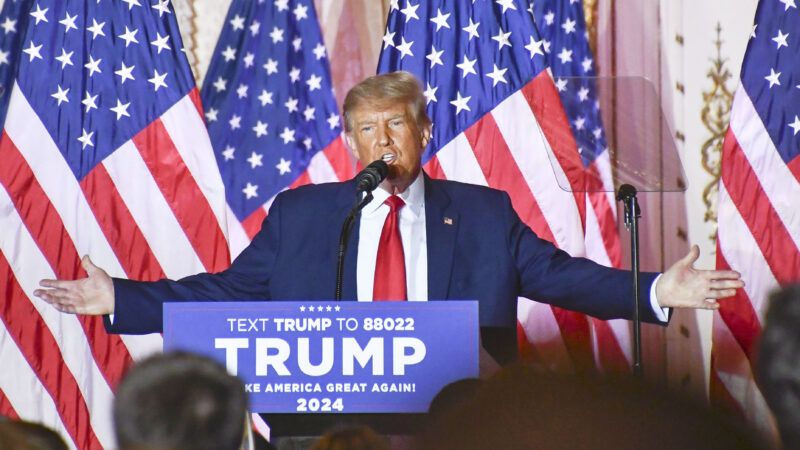 (Kyodonews/Zuma Press/Newscom)
Former President Donald Trump's legal offensive against media outlets had yet another loss in court Friday, when a federal judge dismissed a defamation suit that his 2020 reelection campaign filed against The Washington Post.
U.S. District Judge for the District of Columbia Rudolph Contreras ruled that the Trump campaign failed to demonstrate "actual malice" regarding the alleged defamatory statements—sentences from two articles written by Washington Post opinion writers Greg Sargent and Paul Waldman. Waldman's statements were also, Contreras ruled, protected opinion.
"Not only has the Trump Campaign failed to plead sufficient factual allegations supporting an inference of actual malice," Contreras wrote, but "the context of [Sargent's] alleged defamatory statement suggests the absence of actual malice."
Trump's 2020 reelection campaign filed a string of lawsuits against media outlets. In February of 2020, it sued The New York Times, and two more suits against CNN and The Washington Post followed in March. All of those defamation claims concerned opinion pieces about the Trump campaign's alleged collusion with Russia. Sargent's piece characterized Special Counsel Robert Mueller's report on Russia and the Trump 2020 campaign as saying the campaign "tried to conspire" with Russia. The alleged defamatory statement in Waldman's article was: "Who knows what sort of aid Russia and North Korea will give to the Trump campaign, now that he has invited them to offer their assistance?"
In April of 2020, the Trump campaign filed a defamation lawsuit in Wisconsin state court against WJFW, an NBC affiliate in Rhinelander, Wisconsin, claiming that a campaign commercial produced by a Democrat-aligned political action committee contained "intentionally false and defamatory statements" about Trump's handling of the COVID-19 pandemic.
The Trump campaign framed the lawsuits as a strike back against habitually dishonest and unfair reporting by major media outlets. Its suit against CNN, for instance, argued that the network "engaged in a systematic pattern of bias against the Campaign, designed to maliciously interfere with and damage its reputation and ultimately cause the organization to fail."
The @TeamTrump Campaign filed lawsuits against CNN, NY Times, and Washington Post (3 suits at present) to publicly establish truth and hold media accountable for their false and defamatory statements.

I joined @FoxNews to discuss why we will prevail. https://t.co/dWymbSivnv

— Jenna Ellis ???????? (@JennaEllisEsq) March 8, 2020
Trump has repeatedly complained over the years that libel laws need to be "opened up" to remove the strong protections that news outlets have enjoyed from defamation lawsuits since the landmark 1964 Supreme Court case New York Times v. Sullivan. The ruling in Sullivan established that, to prevail on a defamation claim, public figures must show that the publishers knew the statements were false or acted with reckless disregard for the truth.
On the 2016 campaign trail, Trump said, "I'm going to open up our libel laws so when they write purposely negative and horrible and false articles, we can sue them and win lots of money. We're going to open up those libel laws. So when The New York Times writes a hit piece which is a total disgrace or when The Washington Post, which is there for other reasons, writes a hit piece, we can sue them and win money instead of having no chance of winning because they're totally protected."
In 2018, Trump once again said his administration would take "a strong look" at libel laws after his erstwhile personal lawyer, Michael Cohen, filed a defamation lawsuit against BuzzFeed News for publishing a dossier full of salacious claims about the president. "Our current libel laws are a sham and a disgrace and do not represent American values or American fairness," Trump said.
But complaining does not overturn Supreme Court precedent, and the Trump campaign's lawsuits have all so far flamed out for failing to meet Sullivan's high bar. 
Trump campaign lawyers agreed to dismiss its lawsuit against the Wisconsin television station. Federal judges dismissed the Trump campaign's lawsuits against CNN and The New York Times, both finding—like Contreras—that the campaign's sweeping and conclusory allegations of political bias failed to meet the constitutional standard for actual malice.
The Post lawsuit is not dead yet. Trump's lawyers have an opportunity to file an amended complaint. But that's an option they haven't taken in previous court defeats. 
Rather than showing the unfairness of the strong current standard for defamation, Trump's resounding failures in court show why that standard is necessary: to shield political speech and opinion writing from retaliation by powerful figures.