Senators Ask DEA To Stop Buying Its Way Around Civil Liberties
Plus: Senate Republicans spar over TikTok and free speech, Americans can't agree on how to cut spending, and more...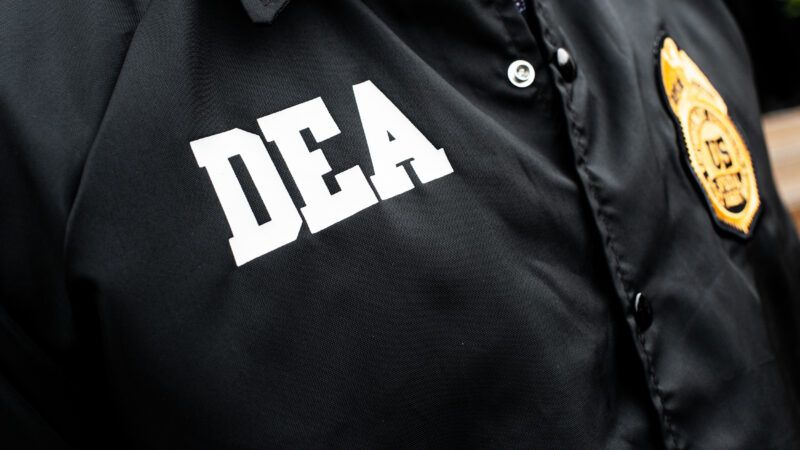 (Stringer/ZUMAPRESS/Newscom)
"DEA agents were regularly paying for and receiving private customer information." Rather than obtain a warrant for some mailed packages or consumer travel data, Drug Enforcement Administration (DEA) agents paid employees at private companies and other government agencies to simply hand over information. In a March 29 letter, Sens. Ron Wyden (D–Ore.) and Cynthia Lummis (R–Wyo.) asked the Department of Justice (DOJ) to put an end to this practice.
Wyden and Lummis noted that the DEA "has for years paid confidential sources, commonly known as informants, employed by other U.S. government agencies and companies as a means to access data held by those agencies and companies rather than using compulsory legal processes, such as an administrative subpoena or warrant, to request that data."
This practice was first revealed in 2014, with more information coming out in a 2016 Office of the Inspector General (OIG) audit. That audit revealed that agents "were paying travel and parcel industry employees millions of dollars to covertly obtain Americans' data, which the DEA could have readily obtained through a subpoena or court order," noted Wyden and Lummis.
Following these revelations, the DEA said it had banned agents from paying Amtrak employees, employees of other quasi-government entities, and government employees for private information.
But "the Congressional Research Service informed Senator Wyden's office that DEA officials said the agency does not apply the prohibition on payment for information obtained in the course and scope of a source's employment to employees of private companies," Wyden and Lummis wrote:
The OIG found that DEA agents were regularly paying for and receiving private customer information from these sources. One agent reportedly received daily passenger manifests for buses traveling to and from a specific station or manifests of all passengers who purchased bus fare in cash. Another agent received passenger itineraries, ticket and baggage information, origin and departure airports, connecting flights, dates of birth and seat numbers from an airline industry source. The OIG found that agents would establish confidential sources "solely because the sources have access to private company databases and facilities."

The OIG also revealed that one DEA Special Agent recruited a parcel industry source who had unique administrative privileges to open packages en route to their destination. This source would search packages and report to the agent when packages contained currency. At the agent's request, the source would rebox the package to be sent to the agent. While the government would normally need a warrant to open a package sent by the Postal Service, these packages in the care of a private package delivery company were inspected and shared with the DEA with no judicial oversight.
Wyden and Lummis want the DOJ to explicitly ban such practices not only at the DEA but at its other component agencies, including the FBI, the U.S. Marshals Service, the Bureau of Alcohol, Tobacco, Firearms, and Explosives, and others. They also asked the department to provide unclassified answers to a number of questions about such practices by May 8.
"Over the past several years, law enforcement agencies like the DEA, [Customs and Border Protection], and the FBI, as well as sections of the military, have been buying data from data brokers," reports Vice. "This has included smartphone location data collected by ordinary apps."
A trove of Department of Homeland Security (DHS) records examined by the American Civil Liberties Union (ACLU) recently revealed that DHS agents spent millions purchasing cellphone location data. Such agents are "sidestepping our Fourth Amendment right against unreasonable government searches and seizures," commented the ACLU.
---
FREE MINDS
Senate Republicans spar over TikTok, free speech. Sen. Josh Hawley (R–Mo.) yesterday tried to force a vote on his bill to ban TikTok—one of two competing measures aimed at the video app and its parent company, ByteDance. But Hawley "was blocked by a fellow Republican as lawmakers in both chambers are still trying to figure out what action, if any, is appropriate against the social media app," reports the New York Post.
Repeating the recent favorite hack trope that TikTok is "digital fentanyl," Hawley said that a ban would send "the message to Communist China that you cannot buy us."
"Speech is protected whether you like it or not," pushed back Sen. Rand Paul (R–Ky.).
When Hawley tried to suggest that banning TikTok was OK because there's no First Amendment "right to espionage," Paul told Hawley he was "unlikely to take First Amendment advice from someone who believes that the First Amendment doesn't protect the Communist Party…We should beware of people who peddle fear. We should beware of people who peddle half truths."
---
FREE MARKETS
Americans want to cut government spending…but can't agree on what to cut:
Out of 16 things, the only one that even a majority agree we're spending too much on is foreign aid.

People like cutting spending in theory. They do not like it when you cut specific things -- and especially the big stuff that could actually put a dent in the deficit. pic.twitter.com/FYmiXvds1l

— Aaron Blake (@AaronBlake) March 29, 2023
---
QUICK HITS
• The Senate successfully voted to finally end two authorizations for the use of military force in Iraq:
PASSED: S.316, to repeal the authorizations for use of military force against Iraq

By a vote of 66-30.

— U.S. Senate Majority Floor Updates (@DSenFloor) March 29, 2023
• "The Biden administration is fighting a Democratic-led effort to make abortion pills more accessible even as it simultaneously opposes a GOP-led effort to ban the drugs nationwide," notes Politico.
• The Food and Drug Administration (FDA) has approved over-the-counter sales of the opioid overdose antidote Narcan.
• The FDA is meeting in May to discuss approval of an over-the-counter birth control pill.
• Fewer than half of Senate Democrats voted with Republicans to officially end the COVID-19 national emergency.
• Headline of the week? "Winnie The Pooh Escapes Copyright Hell, Grabs Some Weapons, And Immediately Gets Kicked Out Of Hong Kong."
• North Carolina will no longer require people to get a permit from a local sheriff before buying a gun.
• "Seven California Highway Patrol officers and a nurse have been charged with involuntary manslaughter nearly three years after the in-custody death" of Edward Bronstein, "who was pulled over for a traffic stop in Los Angeles County and repeatedly said 'I can't breathe' before losing consciousness," reports ABC News.
• There are always new drugs to drug war, sigh.
• Immigration to America's most populous counties hasn't been able to stanch the flow of people from urban centers "to suburbs, exurbs and other regions of the country," notes The New York Times.
• Blame regulations, not foreign buyers, for America's high housing costs, writes Reason's Christian Britschgi.