Could the RESTRICT Act Criminalize the Use of VPNs?
Plus: States consider mandatory anti-porn filters, tariffs create baby formula shortages (again), and more...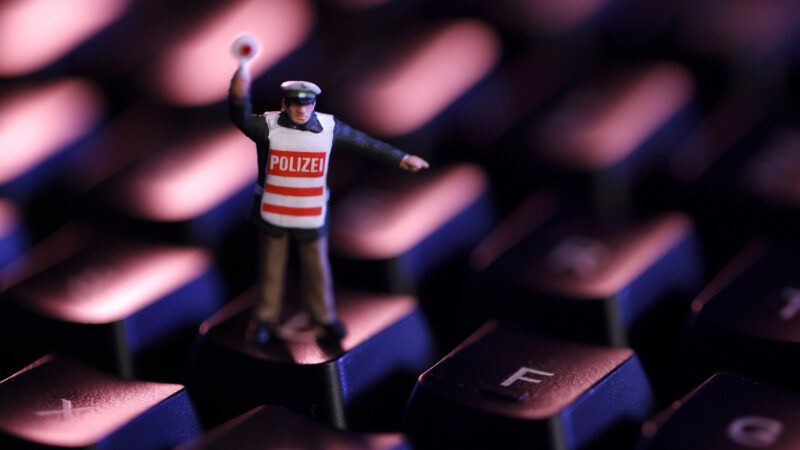 (Future Image/ZUMAPRESS/Newscom)
Would the RESTRICT Act—a.k.a. the TikTok ban bill—criminalize the use of VPNs? That's the rumor floating around about the legislation, which was introduced in the Senate by Sen. Mark Warner (D–Va.) earlier this month. Warner's office has said his bill wouldn't do this… but its broad language leaves room for doubt. And the act is still insanely far-reaching and could have a huge range of deleterious effects, even if it doesn't criminalize people using a VPN to access TikTok.
VPN stands for virtual private network, and there are several different kinds, but their general aim is the same: keeping your digital activities and location private. Using a VPN with your computer, phone, or another internet-enabled device can do things like mask your I.P. address and encrypt your internet connection. It's a great way to get around location-based firewalls (a.k.a. geoblocking) and other forms of internet censorship.
For this reason, VPNs are popular in countries that exercise authoritarian control over what their citizens can access online. It's sad that this contingent could soon include U.S. citizens, but include us it does, as both Republicans and Democrats get more and more gung-ho about banning the popular video platform TikTok.
Sen. Josh Hawley (R–Mo.) introduced one TikTok ban bill back in January. Hawley's bill would direct the president to use the International Emergency Economic Powers Act to specifically "block and prohibit all transactions" and to "prevent commercial operation of" TikTok parent company ByteDance in the U.S.
The latest legislation is more extensive—and even more invasive.
Warner's "Restricting the Emergence of Security Threats that Risk Information and Communications Technology Act," or the RESTRICT Act, doesn't specifically mention TikTok or ByteDance. Rather, it would grant the U.S. secretary of commerce the broad power to "identify, deter, disrupt, prevent, prohibit, investigate, or otherwise mitigate … any risk arising from any covered transaction by any person, or with respect to any property" that the secretary determines to pose "an undue or unacceptable risk" in several different areas. These include federal elections, "information and communications technology products and services," and "critical infrastructure or digital economy," as well as "coercive or criminal activities by a foreign adversary that are designed to undermine democratic processes and institutions or steer policy and regulatory decisions in favor of the strategic objectives of a foreign adversary to the detriment of the national security of the United States."
The language describing who the RESTRICT ACT applies to is confusing at best. The commerce secretary would be authorized to take steps to address risks posed by "any covered transaction by any person," right? So what counts as a covered transaction? The bill states that this means "a transaction in which an entity described in subparagraph (B) has any interest." Entities described in subparagraph B are a "foreign adversary; an entity subject to the jurisdiction of, or organized under the laws of, a foreign adversary; and an entity owned, directed, or controlled by" either of these. Foreign adversaries can be "any foreign government or regime" that the secretary deems a national security threat.
It's a bit gobbledygooked, but this could be read to imply that "any person" using a VPN to access an app controlled by a "foreign adversary" or its alleged minions is subject to the secretary's ire. Hence anyone using a VPN to access TikTok would be in trouble—specifically, subject to up to $1 million in fines, 20 years in prison, or both.
Warner's office says this isn't so. Spokesperson Rachel Cohen told Newsweek that the provisions only apply when someone is "engaged in 'sabotage or subversion' of communications technology in the U.S., causing 'catastrophic effects' on U.S. critical infrastructure, or 'interfering in, or altering the result' of a federal election in order for criminal penalties to apply." The RESTRICT Act targets "companies like Kaspersky, Huawei and TikTok … not individual users," she said.
It's somewhat reassuring that at least Warner doesn't intend the bill's criminal provisions to apply to U.S. citizens using VPNs. But the verboten activities it lists are actually broader than those that Cohen mentions to Newsweek. And because the language of the bill is so expansive, it seems hard to rule out it ever being used in this way.
We've seen many times the way federal laws are sold as attacks on big baddies like terrorists and drug kingpins yet wind up used to attack people engaged in much more minor activities.
Besides, the RESTRICT Act doesn't just state that "no person may engage in any conduct prohibited by or contrary to" its provisions. It also says "no person may cause or aid, abet, counsel, command, induce, procure, permit, or approve the doing of any act prohibited by, or the omission of any act required by any regulation, order, direction, mitigation measure, prohibition, or other authorization or directive issued under, this Act," (emphasis mine). In addition, "no person may solicit or attempt a violation" and "no person may engage in any transaction or take any other action with intent to evade the provisions of this Act."
That language leaves even more room for the RESTRICT Act to touch a wide range of activities. Perhaps a court would ultimately deem it unusable against individuals merely trying to evade a TikTok ban, but that doesn't mean prosecutors wouldn't try, nor that authorities wouldn't use invasive surveillance measures to try and detect such evasion.
And even if the law would never be used to attack citizens for merely using VPNs, it's a deeply worrying piece of legislation that would give the government broad authority to restrict or ban all sorts of businesses and communications tools, so long as they're tangentially related to any country it decides is an adversary. It would give law enforcement wide leeway to punish a range of people involved in the provision or dissemination of any services from these entities. And it would grant authorities sweeping new powers to go after a huge range of economic and expressive activity and limit Americans' access to a wide range of tools, services, and products.
As Reason's Robby Soave asked yesterday, can we really "expect the veritable army of federal bureaucrats obsessed with policing speech on social media platforms to narrowly utilize this new mandate to deter foreign threats and focus solely on the CCP? Or should we anticipate that every weapon added to their arsenal is a threat to the free speech rights of everyday Americans?"
The good news here is that a broad range of people and groups—including civil libertarians, conservatives, and leftists alike—have come out against banning TikTok and against the RESTRICT Act more generally.
"This bill isn't about banning TikTok, it is never about what they say it is," Fox News host Tucker Carlson told the Daily Caller. "Instead, this bill would give enormous and terrifying new powers to the federal government to punish American citizens and regulate how they communicate with one another."
"This is not an effort to push back against China, it is part of a strategy to make America much more like China, with the government in charge of what you read and see and with terrifying punitive powers at their fingertips," he continued. "We've seen this before from the national security state again and again. Confronted with a foreign adversary, for example, after 9/11, the federal government uses the opportunity to expand their police powers over the American population and they do it under false pretexts and they do it quickly by whipping people into a panic."
Sen. Rand Paul (R–Ky.) makes similar points in a Courier Journal op-ed today:
Before banning TikTok, these censors might want to discover that China's government already bans TikTok. Hmmm . . . do we really want to emulate China's speech bans?

TikTok must be banned, the censors say, because they are owned and controlled by the Chinese communist government, but does TikTok do the Chinese government's bidding? Well, go to the app and search for Falun Gong, the anti-communist religious sect that is persecuted in China. Go to TikTok and search for videos advocating Taiwan's independence, criticism of Chinese Premier Xi Jinping. Videos are all over TikTok that are critical of official Chinese positions. That's why TikTok is banned in China.

As Drs. Mueller and Farhat of Georgia Tech write: "If nationalistic fears about Chinese influence operations lead to a departure from American constitutional principles supporting free and open political discourse, we will have succeeded in undermining our system of government more effectively than any Chinese propaganda could do."
---
FREE MINDS
States consider mandatory anti-porn filters. NBC News looks at anti-porn bills that are currently percolating in eight states. These bills "would force phone and tablet manufacturers like Apple and Samsung to automatically enable filters that censor nude and sexually explicit content," it points out:
The only way to disable the filters, according to the bills introduced this year, would be through passcodes. Providing such a passcode to a child would be forbidden, except when done by a parent.

Specifically, the bills say, the phone filters must prevent children from downloading sexually explicit content via mobile data networks, applications owned and controlled by the manufacturer, and wired or wireless internet networks.

Many device manufacturers already have adult content filters available for use, though it is not the norm to have them turned on by default. Many phone makers, for instance, allow parents to easily enable filters on web browsers that prevent children from navigating to websites known to host pornography.
Parents already have tools available to keep sexual content off their children's devices. These new bills would, instead, treat all adults like children.
---
FREE MARKETS
Tariffs on baby formula returned—and so did the shortages. Reason's Eric Boehm explores how government policy is making it harder for Americans to feed their kids:
When supply chain issues caused a baby formula shortage last year, Congress (eventually) cut tariffs to help get more formula onto American store shelves.

It worked! Imports of baby formula soared during the second half of 2022 after tariffs and other regulations were lifted. Stores reported lower out-of-stock rates and news stories about panicked parents being unable to feed their infants abated. In short, the government removed economic barriers and the market solved the problem.

Then, the government put those barriers back in place. On January 1, the tariffs on baby formula returned. Now, so has the crisis.

"It's getting harder and harder" to find baby formula, pharmacy owner Anil Datwani told Fox News this week. "[Mothers] go from one store to the next store to the next store" looking for baby formula.

Meanwhile, some consumers are complaining on social media that prices for baby formula have suddenly spiked and availability is once again a problem.
More here.
---
QUICK HITS
• The Senate will vote today on whether to finally repeal Iraq war powers.
• This year's farm bill threatens to be "a bigger monster than ever," warns J.D. Tuccille.
• An Idaho bill would create the crime of "abortion trafficking."
• New York lawmakers are pondering a "Netflix tax."
• The government is turning border surveillance on Americans.