2021 Was Another Disappointing Year for Immigration Policy
Joe Biden promised to do better by migrants upon taking office, but he fell short in 2021.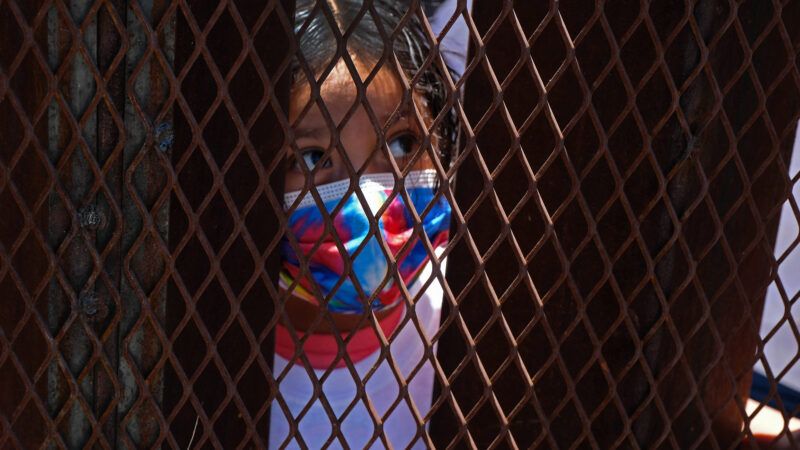 (Christopher Brown/ZUMAPRESS/Newscom)
When President Joe Biden took office in January 2021, he inherited a country rattled by a deadly pandemic, a struggling economy, and a bevy of immigration restrictions that his predecessor had imposed to nominally tackle both.
Faced with an opportunity to hit reset on President Donald Trump's controversial approach to immigration, Biden instead kept many of those policies in place and imposed new ones that were hardly more sensible than Trump's. Now, 2021 is ending much the way it started, with the president mistakenly setting his sights on migrants as major COVID-19 vectors and hobbling legal immigration in the name of public health.
Before taking office, Biden frequently spoke about the need to restore asylum and protect migrants "fleeing persecution and violence." He promised to end a key Trump administration policy called the Migrant Protection Protocols—known informally as "Remain in Mexico"—on his first day as president. The policy saw 70,000 asylum seekers relegated to dangerous conditions across the border as they awaited their U.S. immigration court hearings. Asylum, Biden's campaign website said, is a "legal right" designed to "protect people fleeing persecution and who cannot return home safely." On paper, his plans sounded promising (never mind the fact that Biden didn't formally end Remain in Mexico until June).
However, over the past year, the Biden administration has constantly justified its continuation of a different Trump-era border policy: Title 42, which allows Customs and Border Patrol (CBP) to expel migrants on public health grounds. Centers for Disease Control and Prevention officials saw no valid health reason to shut out asylum seekers, according to the Associated Press. But then–Vice President Mike Pence ordered them to issue an order regardless, launching a policy a former Pence aide described as a "Stephen Miller special," referring to the Trump adviser behind the administration's cruelest immigration policies.
The Biden administration, so committed to "following the science" and treating migrants humanely, has wrongly kept Title 42 in place. Though it relaxed certain aspects of Trump's implementation, allowing most unaccompanied minors and parents and their children to request asylum, Homeland Security Secretary Alejandro Mayorkas has said that "Title 42 is not an immigration authority, but a public health authority" designed to protect "the American public" and "the migrants themselves." The Biden administration has leaned into that justification, even fighting a September court order to stop using the policy.
In 2021, CBP expelled over 1 million people under Title 42. And since Biden took office on January 20, over 7,000 migrants have been kidnapped and attacked by cartels and Mexican authorities following their deportations. That danger to deportees will undoubtedly continue, with no end to Title 42 in sight and a federal judge ordering that the administration reimplement Remain in Mexico.
As vaccination rates rose and disease risk fell, the administration began to concede that some cross-border movement was acceptable. On November 8, the Biden administration reopened land borders with Canada and Mexico, allowing fully vaccinated travelers to cross. It was a welcome change for separated families, long-absent tourists, and border communities struggling without their typical two nations' worth of potential customers. The same day, fully vaccinated foreign air travelers began to arrive in the U.S. for nonessential travel.
Asylum seekers continued to face expulsion, even though CBP had developed plans to vaccinate migrants "as part of a proposal to unwind" Title 42. CBP "declined to offer vaccines" to migrants in its custody for months, and just a small percentage were vaccinated—half of them unaccompanied children. There were steps in place to ensure that the migrant population could enter the U.S. vaccinated just as nonessential travelers must, but CBP resisted them. Title 42 stayed "due to concerns about the spread of the Delta variant and the political pressure faced by the administration over the high number of border crossings," according to Biden officials.
Biden's immigration issues do not start and end at the southern border. The administration let tens of thousands of employment-based green cards go to waste in fiscal year 2021, despite a massive application backlog. It was unprepared for the mass evacuation of vulnerable Afghans at every step, with hundreds of thousands still stuck in Afghanistan according to some advocate estimates. Routine processing at consulates and embassies around the world has been disrupted by the pandemic, and limited resources have demanded that officials focus on only the most urgent visa applications.
The U.S. immigration system has repeatedly failed migrants in 2021. Biden has had every opportunity to rescind Trump's cruel restrictions, but he's maintained many and even added to the stack. Biden has kept borders closed in punitive, often contradictory ways, and his officials haven't hesitated to back up those restrictions and violate their stated promises.
It's likely that immigration in 2022 will look like immigration in 2021. With the rise of the omicron variant, the Biden administration is once again trotting out restrictions on movement that have long been proven ineffective.
Still, it's important to remember that the U.S. immigration system was broken long before COVID-19 arrived on American soil. When bureaucrats can no longer point to the virus as the justification for their actions, the same inefficiencies that have always plagued immigration proceedings will still be there.