A Pending Pardon for George Floyd Shows How the Drug War Gives Cops a License To Lie
Floyd was arrested for selling crack by a crooked Houston narcotics cop who repeatedly lied to implicate people in drug crimes.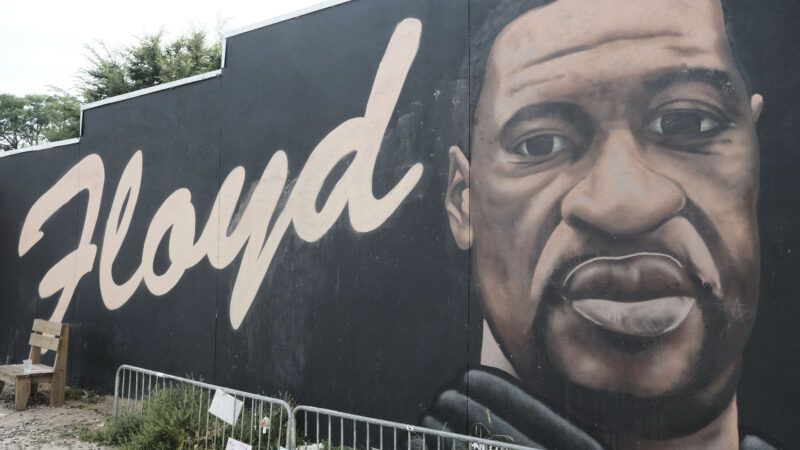 (John Arthur Brown/Zuma Press/Newscom)
Sixteen years before he died at the hands of Minneapolis police officers, George Floyd was arrested in Houston, his hometown, for delivery of a controlled substance. It was a routine case involving a tiny amount of crack, which the arresting officer said Floyd had given to a "second suspect" so that person could sell it to the cop, who was posing as a buyer. Floyd ultimately pleaded guilty and served 10 months in jail.
Floyd's conviction was a sadly common illustration of the drug war's injustice and futility. No one would have given it a second look but for a 2019 raid in which Houston narcotics officers killed a middle-aged couple, Dennis Tuttle and Rhogena Nicholas, at their house on Harding Street. That operation, it turned out, was based on lies from start to finish, and the cop who instigated it, veteran narcotics officer Gerald Goines, was the same man who had arrested Floyd in 2004. This week the Texas Board of Pardons and Paroles unanimously recommended that Gov. Greg Abbott grant Floyd a posthumous pardon for that crime in light of Goines' proven mendacity.
The pardon application, which Harris County public defender Allison Mathis submitted in April, is a window on how drug laws invite police not only to arrest people for peaceful conduct that violates no one's rights but also to invent that conduct from whole cloth. It's unclear how often that happens, because drug defendants who claim they were framed usually can't prove it, and their word counts for nothing against the testimony of police officers, who are presumed to be honest and dedicated public servants. Goines' history of arresting people on trumped-up charges shows the danger of that presumption.
The deadly Harding Street raid discovered no evidence that Tuttle or Nicholas was selling heroin, as Goines had claimed in his search warrant affidavit. A few weeks later, Goines admitted that he had invented a heroin purchase by a nonexistent confidential informant. That revelation led to state and federal charges against Goines, including tampering with government documents and felony murder. Last June, Steven Bryant, a narcotics officer who had backed up Goines' phony story, pleaded guilty to a federal charge of obstructing justice by falsifying records. The Harding Street raid also prompted the Harris County District Attorney's Office to reexamine thousands of cases involving Goines and his colleagues in the Houston Police Department's Narcotics Division.
Prosecutors identified more than 160 drug cases in which Goines was the sole witness or wrote a search warrant affidavit. They sent letters to the defendants, suggesting that they could challenge their convictions based on Goines' pattern of dishonesty. Two of those defendants, Otis Mallet and his brother Steven Mallet, were eventually declared "actually innocent" by a state appeals court.
Goines' testimony was the only evidence against Otis and Steven Mallet. There were no other witnesses to the alleged transaction, and the can that he claimed contained the crack he supposedly bought had no usable fingerprints. Neighbors said they had not seen anything like the transaction Goines described. A drug-sniffing dog did not alert to the truck where Mallet allegedly had stashed the can of crack. During Otis Mallet's trial, the prosecution said that, given his many years of public service, Goines "deserves to be treated with more respect than he's been treated with."
Otis Mallet, who filed a federal lawsuit against Goines in August, had always maintained that Goines implicated him and his brother in a crack sale that never happened. The prosecutors who reexamined the 2008 case agreed, saying Goines "repeatedly lied about nearly every aspect" of the supposed transaction. Harris County District Attorney Kim Ogg said Goines' refusal to testify at Otis Mallet's innocence hearing was "compelling evidence that the entire alleged narcotics transaction was a fraud."
Although prosecutors tried to notify Floyd of his opportunity to reverse his conviction, they sent the letter to a Houston address after he had moved to Minneapolis, so he probably never received it. But the case against him, as described by Mathis in her pardon application, fits the pattern illustrated by the Harding Street raid and the arrests of Otis and Steven Mallet.
Goines "alleged that Floyd was in possession of .03 grams of crack cocaine at the time of his arrest, and that Floyd had provided the drugs to an unnamed 'second suspect' who had agreed to sell the drugs to the undercover Goines." That "second suspect" was not arrested, Goines said, "in a [sic] attempt to further the narcotic trafficing [sic] in this area." Presumably he meant that he hoped this individual would be valuable as an informant. But for all we know, this person was just as imaginary as the informant who supposedly bought heroin from Tuttle.
In the Mallet case, Goines likewise said he had been assisted by an informant. That person, he claimed in a May 2008 expense report, "provided information to officers that narcotics were being stored and sold from the location" where Otis and Steven Mallet had been arrested the previous month. In return for his help, Goines said, "the informant was paid two hundred dollars." The informant's involvement was conspicuously missing from Goines' description of the crack purchase in his arrest report and other case documents.
"It is our contention that Goines did the same thing in George Floyd's case as he did in the cases of so many others," Mathis writes. "He made up the existence of a confidential informant who provided crucial evidence to underpin the arrest, and no one bothered to question the word of a veteran cop against that of a previously convicted Black man."
If so, why did Floyd plead guilty? One might ask the same question about Steven Mallet, who pleaded guilty to possession in exchange for a sentence of time served—10 months. He said he had rejected an earlier plea deal that would have required him to implicate his brother and decided to plead guilty only so he could get out of jail. Despite the guilty plea, the appeals court agreed that he was innocent.
Floyd faced even more pressure to plead guilty. "If Floyd had gone to trial," Mathis says, "he would have faced punishment enhancements that would have branded him a habitual offender and could have sent him to prison for a minimum of twenty-five years. Like many people forced through the twisted criminal justice system in the United States, Floyd confessed to save his life. In exchange for his plea of guilty, those enhancements were not pursued. Floyd served his ten months in State Jail and was released."
Floyd committed his most serious crime, aggravated robbery with a deadly weapon, in 2007, three years after Goines arrested him for selling crack. He pleaded guilty in 2009 and received a five-year prison sentence. But by the time of his 2004 arrest, Floyd had been convicted of three felonies: delivering less than a gram of cocaine in 1997, theft in 1998, and possessing less than a gram of cocaine in 2002. Any two of these would have been enough to justify penalty enhancements under the Texas "habitual offender" statute if prosecutors had decided to pursue them.
Given Floyd's history at the time of his 2004 arrest, the crack charge was completely plausible on its face, which helps explain why it received no scrutiny until Goines' habitual dishonesty was revealed 15 years later. It may also explain why Goines had no compunction about framing Floyd, assuming that is what he did.
It is impossible to say for sure whether Goines was telling the truth in 2004. But Harris County prosecutors have reasonably concluded that Goines is demonstrably untrustworthy, which casts doubt on any conviction that hinged on his word. The drug war effectively gives cops like Goines a license to lie, since it justifies arrests and convictions in cases where the only witness is a cop and the only evidence is a transaction he claims to have seen, along with drugs that easily could have been obtained through other means.
As of 2019, when Goines retired* in the wake of the Harding Street raid, he had been employed by the Houston Police Department for 34 years, despite multiple allegations of testilying and sloppy evidence handling. "If the magistrate who Goines asked to sign a warrant to permit the raid on Harding Street had known of his history of lies and deception," Ogg observed last year, "he would not have signed it, and Rhogena and Dennis would likely still be alive today."
Then–Police Chief Art Acevedo repeatedly described the cops who killed Tuttle and Nicholas as "heroes," lavishing praise on Goines in particular. "He's a big teddy bear," Acevedo said. "He's a big African American, a strong ox, tough as nails, and the only thing bigger than his body, in terms of his stature, is his courage. I think God had to give him that big body to be able to contain his courage, because the man's got some tremendous courage."
Even after Goines' lies were revealed, Acevedo, who is now Miami's police chief, denied that the Harding Street raid reflected "systemic" problems in the Narcotics Division. The charges that Ogg eventually brought against a dozen Houston narcotics officers, which included allegations of falsifying records and claiming phony overtime as well as a murder charge against another officer who participated in the raid, painted a different picture. "Goines and others could never have preyed on our community the way they did without the participation of their supervisors," she said. "Every check and balance in place to stop this type of behavior was circumvented."
Given the culture of lax or actively complicit supervision described in Ogg's charges and in federal lawsuits brought by the Tuttle and Nicholas families, it is easier to understand how Goines could get away with lying to implicate people in drug crimes for so long. The question is how many other cops like him are working for police departments across the country, treated as heroes as they systematically subvert justice.
*CORRECTION: This post originally said Goines "resigned."