Americans Paid $7.6 Billion in Tariffs During August, a New Monthly Record
The trade deficit is now the widest on record too.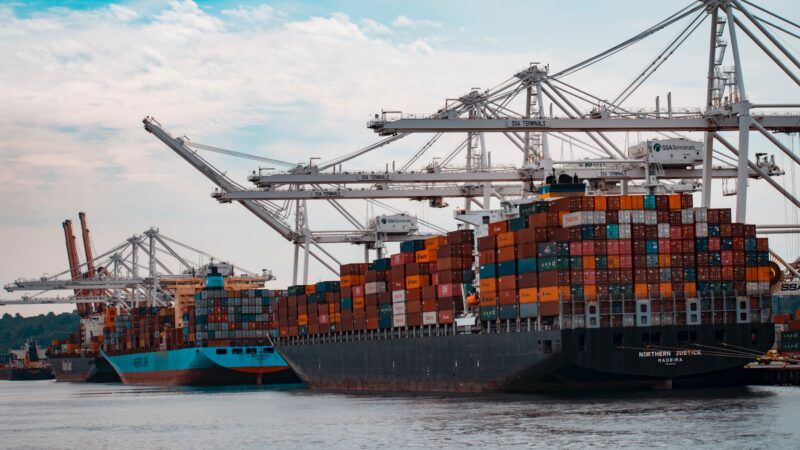 (Photo by Andy Li on Unsplash)
Former President Donald Trump hiked tariffs on a wide range of imported goods, President Joe Biden has refused to cut them, and that bipartisan opposition to free trade means Americans are now paying higher import taxes than ever.
The federal government collected more than $7.6 billion in tariffs during the month of August, according to recently released figures from the U.S. Census Bureau, which tracks economic data. That's an amount that exceeds even the highest single-month total during the Trump administration and one that dwarves monthly tariff revenue from earlier years.
Monthly US tariff costs spiked under Trump. They've gotten even worse under Biden.

The $7.66B in August 2021 tariffs was 13% above the worst month of Trump admin (September 2019).

In fact, 5 of the last 6 months saw higher US tariffs than September 2019. #TariffsHurt pic.twitter.com/RNF3Fldnwd

— Dan Anthony (@DanAnthonyDC) October 5, 2021
Dan Anthony, managing director of Trade Partnership Worldwide, an economic research firm, confirmed in an email to Reason that August's revenue figures are the highest on record. Tariff exclusions and refunds could reduce that figure in future updates, he noted, if the Biden administration approves retroactive tariff exclusions. However, he says it seems unlikely that enough exclusions would be granted for tariffs to fall below previous records.
As the economy has bounced back from the COVID-19 pandemic, the Census Bureau data shows, Americans are importing more valuable goods than ever—and paying more to the government for the privilege. America imported $287 billion worth of goods during August, also the highest total on record. The country's trade deficit—the gap between the value of all imports and all exports, which Trump had claimed would be reduced by hiking tariffs—was $73.3 billion, also the highest ever recorded.
It can be a mistake to make too much out of a single month's economic data, but these numbers provide some small insight into the failures of the Trump administration's trade policies. Higher tariffs did not reduce Americans' desire to buy imported goods. They did not reduce the trade deficit (quite the opposite, in fact). They were not paid for by China or other foreign nations, but by American companies importing those goods (and the costs are passed along to other buyers and consumers down the supply chain).
Those points are particularly salient at a time when the Biden administration is signaling a desire to maintain and perhaps even escalate Trump's tariffs. U.S. Trade Representative Katherine Tai said this week that tariffs remain "a very important tool" in enforcing trade agreements. That's a Trump-like statement that suggests trade policy must primarily benefit the government over the interests of individuals and businesses. In reality, trade is beneficial because it allows for the exchange of goods between people—even people who live on opposite sides of national borders—not because it creates opportunities for nations to collect taxes or create leverage on other foreign policy issues.
Biden's view, as Tai outlined on Monday, is that trade policy must be oriented towards "boosting American competitiveness." That's also nonsense, as higher taxes on imports are nothing but a drag on America's competitiveness—to say nothing of the other taxes the administration is seeking to impose and raise on American businesses, consumers, and investors.
Biden could undo Trump's tariffs with the stroke of a pen. Instead, Tai signaled this week that the administration is taking steps—like reconfiguring the bureaucratic process that decides which companies could be exempt from paying those tariffs—that will only entrench them.
Fine. Then Biden deserves to share the blame for the huge (if somewhat hidden) tax increases that the tariffs represent.
In April 2018, the last month before Trump's tariffs on steel and aluminum (a prelude to his more expansive tariffs on imports from China, which were imposed in stages during late 2018 and early 2019) took effect, the government's tariff revenue totaled just $2.8 billion—or about $5 billion less than what was collected in August. Over the course of a year, that's roughly a $60 billion tax increase relative to pre-trade war levels.
Revenue extracted by the federal government is not the only cost imposed by tariffs, of course. They also warp supply chains, change investment decisions, and encourage more spending on lobbyists and lawyers.
But the huge increase in monthly tariff payments to the government over the past few years is an obvious indicator of how much Americans are paying for Trump's trade policy—a trade policy that Biden increasingly owns too.