Whoops—No Gun Rights for Adults Under 21 After All, Says Court
Plus: ACLU rewrites Ruth Bader Ginsburg, theaters sue over NYC vaccine passports, and more...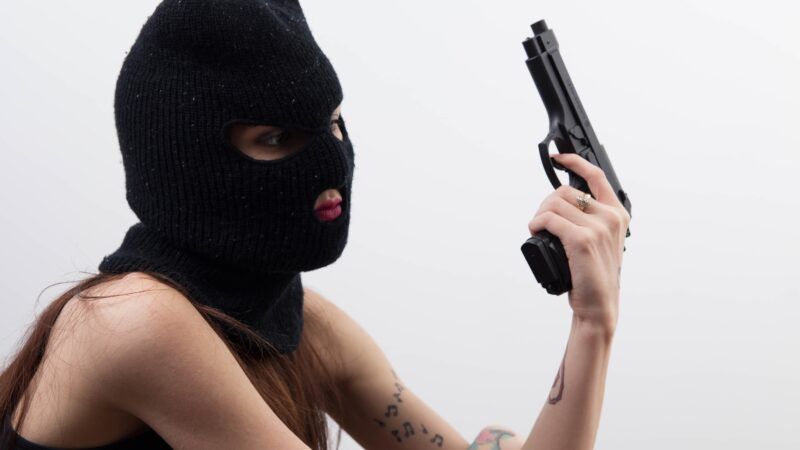 Does the Second Amendment apply to 18–20-year-olds? Back in July, a federal appeals court said yes. But now, the court has taken back its earlier ruling.
The case—Hirschfeld v. Bureau of Alcohol, Tobacco, Firearms, and Explosives—saw two young adults challenging a federal law that treats 18–20-year-olds like children, banning federally licensed firearms dealers from selling handguns or handgun ammunition to them.
This decades-old rule is unconstitutional, said judges with the U.S. Court of Appeals for the 4th Circuit in July. "Despite the weighty interest in reducing crime and violence, we refuse to relegate either the Second Amendment or 18- to 20-year-olds to a second-class status," the judges wrote in their 2–1 decision. It was a win for Natalia Marshall and Tanner Hirschfeld, who brought the lawsuit, as well as for gun rights—and treating legal adults like adults, not children—more broadly.
"Our nation's most cherished constitutional rights vest no later than 18," the judges pointed out. "And the Second Amendment's right to keep and bear arms is no different." (See more on the July ruling here.)
On Wednesday, however, the 4th Circuit vacated its earlier ruling and remanded the case to the district court with instructions to dismiss.
"The Justice Department had asked the full court to reconsider the decision and said the panel got it wrong," notes The Washington Post. What was done in the past "in no way suggests a recognition of an unfettered right of minors to purchase their own firearms for personal self-defense," the Department of Justice (DOJ) said—completely conflating young adults with children.
The DOJ's stance here represents a larger movement to strip adult status from 18–20-year-olds.
Upon reconsideration, a panel of appeals court judges decided that because Marshall turned 21 before the earlier ruling went into effect (and Hirschfeld had turned 21 before the decision was issued), the whole thing is moot.
"Here, Marshall challenged the prohibition on buying a handgun from a federally licensed firearms dealer while she was under 21. Once she turned 21, nothing prohibited her from buying the handgun she desired from a dealer of her choice. So her original claims are now moot," the judges wrote. They also rejected Marshall and her lawyers' attempts to revive the case: 
To try to breathe new life into her claims after they became moot, Marshall alleged for the first time that she wishes to sell handguns to friends under 21. Those private sales would not typically be affected by the challenged laws and regulations. But Marshall seeks to bring those sales within this court's purview by alleging that she wishes to use a federally licensed firearm dealer to facilitate the sales (by, for example, running background checks on her friends). This newly alleged injury was raised for the first time on appeal, and only after the case became moot, so we refuse to consider it here.

A second effort to revive this case by adding new parties also fails. Surely recognizing the mootness concern, Plaintiff's attorney moved in the district court on July 24—the day before Marshall turned 21—to join new parties that might keep the case alive. But the district court lacked jurisdiction to grant the motion.
But none of this should be taken as denouncing the original case, the judges point out: 
We cannot assign fault to either party here. Marshall was bound to turn 21 in time. And though the efforts to remedy mootness came at the eleventh hour, they do not reflect any fault in Marshall's original case. So our decision turns on the public interest.
Alas, the "public interest still favors vacating the opinions," largely because it's customary practice, they said. The judges are also "reluctant to leave a preclusive judgment standing against a federal agency responsible for enforcing federal law while cutting off the appellate process."
The question of whether 18–20-year-olds have a right to legally buy—or even own at all—guns and ammunition is one we've hardly seen the last of. "Around the nation, gun control activists have been pushing for laws to prohibit firearms for persons under 21," noted David Kopel at The Volokh Conspiracy in 2019.
And, earlier this year, the U.S. Court of Appeals for the 9th Circuit considered a case (Jones v. Bonta) involving whether California's prohibition on people ages 18–20 legally purchasing guns is unconstitutional.
---
FREE MINDS
Linguistic lunacy. The American Civil Liberties Union is now rewriting Ruth Bader Ginsburg's words so they don't mention women when talking about pregnancy or abortion rights.
With Justice Ruth Bader Ginsburg's death, we lost a champion for abortion and gender equality. And on the anniversary of her death, the fight to protect abortion access is more urgent than ever. pic.twitter.com/vIKadIHouN

— ACLU (@ACLU) September 18, 2021
FREE MARKETS
Theater and comedy club owners are suing over New York City's proof-of-vaccination order:
Represented by Pacific Legal Foundation and Mermigis Law Group, the Theater Center, the Players Theater, the Actors Temple Theatre, the Soho Playhouse, and Broadway Comedy Club are challenging de Blasio's "Key to NYC" proof of vaccination order in federal court.

In effect since September 13, the mandate requires many indoor businesses to allow entry only to employees and customers able to provide proof of COVID-19 vaccination. The order applies to indoor dining, recreation, fitness, and entertainment establishments. Failure to comply can result in fines to the businesses of up to $5,000 and possible criminal charges.

The lawsuit claims that unequal enforcement of the "Key to NYC" mandate amounts to discrimination based on content of speech and type of speaker, citing exemptions provided for religious services and performances at community centers and schools.

"A theatrical production put on by a community center or high school drama department is treated more favorably than a production put on by one of our clients," the theaters' lawyer Daniel Ortner said in a September 17 statement. "This violates the First Amendment."
More here.
---
QUICK HITS
the post-George Floyd bipartisan police reform efforts in Washington are officially dead https://t.co/JAcv2CG6tP

— Wesley (@WesleyLowery) September 22, 2021
• For the first time since March, average daily deaths from COVID-19 in the U.S. have risen above 2,000.
• "Democrats' immigration lies are finally catching up to them," suggests The Daily Beast.
• Florida can't enforce its ban on sanctuary cities.
• Two dozen state attorneys general are urging the Supreme Court to reject Mississippi's 15-week abortion ban.
• President Joe Biden's approval rating among black Americans dropped right after he issued an employee vaccine mandate.
• Is the center-left making a comeback?
• Florida and Texas continue to feed off each other's bad ideas, with Florida now trying to follow Texas' abortion-ban lead. The legislation would prohibit abortion when fetal cardiac activity can be detected and "also allows private citizens to sue those who knowingly performs or 'aids or abets' in an abortion in violation of the law," notes The Hill.
• Republicans "can fight for their growing blue collar base" by pushing policies that are good for construction workers, suggests Alan Cole at Full Stack Economics.