House Democrats Ready Taxes on E-Cigarettes and Cryptocurrency
Plus: Vaccine mandates are popular, Texas versus free speech, and more...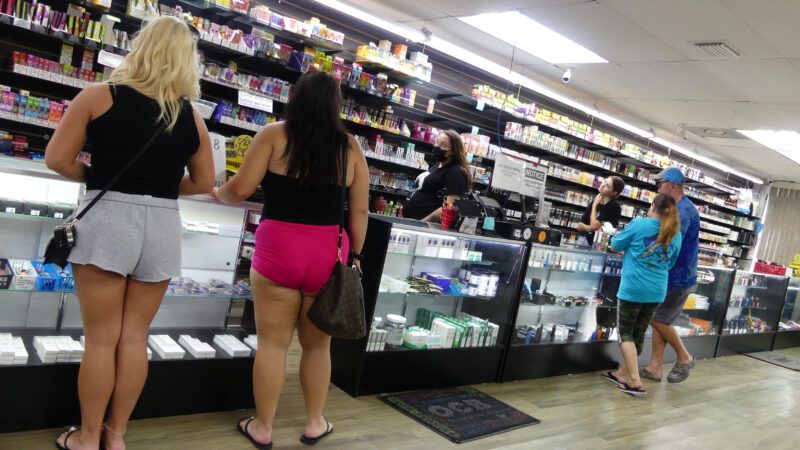 (John Marshall Mantel/ZUMAPRESS/Newscom)
Congressional plan would raise taxes, but by less than Biden proposed. After a monthlong summer break, the Senate is back in session starting today—and ready to quickly remind us why we wish they would stay on hiatus. On the agenda: raising the debt limit, passing a $550 billion infrastructure bill, and fleshing out President Joe Biden's $3.5 trillion budget package. Meanwhile, House Democrats are circulating a new plan to raise taxes in a variety of ways.
This includes a massive tax boost on nicotine-containing products, including vape products, and changing the tax rules regarding cryptocurrency to "treat cryptocurrency the same as other financial instruments." Dems allege that they will raise $16 billion from the cryptocurrency rule change and nearly $100 billion from the nicotine taxes.
"In fact, evidence shows that the only impact cigarette tax increases have is to lead to a boom for criminal syndicates selling illicit black market tobacco products," notes Americans for Tax Reform (ATR). "As a result, tobacco tax increases almost never reach the projected revenue goals: Only three out of 32 state tobacco increases studied met tax revenue estimates." Meanwhile, raising taxes on vape products may hinder people's efforts to quit smoking regular cigarettes.
The proposal—passed around Sunday by House Ways and Means Committee Chair Rep. Richard E. Neal (D–Mass.) and obtained by The Washington Post—would also:
• Raise taxes on big businesses—boosting the corporate tax rate from 21 percent up to 26.5 percent for companies with more than $5 million in annual income—while lowering taxes on small businesses. For companies making under $400,000 in annual income, the tax rate would go down from 21 percent to 18 percent. The proposal wouldn't change the tax rate for companies making between $400,000 and $5 million.
• Raise taxes on high-income households, increasing the personal income tax rate from 37 percent to 39.6 percent. (The Post says this would apply to those making more than $435,000, while The New York Times reports that it would be raised for households that bring in more than $450,000 in income and individuals making more than $400,000.)
• Raise the capital gains tax (which applies to the selling of assets) to 25 percent, up from 20 percent.
• Impose an extra 3 percent "surtax on high-income individuals" with incomes over $5 million.
• Give the IRS an additional $80 billion over the next decade for enforcement. (This "would hire enough new IRS agents to fill Nationals Park twice" and "allow the IRS to audit and harass small businesses and American families for an additional $787 billion," suggests the ATR.)
• Cut in half the estate and gift tax exemptions for married filers as of the end of this year, instead of in four years as now set.
"Many items in the new draft scale back the more ambitious tax increases sought by Biden earlier this year," notes the Post. "But the ideas taken together amount to a significant unwinding of the tax cuts enacted by Republicans under former president Donald Trump four years ago, drawing praise from the White House on Sunday."
"Notably absent from the document is any discussion of lifting the $10,000 cap on the state and local tax deduction, raising questions about the fate of that costly proposal," points out Bloomberg. "New Jersey Representative Josh Gottheimer, a moderate Democrat who wants to scrap the so-called SALT cap, said Monday that leadership was aware that, in his view, 'no SALT, no dice.'"
---
FREE MINDS 
Majority of Americans support vaccine mandates. Vaccine mandates may be wildly unpopular in many quarters, not to mention wildly unconstitutional when imposed by the federal government on all workplaces. But they've also got the support of a lot of Americans. In a new poll from CNN, 51 percent of respondents said they support vaccine mandates broadly, and slightly higher percentages support them specifically for schools, sporting events, and workplaces. "More than half of Americans now say they support requiring vaccinations for office workers returning to the workplace (54%), students attending in-person classes (55%) and patrons attending sporting events or concerts (55%), although fewer (41%) support requiring vaccinations for a shopper to enter a grocery store," CNN reports.
---
FREE MARKETS 
Texas Gov. Greg Abbott has signed into law yet another terrible piece of legislation. This one—House Bill 20—essentially turns digital platforms into common carriers, with no right to refuse content as they see fit. Specifically, it would ban big social media companies (defined as those with 50 million or more monthly users) from prohibiting or removing any type of political opinion. It would also let the Texas attorney general sue to get individual user accounts reinstated. Meanwhile, it would punish companies for not removing illegal content quickly enough, giving them just 48 hours to do so without facing consequences from Texas enforcers. The new law is "blatantly unconstitutional," writes Mike Masnick at Techdirt.
---
QUICK HITS
• On August 29, the U.S. military "launched a drone strike that killed 10 people in Kabul on Aug. 29 without knowing whom it was hitting."
• "Pelosi has also pledged to hold a vote on the Women's Health Protection Act shortly after the House returns on Sept. 20, which would codify abortion rights into federal law, after the Supreme Court's Texas abortion ruling," reports Axios. "The bill is expected to pass in the House in the coming weeks but has no chance in the 50-50 split Senate."
• "Florida Governor Ron DeSantis' ban on school mask mandates will remain in place as the measure faces legal challenges in court, an appeals court ruled Friday. The order reverses a judge's decision to put the governor's ban on hold," notes CBS News.
• "For my journalism students, much of 9/11 is a case study of what not to do," writes Brandeis University journalism professor Eileen McNamara.
• The New York Times offers a plethora of reasons why it's time to end qualified immunity for federal law enforcement officers.
• "About 4,500 people on home confinement [are] facing the possibility of being returned to prison once the pandemic recedes," points out NBC News. "Dozens of advocacy groups have called upon President Joe Biden to exercise his broad presidential powers and commute the inmates' sentences. But the administration said its legal team interprets [a Trump administration] memo to mean people will be required to return to prison a month after the official state of emergency for the pandemic ends."