NYC Theaters Sue Bill de Blasio, Claiming Vaccine Mandate Obstructs Free Speech
The lawsuit argues the mandate leads to discrimination based on content of speech and type of speaker.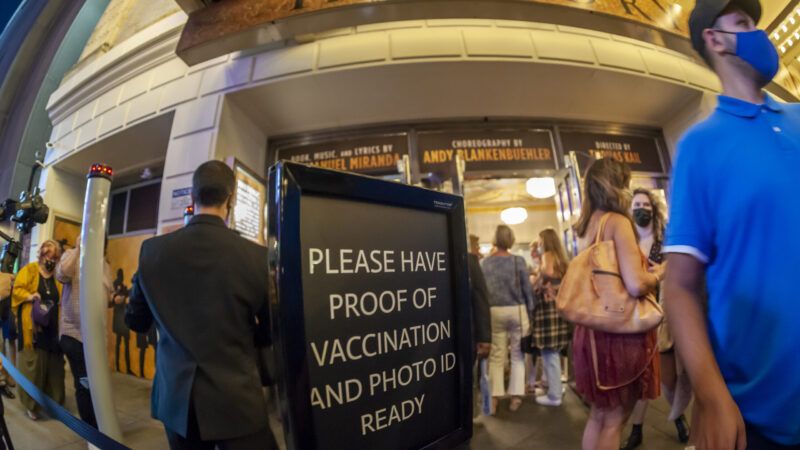 (Richard B. Levine/Newscom)
A group of small theater and comedy club operators filed a lawsuit against New York City Mayor Bill de Blasio on September 16, claiming disparate enforcement of vaccine mandates unfairly discriminates against their venues and violates constitutional protections provided by the First and 14th Amendments.
Represented by Pacific Legal Foundation and Mermigis Law Group, the Theater Center, the Players Theater, the Actors Temple Theatre, the Soho Playhouse, and Broadway Comedy Club are challenging de Blasio's "Key to NYC" proof of vaccination order in federal court.
In effect since September 13, the mandate requires many indoor businesses to allow entry only to employees and customers able to provide proof of COVID-19 vaccination. The order applies to indoor dining, recreation, fitness, and entertainment establishments. Failure to comply can result in fines to the businesses of up to $5,000 and possible criminal charges.
The lawsuit claims that unequal enforcement of the "Key to NYC" mandate amounts to discrimination based on content of speech and type of speaker, citing exemptions provided for religious services and performances at community centers and schools.
"A theatrical production put on by a community center or high school drama department is treated more favorably than a production put on by one of our clients," the theaters' lawyer Daniel Ortner said in a September 17 statement. "This violates the First Amendment."
Religious services are regularly held without restriction in the very same theaters within mere hours of other performances subject to the mandate. In fact, the Actors Temple doubles as a nondenominational Jewish synagogue and the Orbach Theater rents its facilities to a religious group for Sunday morning services.
While theatrical and comedy performances are subject to enforcing proof of vaccination under the "Key to NYC" mandate, attendees of religious services are not required to be vaccinated, and mask mandates are reportedly only loosely enforced despite congregational singing.
Citing our nation's "long history of protecting parody and satire" that stretches back to an early cartoon of George Washington depicted as an ass, the suit seeks to defend continued freedom for comedians and performers. "Plaintiffs seek only to be allowed to operate on equal terms as other similar venues, without regard to the content of the speech or to the identity of the speakers that they host," it reads. "The same rules should apply to all speakers, regardless of their message."
They also challenge the restrictions from a logistical basis. The long shutdown has stretched their budgets thin, and the theaters have been struggling to issue refunds to those who bought tickets before the mandate went into effect.
The suit also claims that the mandate unfairly "stigmatizes businesses that are already struggling to bounce back." Very few cases of COVID-19 have been traced to theaters. Meanwhile, other countries, like South Korea, opened theaters before other businesses because they were deemed safer than most forms of gathering.
All of the plaintiffs' theaters have a capacity of less than 199 seats and already enforce onerous precautions, including blocking out the front row, requiring performers to be vaccinated, mandating audience masks during performances, hiring additional staff to enforce mask compliance, and encouraging vaccination for audiences.
The theaters report that their staff have also encountered significant abuse from patrons frustrated by vaccine enforcement, claiming, "several staff members have quit after being screamed at, physically threatened, or even spat on by customers upset about [the mandate]."
The theaters are requesting injunctive relief of $1 plus attorney's fees, seeking merely to end what they consider arbitrary restrictions on their freedom to practice comedy and the arts. Al Martin, owner of the Broadway Comedy Club, put it simply: "We're not the TSA of vaccine cards, we're a comedy club."