Austin Police Revise Policy on Use of Lethal Force on Dogs After April Puppycide Drew National Attention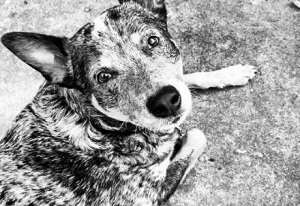 In April, Austin police officer Thomas Griffin shot and killed Cisco, a pet blue heeler. As is often the case in these kinds of incidents, the officer was at the wrong home. After barking orders at the panicked homeowner, the police officer shot the dog despite being told the dog was harmless, according to Michael Paxton, the homeowner.
Now, because of the national attention the incident drew, the Austin Police Department is revising its rules of engagements on dogs. From KUT News in Austin:
"Before an officer takes action, there needs to be an imminent threat of bodily injury," [Austin Police Department Chief of Staff David] Carter says, "whereas in the past, it would describe that the animal was dangerous." Additionally, officers would need to "justify the position of using a firearm, versus using some other method to repel a dog, if that's necessary. For example using a nightstick, or chemical spray, or a tazer, or some other thing such as that." Additional responsibility now also falls on the officer's supervisor to investigate such shootings, instead of having the officer self-report on the circumstances of the shooting.
As the commentariat here often notes, our brave postal workers enter backyards and engage with America's dogs every day and incidents are rare. Puppycide by cops, on the other hand, seems to happen much more often.