Capitol Hemp Shuts Down As Government-Selected Vendors Plan to Grow Pot in D.C.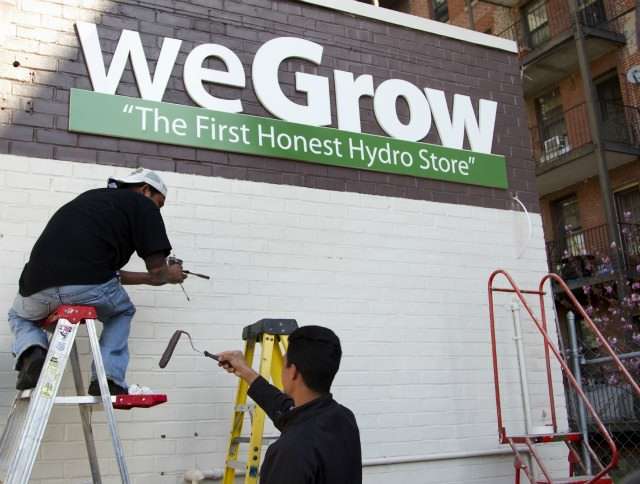 In February I noted that Capitol Hemp had stopped selling drug-related books (including mine) in the wake of police raids on its two locations in Washington, D.C. DCist reports that the stores will stop selling everything else as well, shutting down as part of a "deferred prosecution" agreement that means its owners won't have to face drug paraphernalia charges and can get back their inventory (including the alleged drug paraphernalia) so they can recover some of their investment:
[Co-owner Adam] Eidinger told us that he made the best of what was a difficult situation. During the October raids, police seized over $300,000 worth of merchandise, which he has been trying to get back. Had he gone to trial and lost, he wouldn't have been able to recover any of it, which included highly prized artisinal water pipes. Under the terms of the deal, Eidinger will get the seized merchandise back within 48 hours, after which they'll try to return as much as possible to vendors and distributors. "At least we can get our equity out," he said.
Meanwhile, DCist reports, WeGrow, a California-based hydroponic supplier that bills itself as the "Walmart of Weed" and "the first honest hydro store," has decided not to sell marijuana paraphernalia at its new D.C. location and has adopted a "don't ask, don't tell" policy regarding customers' intentions:
Because of the District's restrictive laws, [sales director Zeta Ceti] said, store policy will be to only discuss marijuana with licensed cultivators, dispensers or patients. If anyone else asks about growing weed at home, they'll be asked to leave….The store itself contains few hints of the Walmart of Weed it once billed itself as. It certainly won't have a doctor on site that can write recommendations for medical marijuana, Ceti said, nor will marijuana be grown on premises as it is in California.
Last week the District announced that it had selected six companies to grow cannabis for medical use, as permitted by local ordinance. (WeGrow was not among them.) The Washington Post reports that the vendors—one of which is partly owned by talk show host Montel Williams, a well-known medical marijuana advocate—could "start producing hundreds of plants in as little as a month." Ultimately, "they will be tasked with producing thousands of plants annually, in possible violation of federal law."
Yeah, what about that? In 2009 Congress repealed the Barr Amendment, which had prevented D.C. from implementing a 1998 ballot initiative legalizing production and consumption of marijuana for medical purposes. Lifting the Barr amendment implicitly authorized the District, which can do only what Congress allows, to set up a system for supplying medical marijuana. Yet the Obama administration, despite promises to the contrary, continues to enforce the federal government's absolute ban on marijuana in states that recognize the drug as a medicine, even against growers and suppliers who comply with state law. According to a federal lawsuit (PDF) filed by three people who voted in favor of California's Compassionate Use Act in 1996, this disparate treatment effectively deprives them of their right to vote and violates the principle of equal protection. "Why should the citizens of the District of Columbia have the right to legalize medical marijuana while the citizens of various states can only decriminalize it?" they ask. "Is there a rational basis for believing that medical marijuana has a greater therapeutic effect upon citizens of Washington D.C. than citizens of California?"
More on the Capitol Hemp case here. More on the Obama administration's medical marijuana policy here. WeGrow's customers should be on the lookout for surveillance cameras.