Ben Nelson Quits, Stratfor Spins Hack, Brees Breaks Record, and More: Reason PM Links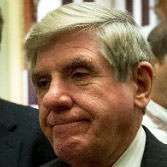 Obamacare claims another victim. Sen. Ben Nelson, who used the railroading of the unpopular Patient Protection and Affordable Care Act as an opportunity to bring Medicaid pork to the Cornhusker State, gives up his hopeless effort to save his seat. Desparate Democrats float the possibility of having former Nebraska Sen. Bob Kerrey return from New York and run for the seat.
Egyptian court rules against virginity tests for female detainees. Months after military police beat, shocked and strip-searched women arrested during protests against the country's ruling military junta, an Egyptian administrative court has banned "virginity tests" for women in custody. "Justice has been served today," says Samira Ibrahim, who sued the government after being subjected to a test after she was arrested during a March protest.
Stratfor just decided to shut down for a while and give away its client information. After getting hacked by Anonymous on Saturday, private intelligence company Stratfor says the large amount of client data was not from "private clients" but was "merely a list of some of the members that have purchased our publications and does not comprise a list of individuals or entities that have a relationship with Stratfor beyond their purchase of our subscription-based publications." As if that's not enough of a load off, Stratfor says it has hired a private consultant in order to "better serve you." But three days later, Stratfor's site is still displaying an "undergoing maintenance" sign on its index page.
The end of Tebowmania? New Orleans Saints quarterback Drew Brees breaks single-season passing yardage record set by Dan Marino in 1984. Recent birthday boy Jesus unavailable for comment after allowing Bills to clobber Broncos on Christmas Eve.
Flops, in and out of theaters: Disappointing Christmas box office caps horrible 2011 for Hollywood. Ticket sales are down 4.5 percent from 2010. The $175 million Berkely Breathed adaptation Mars Needs Moms was such a dud it made 247WallStreet's list of worst 2011 product flops. All hopes for a 2012 box office recovery are now riding on the performance of Home Run Showdown.
Union blues: A great man discusses SEIU and building takeovers: