Bill Bratton: Fighting Crime Without Shredding Civil Liberties
The former head of the NYPD and the LAPD talks about how bad leadership creates police brutality and why he's still against pot legalization.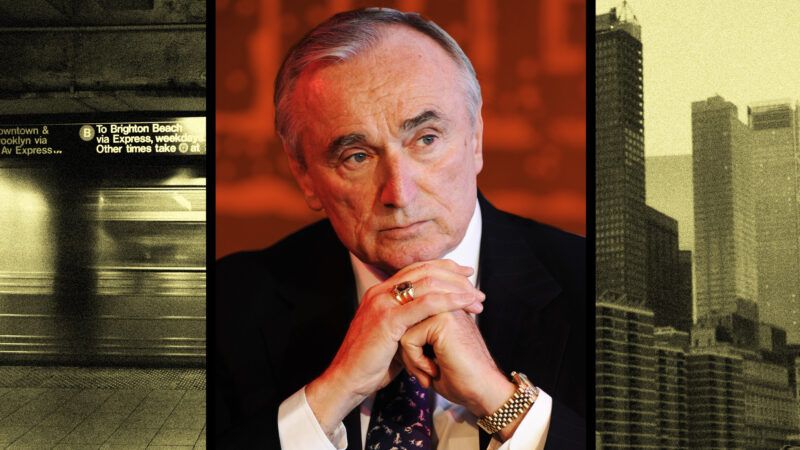 (Lex Villena; Dogorasun, Brad Calkins)
My guest today is William Bratton, the former police commissioner of New York City and former chief of police in Los Angeles. He is widely credited for playing a major role in the historic decline of crime in the Big Apple in the 1990s, and he's a major presence in the new documentary Gotham: The Fall and Rise of New York, which will be released on video on demand on March 21 (pre-order here).
Bratton also had a highly acclaimed run in Los Angeles in the '00s, where he reduced crime and raised trust in a police department that had a truly awful reputation among the people it served. He is an outspoken defender of "broken windows" policing and also helped pioneer the use of CompStat, a data-driven system that focuses resources on where crime is happening at the moment.
Bratton is not without his critics, especially when it comes to supporting controversial policies such as "stop and frisk," which detractors say targets minority youth and abrogates civil liberties without increasing public safety.
My Reason colleague Zach Weissmueller and I talked with Bratton about all that, plus the recent increases in crime around the country and how qualified immunity, bad training, and weak leadership lead to horrors like the deaths of Tyre Nichols and George Floyd at the hands of the police. We also mixed it up with him over his insistence that legalizing marijuana was a mistake. It's a wide-ranging conversation with one of the most important law enforcement figures of the post-war era.
Today's sponsors:
The Reason Speakeasy. The Reason Speakeasy is a live, monthly, unscripted conversation with outspoken defenders of free thinking and heterodoxy. It doubles as a taping of The Reason Interview podcast. The next one is

in New York City on Monday, April 3, when Nick Gillespie interviews University of San Diego philosopher Matt Zwolinski and Heterodox Academy President John Tomasi about their new book,

The Individualists: Radicals, Reactionaries, and the Struggle for the Soul of Libertarianism

.

Doors open at 6 p.m. Eastern. Tickets are $10 and include beer, wine, soft drinks, and appetizers. It's always a great evening of camaraderie and conversation, so come on out. For more details and to buy tickets, go here.
The Reason Live Stream. Every Thursday at 1 p.m. Eastern, Nick Gillespie and Zach Weissmueller host live, unscripted conversations at Reason's YouTube channel with leading policy makers, activists, writers, and thinkers about everything from attempted internet censorship to COVID-policy failures to the future of the Libertarian Party to cryptocurrency crackdowns to the failure of K-12 education. Find the online archive here.