Trump's Prosecution Could Be Stymied by the Blurry Line Between Deceit and Self-Delusion
His state of mind when he tried to overturn the outcome of the 2020 election remains a mystery, perhaps even to him.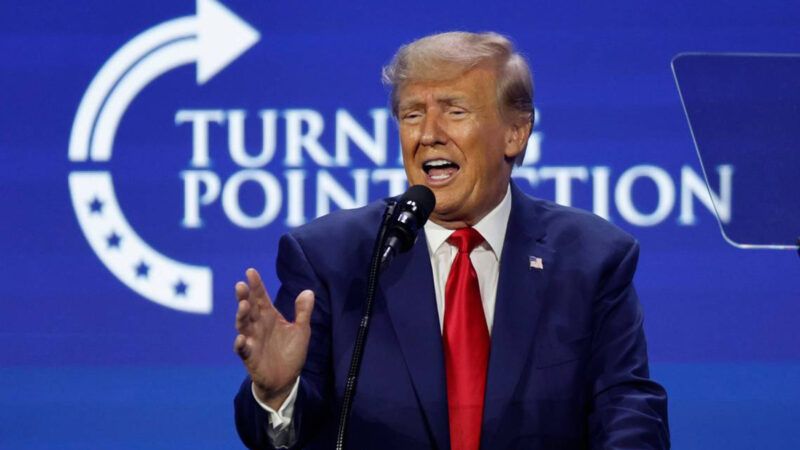 In a CNN interview on Wednesday, former Attorney General Bill Barr weighed in on the legally crucial question of what Donald Trump was thinking when he engaged in conduct that Special Counsel Jack Smith describes as part of a criminal plot to reverse the outcome of the 2020 presidential election. "At first I wasn't sure," Barr said, "but I have come to believe he knew well he had lost the election."
Michael Wolff, a journalist who wrote a trilogy of books about Trump, is much less sure about that. He argues that the main source of evidence regarding Trump's state of mind—things he has publicly and privately said about the election—is such a confusing jumble that it may be impossible to prove criminal intent. "Does Mr. Trump mean what he says?" Wolff asks in a New York Times essay. "And what exactly does he mean when he says what he says?"
That puzzle is at the center of the case outlined in the federal indictment unsealed this week, which charges Trump with conspiring to defraud the United States, conspiring to obstruct an official proceeding, and conspiring to deprive Americans of their voting rights. Those charges hinge on the assumption that Trump's claims about the massive fraud that supposedly had deprived him of his rightful victory were "knowingly false." But what Trump knew is a persistent mystery, perhaps even to him.
Consider the notorious January 2, 2021, telephone conversation in which he urged Georgia Secretary of State Brad Raffensperger to "find" the votes necessary to overturn Joe Biden's victory in that state. Like many of Trump's conversations, Wolff notes, that exchange featured an "unmediated fire hose of verbiage, an unstoppable sequence of passing digressions, gambits and whims, more attuned to the rhythms of his voice than to any obligation to logic or, often, to any actual point or meaning at all." In fact, it is generous even to characterize that seemingly incriminating interaction as a conversation, because Trump did not seem to comprehend or digest what Raffensperger was saying as he patiently debunked one unsubstantiated fraud allegation after another.
Wolff notes that Tony Schwartz, the ghostwriter for Trump's 1987 book The Art of the Deal, thinks his verbal habits are best understood as a salesman's patter. "In other words," Wolff says, "if you took him at his word, you were the fool, and yet, perhaps even more to the point, he succeeds because he comes to believe himself, making him the ultimate fool (as well as the ultimate salesman)."
Trump's "yearslong denial of the 2020 election may be an elaborate fraud, a grifter's denial of the obvious truth, as prosecutors maintain, but if so, he really hasn't broken character the entire time," Wolff writes. "I've had my share of exposure to his fantastic math over the years—so did almost everyone around him at Mar-a-Lago after the election—and I don't know anyone who didn't walk away from those conversations at least a little shaken by his absolute certainty that the election really was stolen from him."
Evidence to the contrary, including the evidence cited in the indictment, frequently proves to be ambiguous upon closer examination. In a 2022 interview with historians, for instance, Trump seemed to concede that Joe Biden had won the 2020 election. Bragging about pressuring South Korean President Moon Jae-in to pay more for his country's defense, Trump said Moon must have been happy "when I didn't win the election." The Guardian highlighted that apparent admission under the headline "'I didn't win the election': Trump admits defeat in session with historians."
But did he? In the same interview, Trump also said the election was "rigged and lost." On the day of the Capitol riot, he claimed, he gave a "very modest" and "very peaceful" speech to more than a "million people" who were inspired by "tremendous love" for him but outraged by an election that was "rigged," "robbed," and "stolen." Those remarks are typical of Trump's ego-flattering, reality-denying rhetoric, which blurs the line between deceit and self-delusion.
Federal prosecutors will try to clarify that line, and Barr thinks Smith has additional evidence that will help them do that. "We're only seeing the tip of the iceberg on this," Barr told CNN. "I think there is a lot more to come, and I think they have a lot more evidence as to President Trump's state of mind."
Maybe. But prosecutors have to prove their case beyond a reasonable doubt—a daunting task when you are dealing with mental processes that may be as confused, irrational, and inconsistent as the words that reflect them.
"The prosecutors' story of [Trump's] grand scheming will most likely require them to present a figure of the former president—calculated, methodical, knowing and cunning—that none of his supporters or anyone who has ever met him or reasonable jurors and perhaps even the world at large would recognize," Wolff writes. "I can't imagine what will be produced by this dynamic of strait-laced prosecutors versus a preposterous Mr. Trump, his malfeasance always on the edge of farce. But my gut tells me the anti-Trump world could be in for another confounding disappointment."
The best chance to hold Trump accountable for his egregious post-election conduct—including his persistent promotion of the stolen-election fantasy, his attempts at persuading state and federal officials to betray their legal duties by joining his cause, his reckless pre-riot speech, and his inaction after the attack on the Capitol began—was the impeachment that the Senate rejected. Sen. Mitch McConnell (R–Ky.), then the majority leader, said convicting Trump was out of the question because it was unconstitutional to try him after he had left office.
McConnell nevertheless condemned Trump's "disgraceful dereliction of duty," saying he was "practically and morally responsible for provoking" the riot by pushing "increasingly wild myths about a reverse landslide election that was being stolen in some secret coup by our now-president." And he held out the hope that Trump still could be "held accountable" by the "criminal justice system." In light of the challenge that Wolff highlights, that hope seems pretty faint.