Florida 'Effectively Banned AP Psychology' With Rules Against Teaching About Gender, Sexual Orientation
Plus: The gender gap in high school political identification is overstated, Why We Can't Have Nice Things explains the baby formula shortage, and more...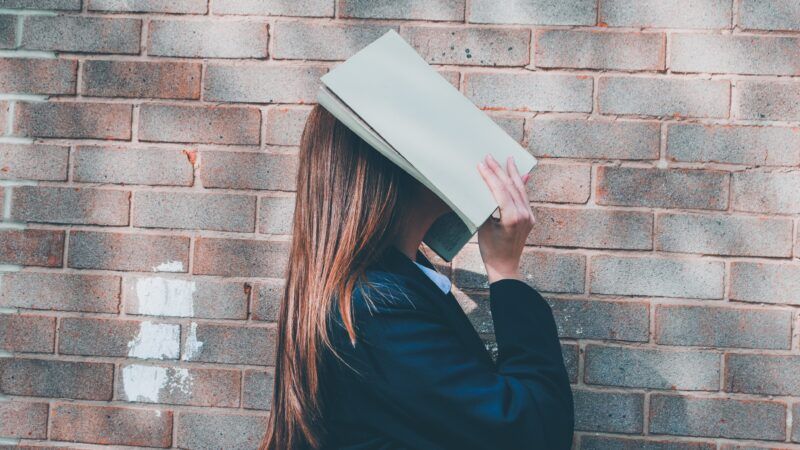 *UPDATE: "Both the Florida Department of Education and the College Board released statements on Friday suggesting that the course could continue to be taught in Florida, including the section on gender and sexual orientation, though many questions remained," notes The New York Times.
Florida education commissioner Manny Diaz Jr. wrote in a Friday letter to school district superintendents that A.P. Psychology "can be taught in its entirety in a manner that is age and developmentally appropriate" and that "the course remains listed in our course catalog." 
The College Board issued the following statement in response: "We hope now that Florida teachers will be able to teach the full course, including content on gender and sexual orientation, without fear of punishment in the upcoming school year."
"Gender and sexual orientation have been part of AP Psychology since the course launched." Florida schools can no longer offer Advanced Placement (A.P.) Psychology classes due to the state's prohibition on teaching concepts related to gender identity or sexual orientation.
Per guidelines set forth by the College Board, which creates standards for A.P. courses, A.P. Psychology students must be able to "describe how sex and gender influence socialization and other aspects of development."
"This element of the framework is not new: gender and sexual orientation have been part of AP Psychology since the course launched 30 years ago," notes the College Board.
But under Florida House Bill 1557—which opponents dubbed the "Don't Say Gay" scheme—Florida schools are largely banned from teaching students about gender identity and sexual orientation. The law, passed in 2022, explicitly banned such instruction for students in kindergarten through third grade. Additionally, it says that such instruction should be banned in any grade where it "is not age-appropriate or developmentally appropriate for students."
Lawmakers left it open to the Florida Board of Education to decide what the latter part meant—and the Board decided earlier this year that it meant most discussion of gender or sexual orientation was off limits for students up through grade 12, too. "The topics of gender identity and sexual orientation have no place in the classroom," said Education Department spokeswoman Alex Lanfranconi in April. "Today's state board action reaffirms Florida's commitment to uphold parental rights and keep indoctrination out of our schools."
The only exceptions are for situations when it's required by state educational standards or is "part of a reproductive health course or health lesson for which a student's parent has the option to have his or her student not attend." This would seem to preclude teaching A.P. Psychology students about how sex and gender influence socialization and development, since to do so would be to discuss gender identity and other concepts Florida has deemed dangerous.
"The Florida Department of Education has effectively banned AP Psychology in the state by instructing Florida superintendents that teaching foundational content on sexual orientation and gender identity is illegal under state law," states the College Board. "Any AP Psychology course taught in Florida will violate either Florida law or college requirements."
"Florida officials told school superintendents Thursday that they may offer the class but only if material concerning sexual orientation and gender identity is removed," notes The Washington Post. "He said districts were encouraged to teach a modified version of the class."
But A.P. Psychology courses that exclude such lessons don't cut it, the College Board has said. "We advise Florida districts not to offer AP Psychology until Florida reverses their decision and allows parents and students to choose to take the full course."
That's because the point of A.P. courses—which allow high school students who take them and score high enough on a test afterward to get college credit—is to denote a common body of knowledge on par with what would be learned in an introductory college course.
The American Psychological Association (APA) applauded the College Board's decision.
"Understanding human sexuality is fundamental to psychology, and an advanced placement course that excludes the decades of science studying sexual orientation and gender identity would deprive students of knowledge they will need to succeed in their studies, in high school and beyond," said APA CEO Arthur C. Evans Jr. "We applaud the College Board for standing up to the state of Florida and its unconscionable demand to censor an educational curriculum and test that were designed by college faculty and experienced AP teachers who ensure that the course and exam reflect the state of the science and college-level expectations."
According to the College Board, more than 28,000 Florida students took A.P. Psychology last academic year.
Proponents of Florida's ban on instruction about gender and sexual orientation often portray it as a law that lets parents have more control over their children's education. But by outright forbidding such instruction—even for older students—it actually takes choices away from parents and students. A.P. Psychology is not a required course for high school students, but it should be one that they have the option to take.
---
FREE MINDS
No, most high school boys aren't conservative. A survey making the rounds (yes, we linked it in Roundup earlier this week) purportedly shows a crazy gender gap in political identification among teenagers. And indeed, "high school boys are now twice as likely to identify as conservative than liberal" while high school girls "are almost three times as likely to identify as liberal than conservative," notes Reason's Emma Camp. However, there's a big caveat: Majorities of both boys and girls identified as neither liberal nor conservative:
The source of concern is concentrated among the paltry 23 percent of boys who identified as conservative and 30 percent of girls who identified as liberal—leaving just 13 percent of boys identifying as liberal, and 12 percent of girls as conservative. But 64 percent of boys and 58 percent of girls didn't identify as conservative or liberal—instead, they identified as "moderate," "none of the above," or "I don't know."
Despite a lot of dramatic predictions about what this wave of conservative boys means or how the gender gap will play out as kids get older, most of them either don't know if they're conservative or liberal or don't accept this left-right dichotomy as adequately capturing their political identity.
---
FREE MARKETS
The first episode of Reason's new podcast, Why We Can't Have Nice Things, is here! In episode No. 1, host Eric Boehm explores how a combination of absurdly high federal tariffs and excessive Food and Drug Administration regulations created the great baby formula shortage of 2022:
Though it was a crisis kicked off by unexpected supply chain issues and contamination problems at a major production facility in Michigan, the roots of the shortage ran straight through Washington, D.C., where poor government policy left American infants hungry and their parents scrambling.

With domestic supply chains snarled, it would have made sense for American grocery stores to turn to foreign producers for replacement supplies of baby formula. Unfortunately, there are "absurdly high" tariffs on imported formula, explains Gabriella Beaumont-Smith, a trade policy analyst at the Cato Institute.

"There are these distribution channels that are basically not established" because the tariffs make it too costly, she says. "And we're talking about baby formula. This is a necessity and we shouldn't be taxing it that high or at all."

It took last year's crisis for Congress to consider lifting those tariffs—and only on a temporary basis. The dairy lobby and other special interests like the isolated, and fragile, American market for baby formula just the way it is.
---
QUICK HITS
Here's our story.

As has been reported, a dead person was found Wednesday stuck to the buoys Texas officials installed at the Mexican border, per Mexican Foreign Affairs Secretary Alicia Bárcena

The DOJ is suing Texas to have the buoys removed. https://t.co/6PvHDfYjQm

— Aarón Torres (@AaronTorres_) August 3, 2023
• Introducing Reason's new crossword puzzle. Created by professional puzzle solver Stella Zawistowski, it will be a weekly puzzle with a "pro-capitalism, pro–free market" voice, she says.
• Vox runs down various artificial intelligence regulations that Congress and the Biden administration are considering.
• A police officer who tased a man to death during a traffic stop got off with a misdemeanor charge (though he could lose his certification, which would bar him from working in law enforcement in Arkansas).
• California Democratic Sen. Dianne Feinstein's daughter "has power of attorney over her mother's legal affairs," notes The New York Times. "Feinstein, 90 and in her sixth term in the Senate, has long been in frail health with increasing memory and cognition issues."
• "The $10,000 cap on the state and local tax deduction"—a.k.a. the SALT cap—"is bedeviling Congress. Again," reports The Wall Street Journal.
• Most of the problems being attributed to drug decriminalization in Oregon are actually "caused by the continuing impact of prohibition," notes Jacob Sullum.