Is Trump's Latest Indictment About Defending Democracy or Attacking Free Speech?
Plus: More "manifesting prostitution" nonsense, U.S. loses top-tier credit rating, and more...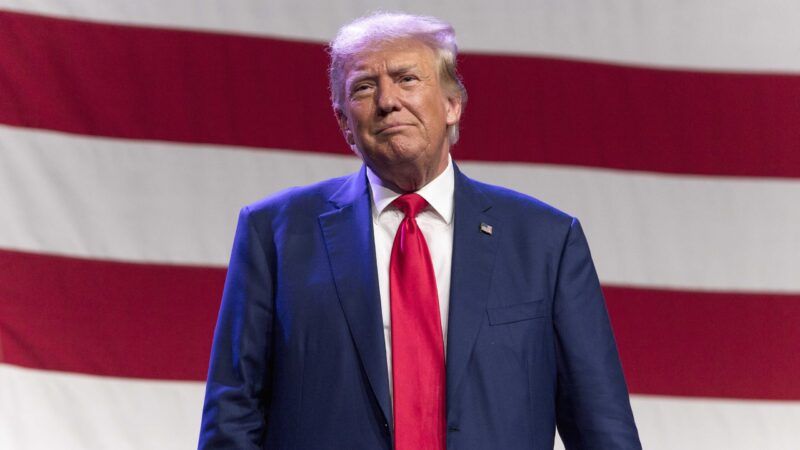 (Brian Cahn/Zuma Press/Newscom)
Former President Donald Trump is facing yet another criminal indictment. The latest set of criminal charges stems from Trump's actions in the aftermath of the 2020 election. Specifically, they focus on Trump's efforts to stop Congress from certifying the election results and his role in fomenting the U.S. Capitol riots on January 6, 2021.
Trump "widely disseminated his false claims of election fraud for months, despite the fact that he knew, and in many cases had been informed directly, that they were not true," states the indictment.
Trump had a right to challenge the election results in court, prosecutors acknowledge. And Trump "had a right, like every American, to speak publicly about the election and even to claim, falsely, that there had been…fraud during the election and that he had won."
But the indictment argues that Trump's actions went far beyond these protected activities. Not everyone agrees.
Targeting Speech or Fraud?
I've now read the new Indictment twice. It is criminalizing speech, thought, legal (right or wrong) positions, and disinformation. It also is shockingly manipulative of statutes and theories which require enormous legal wrangling.

— Brett L. Tolman (@tolmanbrett) August 1, 2023
Special Counsel Jack Smith is trying "to criminalize protected political speech and flimsy legal theories," suggest the editors at National Review:
The indictment relates in detail Trump's deceptions, but that doesn't mean they constitute criminal fraud. As the Supreme Court reaffirmed just a few weeks ago, fraud in federal criminal law is a scheme to swindle victims out of money or tangible property. Mendacious rhetoric in seeking to retain political office is damnable—and, again, impeachable—but it's not criminal fraud….As for obstruction, Americans, presidents included, have a right to attempt to influence Congress, even based on dubious or imagined evidence.
The Wall Street Journal editorial board is also skeptical. The indictment "offers no new evidence to establish a connection between the riot and Mr. Trump beyond his well-known tweets and public statements," it writes.
The allegations in the indictment constitute "a remarkably broad theory of 'conspiracy to defraud the United States,' and one with troubling implications far beyond the fate of Mr. Trump," the editorial board continues:
Mr. Smith's theory seems to be that if a President and his 'co-conspirators' are lying, and then take action on that lie, they are defrauding the U.S.

This potentially criminalizes many kinds of actions and statements by a President that a prosecutor deems to be false. You don't have to be a defender of Donald Trump to worry about where this will lead. It makes any future election challenges, however valid, legally vulnerable to a partisan prosecutor. And it might have criminalized the actions by Al Gore and George W. Bush to contest the Florida election result in 2000.
But conservative columnist David French suggests there may be enough in the charges against Trump to overcome First Amendment concerns:
There's little doubt that Trump conspired to interfere with or obstruct the transfer of power after the 2020 election. But to prevail in the case, the government has to prove that he possessed an intent to defraud or to make false statements. In other words, if you were to urge a government official to overturn election results based on a good faith belief that serious fraud had altered the results, you would not be violating the law. Instead, you'd be exercising your First Amendment rights….

Thus, it becomes all-important for the prosecution to prove, beyond a reasonable doubt, that Trump knew he lost. Arguably the most important allegations in the indictment detail the many times that senior administration officials—from the vice president to the director of national intelligence to senior members of the Justice Department to senior White House lawyers—told him that there was no fraud or foreign interference sufficient to change the results of the election. That's why it's vitally important for the prosecution to cite, for example, the moment when Trump himself purportedly described one of his accused co-conspirators' election fraud claims as "crazy."
French adds that "the case is no slam dunk." But "if a prosecutor believes—as Smith appears to—that he can prove Trump knew his claims were false and then engineered a series of schemes to cajole, coerce, deceive and defraud in order to preserve his place in the White House, it would be a travesty of justice not to file charges," he writes.
In a televised statement, Smith encouraged everyone to read the indictment in full.
What the Indictment Says
The indictment lays out four counts related to three alleged criminal conspiracies. Trump is accused of conspiring to defraud the United States, to obstruct an official proceeding, and to disenfranchise people.
"You might think about the three parts of the indictment as a helpful breakdown of the three ways in which Trump and his allies—there are six unnamed and so far uncharged co-conspirators mentioned in the indictment—attempted to subvert the presidential election process," my colleague Eric Boehm wrote yesterday. "Taken together, then, Smith's indictment outlines how the plot to overturn the 2020 presidential election harmed voters, the state-level vote-counting process, and the country's democratic process at a high level."
The defrauding charge centers on Trump's attempts to have state lawmakers who would do his bidding appointed as alternate electors, in an attempt to get himself and not Joe Biden declared the rightful winner of the 2020 presidential election. The charges of actual and attempted obstruction of justice relate to his actions on and around January 6. And the voting rights charge relates to the ways in which his conduct could have deprived the American people of the right to choose their president.
"Each of these conspiracies—which built on the widespread mistrust the Defendant was creating through pervasive and destabilizing lies about election fraud—targeted a bedrock function of the United States federal government: the nation's process of collecting, counting, and certifying the results of the presidential election," the indictment alleges.
More Reactions
Many Republican officeholders and candidates have been quick to condemn the indictment as political shenanigans and "weaponization of government."
Florida Rep. Matt Gaetz tweeted: "DEFUND JACK SMITH'S WITCH HUNT AGAINST PRESIDENT TRUMP!"
House Speaker Kevin McCarthy called it an "attempt to distract" from charges against Joe Biden's son Hunter.
"When you drain The Swamp, The Swamp fights back," Ohio Rep. Jim Jordan tweeted. "President Trump did nothing wrong!"
Others have commended the indictment as a blow against corruption and conspiracy and a win for the rule of law.
"This presents anew a defining question for our country: law or men? Choose law," tweeted Heath Mayo of the reformist conservative group Principles First.
"Donald Trump must be held accountable for conspiring to overturn an election and inciting a violent, fascist insurrection. The American people deserve justice," commented Rep. Rashida Tlaib (D–Mich.).
"Today's federal indictment matters beyond the fact that a former president is accused. The conspiracies at the heart of the case are still being used to justify voting and election law all across the country," tweeted the Brennan Center for Justice at New York University. "Trump's lies about voter fraud and a rigged election drove the insurrection and continue to damage our electoral system—driving bids to undermine voting rights, interfere with electoral processes, and threaten election workers."
The Bigger Picture
The biggest takeaway of the indictment is that should Trump win in 2024, there is no way he is leaving office willingly and peacefully when his term is up

— David Freedlander (@freedlander) August 2, 2023
This indictment is the most serious one Trump faces to date, but the former president's legal troubles go far beyond it.
The new indictment follows another federal indictment, this one issued in June and added onto last week, in which Trump faces criminal charges related to his retention of classified documents. It also follows an April indictment from New York, where Trump was charged with 34 counts of business fraud related to payments he made to Stormy Daniels. And Trump is widely expected to face one more set of charges, related to his attempts to convince Georgia officials to commit election fraud.
---
FREE MINDS
More "manifesting prostitution" nonsense. Earlier this week in Reason Roundup, we covered the Dallas County appeals court decision that declared the city's law against "manifesting the purpose of engaging in prostitution" unconstitutional. We also noted that laws like this are common around the country. And some cities—including Phoenix—make ample use of these statutes. A July article in the Phoenix New Times explores just how unjust enforcement of the city's manifesting prostitution statute is, often leading to people being arrested for ho they are dressed. And in Phoenix, "manifesting an intent to commit or solicit an act of prostitution" comes with a mandatory sentence of at least 15 days in jail.
"More than 450 people in Phoenix…have been charged with manifestation of prostitution over the past eight years," notes New Times:
The ordinance, which has been called unconstitutional by the ACLU of Arizona, allows the act of flagging down a car or wearing provocative clothing to be used as grounds to cite someone.

In 2014, the city's prosecution of Monica Jones under the ordinance drew national outcry. Civil rights organizations condemned the arrest of Jones, a transgender activist and social work student. Even celebrities spoke out against the city's use of the law.

But Phoenix has not stopped using the ordinance, according to data obtained by New Times.

A review of the data showed that hundreds of people—including 90 in 2022—have been charged with manifesting prostitution since Jones' case. Over the last two years, the majority of those charged were Black.
---
FREE MARKETS
U.S. loses top-tier credit rating. On Tuesday the "US was stripped of its top-tier sovereign credit rating by Fitch Ratings," Bloomberg News reports. The country has been downgraded from a rating of AAA to AA+. Fitch blamed the downgrade on an "erosion of governance" that had "manifested in repeated debt limit standoffs and last-minute resolutions."
"The AA+ rating is one level below AAA, meaning the US no longer has what Fitch defines as the 'highest credit quality,'" adds Bloomberg:
While Fitch says that AA ratings denote "expectations of very low default risk," that's a step down from "the lowest expectation of default risk" for AAA borrowers. Similarly, the top rating is assigned only in cases of "exceptional strong capacity" to meet financial commitments, while AA tier credit scores indicate a "very strong capacity," according to Fitch. Globally, Fitch is considered the smallest of the "big three" rating firms which include Moody's Investors Service and S&P.
---
QUICK HITS
• How "trauma" became America's favorite diagnosis.
• How infighting between police and prosecutors impeded the hunt for the Gilgo Beach serial killer. "The investigation was hampered by political battles, deep-seated local resistance to federal investigators and apparent apathy toward sex-worker victims," reports The Washington Post after an extensive review of records and interviews in the case.
• High school girls are drifting to the left while high school boys are drifting to the right.
• John Stossel talks with Colorado's Jared Polis, "the Democratic governor who wants drug legalization and free markets."
• A Texas man cited for feeding the homeless in downtown Houston has been found not guilty. "Phillip Picone, the volunteer who was cleared by a jury on Friday, is just one of more than 40 volunteers who have been ticketed," reports Houston Public Media.