Donald Trump's Historic Indictment: 34 Counts of Business Fraud and a 'Not Guilty' Plea
Trump is charged with 34 criminal counts connected to the payment of $130,000 to porn star Stormy Daniels in 2016 as part of a nondisclosure agreement.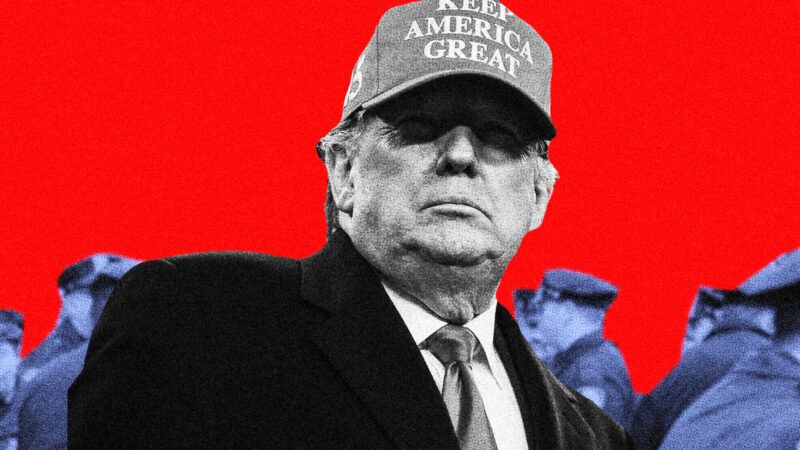 (Illustration: Lex Villena; Rorem, Defense Visual Information Distribution Service)
After becoming the first president in American history to be impeached twice while in office, Donald Trump is now the first former president to face criminal charges.
Trump was indicted on Tuesday afternoon in a Manhattan courtroom, where 34 criminal charges were leveled against the former president and presumed front-runner for the 2024 Republican nomination. It is a bizarre and unprecedented situation, but one that feels in some ways inevitable (and perhaps even a bit overdue and underwhelming) given the sheer number of allegations and investigations that have been swirling around Trump for years.
Let's leave aside the debate over the merits of these charges (or lack thereof) and the chance that Manhattan District Attorney Alvin Bragg can make them stick. There will be ample time for the courts of law and public opinion to have their say about all that.
Here's what we know for now: Trump is charged with 34 criminal counts connected to the payment of $130,000 to porn star Stormy Daniels in 2016 as part of a nondisclosure agreement that was intended to keep Daniels from exposing their 2006 affair. Trump pleaded not guilty to those charges.
More specifically, those charges are all various counts of filing false business records in the first degree, which could carry a sentence of up to four years in prison per count. That's a crime that is normally a misdemeanor but that can be upgraded to a felony if the alleged fraud is meant to cover up another crime.
It's at that point where things will get tricky. The other crime, in this case, is a federal campaign finance violation for which Trump has not been charged, much less convicted. The indictment claims that Trump allegedly committed the underlying fraud as part of an effort to boost his chances of winning the 2016 presidential election.
Between August 2015 and December 2017, the indictment alleges, Trump "orchestrated a scheme with others to influence the 2016 presidential election by identifying and purchasing negative information about him to suppress its publication and benefit [Trump's] electoral prospects," the indictment reads. "In order to execute the unlawful scheme, the participants violated election laws and made and caused false entries in the business records of various entities in New York."
Before the prosecution can even have a chance to prove its case in what many observers have termed a novel legal theory, the case will have to survive a likely motion to have the charges dismissed.
Kara Scannell, a reporter for CNN who was in the courtroom, said on the air that Judge Juan Merchan declined to impose a gag order on Trump or his attorneys—though the judge reportedly did ask the former president not to engage in incendiary remarks on social media.
Trump arrived at the Manhattan district attorney's office in a manner unlike most of the other 50,000 or so people who are arraigned there every year: with a multi-car motorcade and a Secret Service detail. He was exempted from having his mug shot taken and was not placed in handcuffs, though the Times reports that the former president's fingerprints were taken.
Trump waved briefly after exiting the motorcade before entering the building."Seems so SURREAL — Wow, they are going to ARREST ME," Trump posted on his Truth Social account as his motorcade rolled away from Trump Tower on Tuesday just shortly after noon. "Can't believe this is happening in America."
Trump exited the courtroom about an hour after he'd entered and did not offer any public remarks. He was reportedly scheduled to return to Florida later in the day on Tuesday, bringing an end to yet another surreal moment in his ongoing political saga.