Trump's New York Indictment Was Just the Beginning of His Legal Woes
The Manhattan case stinks of partisan politics, but Trump faces more serious legal jeopardy on at least three other fronts.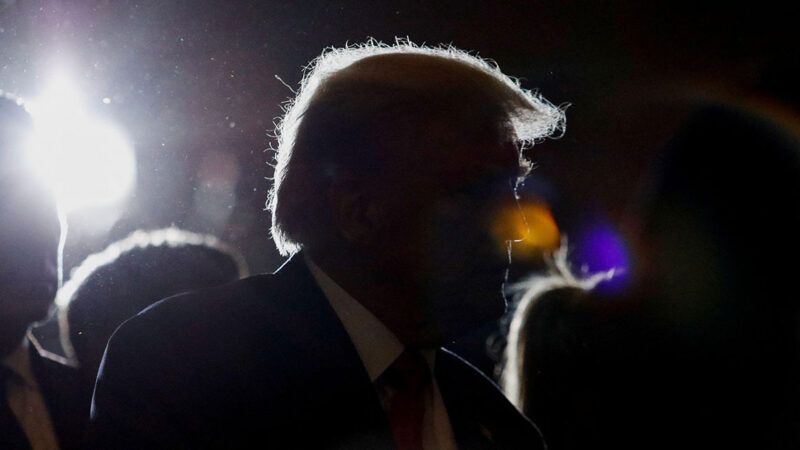 (Photo: Former President Donald Trump greets people ahead of delivering remarks on the day of his court appearance in New York after being indicted by a Manhattan grand jury, April 4, 2023; Reuters/Alamy)
When former President Donald Trump arrived at a Manhattan courthouse on April 4, crowds of people and rows of TV cameras were there to witness an unprecedented moment: the first-ever arraignment of a former U.S. president. How quickly can something this important be relegated to the footnotes of American presidential history? We may be about to find out.
The New York charges against Trump stem from his payment of $130,000 to porn performer Stormy Daniels as part of a nondisclosure agreement aimed at keeping her from telling the press about the affair she says Trump had with her in 2006. Michael Cohen, then Trump's attorney, paid Daniels shortly before the 2016 presidential election, and Trump reimbursed him with a series of checks in 2017. The Trump Organization, the business entity that Trump and his family control, described the payments as compensation for legal services.
Federal prosecutors viewed Cohen's payment to Daniels as an illegal campaign contribution, on the theory that it was intended to influence the election. Cohen pleaded guilty to that offense in August 2018. Since Cohen said he paid Daniels at Trump's behest, his guilty plea implied that Trump could be prosecuted for accepting an illegal campaign contribution. But the Justice Department never pursued that charge.
To convert that unproven violation of federal law into a state crime, Manhattan District Attorney Alvin Bragg cited a New York law dealing with falsification of business records. That offense becomes a felony when it is committed with the intent to conceal "another crime." Bragg said Trump therefore was guilty of 34 felonies—one for each invoice, check, and ledger entry related to Cohen's reimbursement. That strategy boils down to prosecuting Trump under state law for a federal campaign finance violation that the Justice Department never bothered to allege.
Questioning the legal merits of Bragg's case does not imply that former presidents should be shielded from charges when there is compelling evidence that they have committed crimes. Bragg surely is right to reject the notion that prosecutors should eschew such cases to spare the nation from "bitter controversy and divisive national debate." That was how President Gerald Ford justified his pardon of former President Richard Nixon, who came closer to facing a criminal indictment than any chief executive before Trump.
Presidents are just people. When they commit crimes, they should be held accountable. The controversy and debate are part of the process, whether we like it or not, and they are better than the alternative of giving high-ranking elected officials a free pass to break the law. Mayors, governors, and heads of foreign governments have faced indictments (and convictions) throughout history. There's no reason to exempt U.S. presidents.
Even so, the case against Trump in Manhattan looks shaky and stinks of partisan politics. But the former president faces more serious legal jeopardy on at least three other fronts.
Fulton County, Georgia, District Attorney Fani Willis is investigating Trump's alleged attempts to strong-arm Georgia officials into overturning the results of that state's 2020 presidential vote. In a phone call a few days after the election, for example, Trump urged Georgia Secretary of State Brad Raffensperger to "find 11,780 votes"—the number Trump needed to win the state. That seems to be a fairly plain violation of Georgia's law against "criminal solicitation to commit election fraud."
Willis' investigation extends beyond that one phone call. In January 2022, she convened a grand jury to investigate attempts to "disrupt the lawful administration" of the 2020 election. Witnesses interviewed by the grand jury included former Trump confidant Rudy Giuliani and Sen. Lindsey Graham (R–S.C.). In letters to local law enforcement released in April, Willis said possible criminal charges against Trump and his allies would be announced between July 11 and September 1.
Jack Smith, a special counsel appointed by Attorney General Merrick Garland, is investigating the January 6, 2021, riot at the U.S. Capitol. Dozens of subpoenas have been issued to just about everyone in Trump's inner circle on that day, including Vice President Mike Pence, who was a target of the rioters' ire. The Democrat-led House committee that investigated the riot argued that Trump broke four federal laws in the lead-up to January 6, and Smith may reach similar conclusions.
Smith also is investigating Trump's alleged mishandling of classified records. In addition to any charges directly connected to the trove of material found at Mar-a-Lago during an FBI search in August 2022, Trump (and his lawyers) could be in trouble for lying to the government about the documents.
Although it would be folly to predict how any of this will turn out, it is no longer crazy to think Trump could find himself fighting additional criminal charges. The Georgia case, in particular, could be important in setting clear standards for how much pressure future presidents can exert on state and local election officials. And unlike a convoluted payout to a former fling, election integrity actually matters.
Much of Trump's relatively brief political career has been without precedent in American history. He upended the conventional wisdom about how to win a presidential election, governed with a reckless disregard for the rules and norms that limit presidential power, and left office amid a disgraceful attempt to overturn the results of an election. He became the first president to be impeached twice.
In this context, Trump's indictment and arraignment in New York feel like more of the same. But there may yet be another twist: Depending on how these legal cases play out, the historic first-time indictment of a former president may be little more than a footnote in the Trump saga.