A Civil Rights Attorney Started Filming a Traffic Stop. Then Police Arrested Her.
Her arrest may have been retaliation for her involvement in a lawsuit against the local police department.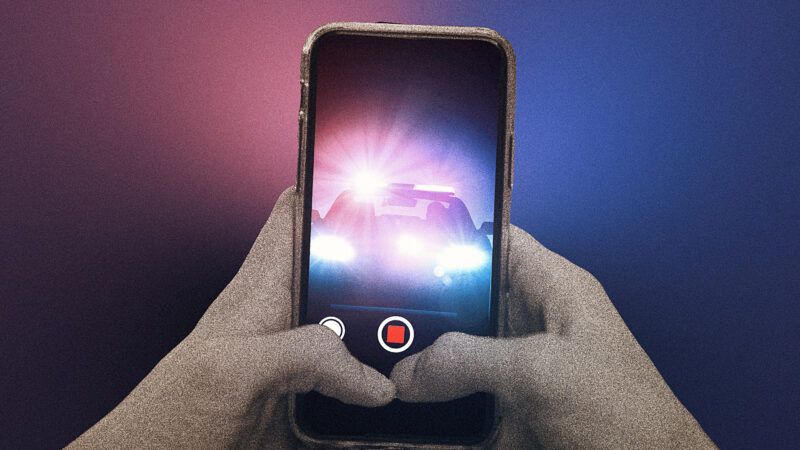 (Illustration: Lex Villena; Photo 262293472 © Prudencio Alvarez | Dreamstime.com)
When Jill Jefferson, a civil rights attorney, began filming the traffic stop of a black motorist in Lexington, Mississippi, police turned their attention to her—eventually "snatching" her phone, searching through her car, and arresting her. Now, Jefferson says that her arrest—and the charges against her—could have been retaliation for a pending lawsuit against the Lexington Police Department filed by an organization Jefferson founded. 
According to an interview with CNN, Jefferson says she was driving home from an event on Saturday when she saw Lexington police conducting a traffic stop on a black driver. Jefferson, a Harvard alumna, began filming police from inside her car. Police soon noticed her, and pulled her over as well. 
Jefferson says police asked for her ID, but she refused to give it—an assertion backed up by audio from the incident. After refusing to give police her ID, Jefferson says they seized her phone after "yanking" her out of her car. Jefferson also claims that officers began to search her car illegally.
"They went through my glove compartment, under my floor mats, they went into the briefcase and unzipped it and started taking things out and looking through them. All of this is an illegal search," Jefferson told CNN. Eventually, the police arrested her.
"I told her to give me her license 5, 6, 7, 8 times. She argued she ain't got to," one officer said to another in audio from an unclear point during the incident. "She came riding by filming…. I guess she thought that was a good idea."
Making matters worse for Jefferson, she says that she soon recognized one of the officers from her legal advocacy—and they recognized her. "I heard them talking about me once they took me to jail. They said, 'That's the woman that's suing us,'" Jefferson told CNN. "That's when I learned that they definitely knew who I was when I got there."
A civil rights group that Jefferson helped found, JULIAN, filed a federal lawsuit against the Lexington Police Department last August, alleging that Lexington police mistreated and retaliated against the town's black residents.
According to CNN, Jefferson was eventually charged with failure to comply, disorderly conduct, and resisting arrest. She was released after two days in jail, and she says her release was delayed because she refused to pay the bond in protest. A judge, however, waived the fee, allowing her to be released.
While the exact details of Jefferson's arrest are currently unavailable because body camera footage of the event has not yet been released, Jefferson's account to CNN and brief audio from the incident indicate that she was likely wrongfully arrested.
While the Supreme Court is yet to weigh in on the issue, several Circuit Courts—including the Fifth Circuit, which contains Mississippi—have found that individuals have a First Amendment right to film police, meaning that police had no right to interfere with Jefferson filming peacefully from inside her car. Further, in Mississippi, individuals stopped by police are not legally required to identify themselves, meaning that police retaliation for Jefferson's refusal to provide her ID is most likely unlawful.
"My plan was to film footage of police falsely arresting Black people," Jefferson told CNN, "and I just happened to get caught up in it."