Congress Had Questions About the CDC Stifling Dissent. Rochelle Walensky Refused To Answer.
Plus: Court using anti-pornography software to track a criminal defendant, $25 million verdict against Starbucks over fired employee, and more...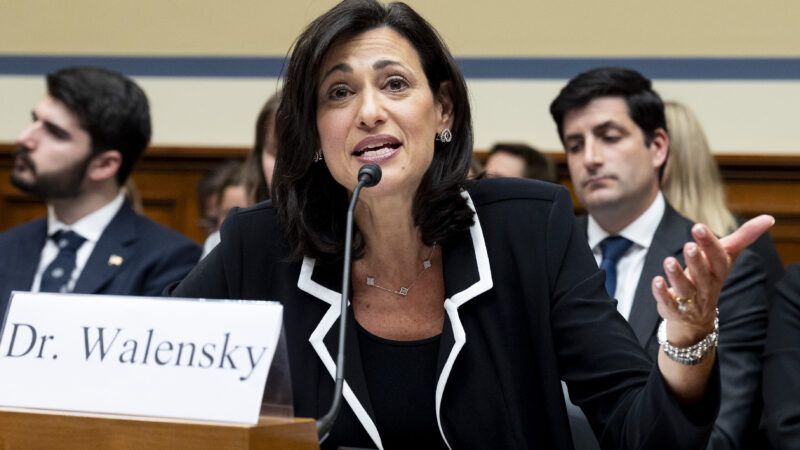 Rochelle Walensky, the outgoing director of the Centers for Disease Control and Prevention (CDC), faced tough questioning from House Republicans on Tuesday, when she appeared before the Select Subcommittee on the Coronavirus Pandemic.
Rep. James Comer (R–Ky.) grilled Walensky about the CDC's communications with social media companies—Meta, the parent company of Facebook and Instagram, in particular—during her tenure as the head of the federal agency chiefly responsible for battling COVID-19.
As reported in Reason's March 2023 issue, Walensky's CDC routinely communicated with content moderators and Facebook, recommending aggressive takedowns of purported misinformation about mitigation efforts, COVID-19's origins, and vaccines:
According to a trove of confidential documents obtained by Reason, health advisers at the CDC had significant input on pandemic-era social media policies at Facebook as well. They were consulted frequently, at times daily. They were actively involved in the affairs of content moderators, providing constant and ever-evolving guidance. They requested frequent updates about which topics were trending on the platforms, and they recommended what kinds of content should be deemed false or misleading. "Here are two issues we are seeing a great deal of misinfo on that we wanted to flag for you all," reads one note from a CDC official. Another email with sample Facebook posts attached begins: "BOLO for a small but growing area of misinfo."

These Facebook Files show that the platform responded with incredible deference. Facebook routinely asked the government to vet specific claims, including whether the virus was "man-made" rather than zoonotic in origin. (The CDC responded that a man-made origin was "technically possible" but "extremely unlikely.") In other emails, Facebook asked: "For each of the following claims, which we've recently identified on the platform, can you please tell us if: the claim is false; and, if believed, could this claim contribute to vaccine refusals?"
Comer's questions got straight to the heart of this matter. Unfortunately, Walensky declined to directly comment on it.
????????????@CDCDirector Walensky hides behind the guise of ligation to avoid answering Oversight Chairman @RepJamesComer's questions.

Rep. Comer: Did @CDCgov work with social media companies to censor dissent about vaccines?

Dir. Walensky: *excuses, excuses, excuses* pic.twitter.com/HoGMeHc7o9

— Select Subcommittee on the Coronavirus Pandemic (@COVIDSelect) June 13, 2023
Walensky's defense for not answering was that the CDC is party to pending litigation involving the suppression of speech on social media; the state of Missouri has sued the federal government over its role in pressuring social media companies to stifle COVID-19 dissent. The downside of the lawsuit, unfortunately, is that it provided Walensky a pretext for keeping quiet when questioned by Congress.
Walensky also fielded questions about the teachers unions' role in keeping schools closed during the pandemic, and this time, she answered. The former CDC director confirmed that the American Federation of Teachers fought to establish a policy that would automatically close schools that surpassed certain COVID-19 thresholds—and that the CDC rejected this policy.
.@RepBradWenstrup: "Did the AFT provide suggested edits to the CDC's February 2021 school opening guidance, including a trigger to automatically close schools that, if implemented, would have kept more schools closed and kids out of the classroom?"@CDCDirector Walensky: "Yes." pic.twitter.com/ngWlSn7Qt0

— Americans for Public Trust (@apublictrust) June 13, 2023
On this matter, Walensky's testimony provides an even stronger case that if the teachers unions had had greater control over pandemic policy, schools would have stayed closed for longer.
---
FREE MINDS
Wired reports on a disturbing case of the justice system using anti-pornography software to track a criminal defendant:
Prosecutors in Monroe County this spring charged Hannah's husband with possession of child sexual abuse material—a serious crime that she says he did not commit and to which he pleaded not guilty. Given the nature of the charges, the court ordered that he not have access to any electronic devices as a condition of his pretrial release from jail. To ensure he complied with those terms, the probation department installed Covenant Eyes on Hannah's phone, as well as those of her two children and her mother-in-law.

In near real time, probation officers are being fed screenshots of everything Hannah's family views on their devices. From images of YouTube videos watched by her 14-year-old daughter to online underwear purchases made by her 80-year-old mother-in-law, the family's entire digital life is scrutinized by county authorities. "I'm afraid to even communicate with our lawyer," Hannah says. "If I mention anything about our case, I'm worried they are going to see it and use it against us."

Covenant Eyes is part of a multimillion-dollar market of "accountability" apps sold to churches and parents as a tool to police online activity. For a monthly fee, the app monitors every single thing a user does on their devices, then sends the data it collects, including screenshots, to an "ally" or "accountability partner," who can review the user's online activities.

For Hannah's family, their Covenant Eyes "allies" are two probation officers in Monroe County's Pretrial Services Program charged with scrutinizing their web activity and ensuring that Hannah's husband does not violate the terms of his bond while using one of his family members' devices.
The defendant's wife told Wired that she worried the court was essentially using the software to entrap her husband; her kids worried that any questionable use of social media on their part could get him in trouble. Her 12-year-old son asked her, "Mom, will Pocket Mortys get dad in trouble?"
---
FREE MARKETS
On May 29, 2018, Starbucks closed 8,000 stores for a day in order to subject its employees to racial bias training. This dubious move came in response to an incident at a Philadelphia-area Starbucks in which an employee called the police on two black customers who had refused to leave. Their arrests were caught on video and went viral, drawing outrage—and allegations of racism—on social media. Starbucks fired a white regional manager in connection with the episode.
But earlier this week, a federal jury ruled in favor of the fired employee, who had filed a discrimination complaint. The jury awarded the employee $25 million, according to The New York Times:
The jury found that Starbucks had violated the federal civil rights of the former manager, Shannon Phillips, as well as a New Jersey law that prohibits discrimination based on race, awarding her $600,000 in compensatory damages and $25 million in punitive damages.

Laura Carlin Mattiacci, a lawyer for Ms. Phillips, said she and her client were "very pleased" with the unanimous verdict, adding that "she proved by 'clear and convincing evidence' that punitive damages were warranted" under the New Jersey law.

A Starbucks spokeswoman declined to comment.

At the time of the episode, Ms. Phillips oversaw about 100 stores in Philadelphia, South Jersey, Delaware and parts of Maryland. She had been promoted to the job in 2011 after what she called her "exemplary performance" in six years as a district manager in Ohio.

Ms. Phillips said in the suit that Starbucks, as part of its damage-control effort after the arrests, had sought to punish her and other white employees in and around Philadelphia even if they had not been involved in the events that led to the police being called.

Ms. Phillips said she had thrown herself into the company's efforts to restore its credibility and had sought to support hourly workers, organizing managers to staff stores and cover for employees who were scared to run a gantlet of protesters.

Amid the image-burnishing campaign, Ms. Phillips said one of her superiors, a Black woman, told her to suspend a white manager who oversaw stores in Philadelphia, though not the one in Rittenhouse Square, because of allegations that he had engaged in discriminatory conduct — allegations that Ms. Phillips said she knew to be untrue.
Read more here.
---
QUICK HITS
• Miami Mayor Francis Suarez is entering the 2024 Republican presidential contest.
• Cornel West is running to be the Green Party's presidential candidate.
• Journalist Michael Shellenberger believes he has identified COVID-19's "patients zero" at the Wuhan Institute of Virology.
• The manager of a Harvard Medical School morgue has been charged with selling body parts.
• Florida Gov. Ron DeSantis signed a bill to protect car dealerships' monopoly.
• Daniel Penny has been indicted for the chokehold death of Jordan Neely on the New York subway last month.