Montana Sets Itself Up for First Amendment Lawsuits With TikTok Ban
Plus: Americans are increasingly changing religions, court pauses rejection of "free" preventative care mandate, and more...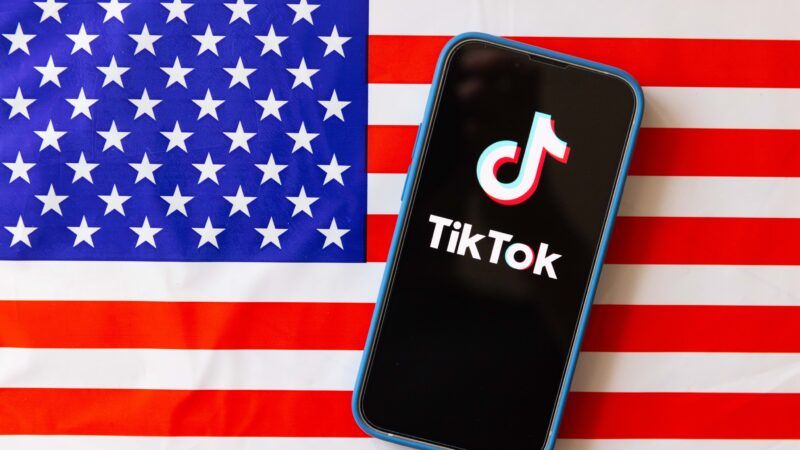 (Stanislav Kogiku/ZUMAPRESS/Newscom)
Montana Republican Gov. Greg Gianforte has signed a highly unconstitutional statewide ban on TikTok. The measure prohibits app stores from offering TikTok for download to the phones of Montana residents and also says flatly that "Tiktok may not operate within the territorial jurisdiction of Montana."
Any entity that violates the ban can be fined $10,000 for each violation and "an additional $10,000 each day thereafter that the violation continues" (but penalties "do not apply to users of tiktok," the law states).
To protect Montanans' personal and private data from the Chinese Communist Party, I have banned TikTok in Montana.

— Governor Greg Gianforte (@GovGianforte) May 17, 2023
The ban—S.B. 419—was first approved back in April by Montana's Legislature—which managed to spell the app's name wrong in the bill's short title ("Ban tik-tok in Montana"), if that tells you anything about the level of ignorance at play here.
An entity—defined only as "a mobile application store or tiktok"—violates the ban anytime "the operation of tiktok by the company or users" occurs in Montana. That language suggests TikTok or app stores may be liable if people use virtual private networks or other means to skirt the state's ban. However, the law also states that "it is an affirmative defense…if the violating entity could not have reasonably known that the violation occurred within the territorial jurisdiction of Montana."
Nonetheless, the law may manage to be unconstitutional in multiple ways.
Not only does it violate the First Amendment rights of TikTok users, the company itself, and app stores that might want to offer it but it's also "a clear bill of attainder, which is explicitly barred by the Constitution," suggests Techdirt's Mike Masnick. (Bills of attainder single out a person or entity for punishment without court proceedings.)
In a seeming attempt to address the bill-of-attainder concerns, Gianforte initially sent the bill back to the legislature with amended language that didn't single out TikTok.
Of course, Gianforte's proposed changes ranged "from 'missing the point' to 'profoundly idiotic,'" suggested First Amendment lawyer Ari Cohn. "The naming of TikTok was not [the] ultimate infirmity of the bill—the problem was that the bill took a sledgehammer to speech in order to kill a (potentially imaginary) fly. A bill that effectively does the same thing (just now potentially to other platforms too!) does nothing to address the First Amendment concerns."
Gianforte's amended version also ran the risk of banning most, if not all, social media platforms from operating in Montana, noted Cohn:
Things get especially stupid when you look at what actions will sweep a platform under the bill's blanket ban:

(1) A social media application may not operate within the territorial jurisdiction of Montana if the social media application allows:

(a) the collection of personal information or data; and

(b) the personal information or data to be provided to a foreign adversary [N.B. as defined by federal law] or a person or entity located within a country designated as a foreign adversary.
"Personal information or data" can include things as simple as someone's first or last name, contact information, or username—that's how it's defined in the federal Children's Online Privacy Protection Act, for instance. "In other words, the types of information that accompany virtually every piece of content posted on social media," wrote Cohn.
If a platform allows that kind of information to be provided to any foreign adversary or a person or entity located within a foreign adversary, it is banned from Montana.

Do you know who might be persons located within a country designated as a foreign adversary? Users. Users who are provided the kinds of "personal information" that are inherent in the very concept of social media.

So, effectively, the bill would ban any social media company that allows any user in China, Russia, Iran, or Cuba to see content from a Montana user (and this is a generous reading, nothing in the bill seems to require that the data/information shared be from a Montana resident). On top of it, each time a user from one of those countries accesses content, platforms would be subject to a $10,000 fine.

Do you know which platforms allow people in those countries to access content posted in the United States? All of them.
The final version of the TikTok law that Gianforte signed on Wednesday does not contain his amended language.
Separately, Gianforte directed Montana's chief information officer to ban all apps that provide personal information to foreign adversaries from state devices. The directive says "no executive agency, board, commission, or other executive branch entity, official, or employee of the State of Montana shall download or access social media applications that provide personal information or data to foreign adversaries on government-issued devices or while connected to a state network," according to a statement from Gianforte. "Additionally, any third-party firms conducting business for or on behalf of the state of Montana shall not use these applications."
The TikTok ban is slated to take effect January 1, 2024. But it will certainly face legal challenges before then.
The ban is "a blatant violation of the First Amendment," said the Electronic Frontier Foundation. 
"The government cannot impose a total ban on a communications platform like TikTok unless it is necessary to prevent extremely serious, immediate harm to national security," noted the American Civil Liberties Union (ACLU) in a statement. "But there's no public evidence of harm that would meet the high bar set by the U.S. and Montana Constitutions, and a total ban would not be the only option for addressing such harm if it did exist."
"With this ban, Governor Gianforte and the Montana legislature have trampled on the free speech of hundreds of thousands of Montanans who use the app to express themselves, gather information, and run their small business in the name of anti-Chinese sentiment," said Keegan Medrano, policy director at the ACLU of Montana.
"It's not good that Gianforte signed an obviously unconstitutional law. But it *is* good that this will be a litmus test," tweeted Cohn. "The hapless MT govt will not be able to assert any constitutional justification, and the law will be struck down–perhaps disincentivizing others from trying."
---
FREE MINDS 
Americans are increasingly changing religions. A new survey from the Public Religion Research Institute (PRRI) finds a growing share of Americans identify with a different religion than the religion with which they were raised or previously identified. Nearly a quarter of those surveyed (24 percent) said they had changed religious traditions or denominations, up from 16 percent in 2021.
"People who are currently members of other non-Christian religions (38%) or religiously unaffiliated (37%) are the most likely to say that they were previously a follower or practitioner of a different religious tradition, followed by about one in four other Protestants of color (28%), white evangelical Protestants (25%), and Hispanic Protestants (24%)," noted the PRRI. "In addition, 22% each of other Christians, white mainline/non-evangelical Protestants, and Latter-day Saints also say they were previously a practitioner or follower of a different religious tradition or denomination. Jewish Americans (15%), Black Protestants (15%), Hispanic Catholics (11%) and white Catholics (10%) are the least likely to say they were previously a follower or practitioner of a different religious tradition."
One of the main reasons given for switching was dissatisfaction with their former religion's negative stance on LGBT issues. This was cited by around 30 percent of those who had switched religions. Twenty-seven percent said "they were disillusioned by scandals involving leaders in their former religion," noted the PRRI, while "18% point to a traumatic event in their lives, and 17% say their church became too focused on politics."
See the whole survey for a lot of broader findings about religion and church attendance in America.
---
FREE MARKETS 
Court pauses rejection of "free" preventative care mandate. "A federal appeals court on Monday froze a lower court decision that scrapped the Affordable Care Act's requirement that employers fully cover the cost of specified preventive health care services," reported Axios. More:
The big picture: The New Orleans-based U.S. 5th Circuit Court of Appeals temporarily blocked U.S. District Court Judge Reed O'Connor's ruling that put in jeopardy coverage for certain cancer screenings, behavioral counseling, HIV prevention and other services recommended by the U.S. Preventive Services Task Force.

About six in 10 people with private health insurance, or roughly 100 million, use ACA-covered preventive health services each year, per KFF.

Details: The conservative-leaning 5th Circuit issued an order granting an administrative stay while it reviews the case.

What this means: At least for now, no-cost coverage for preventive services is still required under law.
---
QUICK HITS
• A look at arguments in the abortion pill battle before the U.S. Court of Appeals for the 5th Circuit yesterday. (See also: how the 150-year-old Comstock law came back into play.)
• Can governments increase birthrates? Should they?
• New guidance from the U.S. Department of Education says "teachers, school administrators, and other school employees may not encourage or discourage private prayer or other religious activity."
• "Florida Gov. Ron DeSantis signed bills Wednesday that ban gender-affirming care for minors, target drag shows, restrict discussion of personal pronouns in schools and force people to use certain bathrooms," reported the Associated Press.
• It's OK to ignore many food expiration dates.
• A federal court has (for now) rejected New Jersey's restrictions on concealed carry.
• Columbus, Ohio, cops keep getting arrested for operating a vehicle while impaired.