The Louisville Cop Who Killed Breonna Taylor Has a New Law Enforcement Gig
Myles Cosgrove never faced criminal charges in connection with Taylor's death, but he was fired for his reckless use of deadly force.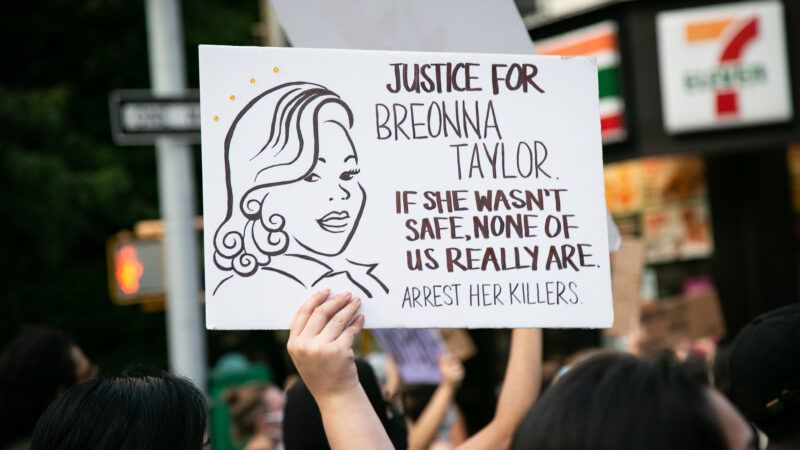 (Karla Ann Cote/Zuma Press/Newscom)
Myles Cosgrove, the former Louisville detective who killed Breonna Taylor in a fruitless 2020 drug raid based on a fraudulent search warrant affidavit, was fired after that notorious incident for his reckless use of deadly force. The senseless death of a young African-American woman, along with the murder of George Floyd in Minneapolis two months later, provoked nationwide protests in 2020 and became a leading example of the police abuse decried by Black Lives Matter. But that history did not faze the Carroll County, Kentucky, Sheriff's Office, which recently hired Cosgrove as a deputy.
Taylor was a 26-year-old EMT and aspiring nurse with no criminal record. Louisville police were investigating her ex-boyfriend, Jamarcus Glover, for drug dealing. Detective Joshua Jaynes obtained a hastily approved no-knock warrant to search Taylor's apartment based on information he later admitted was inaccurate. Even taking his affidavit at face value, it did not contain sufficient evidence to establish probable cause, let alone enough evidence to justify a warrant authorizing police to enter her home unannounced in the middle of the night.
The warrant was based almost entirely on guilt by association, plus the claim that Glover had received packages at Taylor's apartment. Although Jaynes implied in his affidavit that the packages may have contained drugs or drug money, he later admitted they had been described as Amazon shipments. The packages reportedly contained clothing and shoes.
Cosgrove was not responsible for the warrant, but he was responsible for what happened when police executed it around 12:40 a.m. on March 13, 2020. Despite their no-knock warrant, the officers banged on the door before breaking in, and they said they also announced themselves—a claim that was contradicted by Taylor's new boyfriend, Kenneth Walker, who was in the bedroom with her at the time of the raid, and by Taylor's neighbors, including one who initially agreed but later changed his story.
Alarmed by the banging and the sudden home invasion, Walker grabbed a handgun and fired a single shot at the intruders, striking Sgt. Jonathan Mattingly in his left thigh. Three officers responded with a hail of 32 bullets, six of which struck Taylor, who was unarmed and standing near Walker. Detective Brett Hankison blindly fired 10 of those rounds from outside the apartment. Mattingly fired six. Cosgrove fired 16, including the round that killed Taylor.
Cosgrove later told investigators the incident unfolded so quickly that he was not consciously aware of using his gun. "I just sensed that I've fired," he said. "It's like a surreal thing. If you told me I didn't do something at that time, I'd believe you. If you told me I did do something, I'd probably believe you, too." Although Walker fired just once, Cosgrove said he was "overwhelmed with bright flashes and darkness," which led him to believe "there's still these gunshots happening due to those bright lights." In other words, he misinterpreted the rounds that Mattingly fired as a continuing assault by Walker.
Hankison, who was charged with wanton endangerment under state law, was acquitted in March 2022. Five months later, the U.S. Justice Department charged him with violating constitutional rights under color of law by recklessly firing 10 rounds through "a covered window and covered glass door," thereby endangering Taylor, Walker, and three neighbors. Jaynes and two other officers also face federal charges in connection with the raid.
Cosgrove was never charged, because Kentucky Attorney General Daniel Cameron concluded that he and Mattingly had acted in self-defense. But when interim Police Chief Yvette Gentry fired Cosgrove more than nine months after the raid, she said he failed to "properly identify a target" when he fired 16 rounds down a dark hallway. "The shots you fired went in three distinctly different directions, demonstrating that you did not identify a specific target," she wrote in her termination letter to Cosgrove. "Rather, you fired in a manner consistent with suppressive fire, which is in direct contradiction to our training, values and policy."
Gentry thought Cosgrove's explanation of his conduct was damning. "In your statement, you did not describe target isolation or target identification and instead described flashes that you did not properly evaluate as a threat," she wrote. "Had you evaluated the threat accurately, you would have likely stopped firing once the gunfire had stopped." In other words, Taylor probably would still be alive if Cosgrove had followed his training.
Cosgrove does not seem like the sort of person who should be trusted with a gun and a badge. But last November, The New York Times notes, "the Kentucky Law Enforcement Council voted not to revoke the certification that allows Mr. Cosgrove to work as a police officer in the state." That decision, which is part of a broader problem with cops who move on to other law enforcement agencies after they are fired for egregious misconduct, left Cosgrove free to apply for his new job in Carroll County, about an hour's drive from the city where he killed Taylor.
"In a county of roughly 11,000 residents that is 94 percent white and where 71 percent of voters went for former President Donald J. Trump in 2020," the Times reports, "supporters of the hiring were not hard to find." One resident who encountered a courthouse protest against Cosgrove's hiring did not understand the fuss. "He was never charged, so I don't know what the protesters are worried about," she said. "It's ridiculous."
Taylor's mother, Tamika Palmer, unsurprisingly takes a different view. "When are these cops going to stop protecting bad cops?" she asked in a statement. "The people in that county have now got a killer with a badge they've got to deal with."