Rape Rates Go Down as Countries Legalize Prostitution, Rise With Sex Work Prohibition
Plus: States move to stop cops from lying to kids, Biden wants to raise Medicare taxes, and more...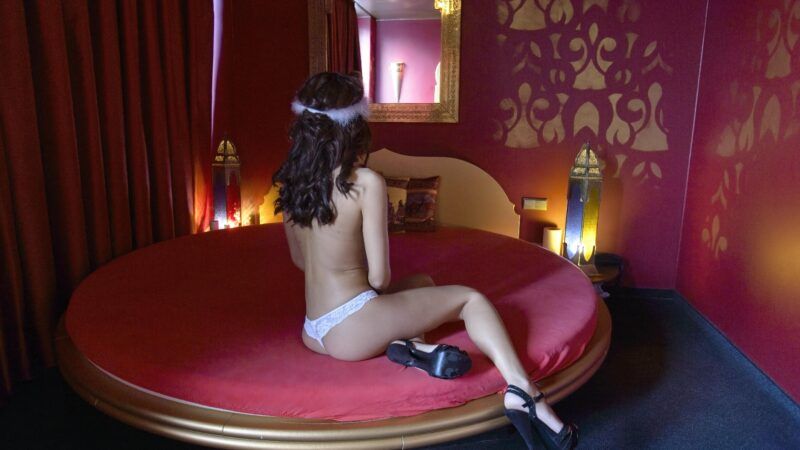 (imageBROKER/Martin Storz/Newscom)
Liberalizing prostitution laws "leads to a significant decrease in rape rates," according to a study published in The Journal of Law and Economics, "while prohibiting it leads to a significant increase."
For the study, researchers Huasheng Gao and Vanya Petrova of China's Fudan University looked at data from 31 European countries, spanning a period between 1990 and 2017. During this time period, eight countries (Spain, Denmark, Hungary, the Netherlands, Germany, Slovenia, Latvia, and Romania) liberalized their prostitution laws while six countries (Sweden, Croatia, Norway, Iceland, France, and Ireland) cracked down on prostitution.
Overall, liberalizing prostitution laws was linked to a significant decrease in rape rates, while prohibition was linked to a significant increase—but the magnitude of these two shifts was far from equal. Rather, "the magnitude of prohibiting commercial sex is about four times as large as that of liberalizing it," write Gao and Petrova.
The average rape rate in the sample countries was nine rapes per 100,000 people. Countries that liberalized prostitution laws saw a decrease of approximately three rapes per 100,000 people, relative to countries that did not change their prostitution laws. Meanwhile, countries that banned or further criminalized prostitution saw an increase of around 11 rapes per 100,000 people, relative to the control countries.
Gao and Petrova classify each country as having one of four models of prostitution law. On the prohibition side are criminalization (in which both selling and paying for sex are illegal) and the Nordic model or "end demand" model (in which paying for sex is illegal but offering paid sex is not). On the liberalization side are legalization (in which selling and paying for sex are legal under certain circumstances—such as in state-sanctioned brothels or red light districts, or with a special sex worker permit—but highly regulated and still a crime outside of these circumstances) and decriminalization (in which neither selling nor paying for consensual sex is a criminal act, with no requirement that it take place in some special circumstances in order to be legal).
Decriminalization schemes are further characterized as either abolitionism (in which brothels are OK) or new abolitionism, in which brothels are explicitly banned. An example of a country with a new abolitionist decriminalization scheme is Denmark, where commercial sex per se carries no criminal penalties but keeping a brothel is a crime punishable by up to four years' imprisonment.
"Among the prostitution liberalization models, decriminalization (in particular abolitionism) has a stronger effect on reducing rape than legalization does," found the researchers. "Among the prostitution prohibition models, the Nordic model has a stronger effect on increasing rape than criminalization does."
That last bit is somewhat surprising—meaning full criminalization is linked to less of an increase in sexual assaults than criminalizing only prostitution customers—and perhaps important to keep in mind as advocates push for Nordic model prostitution laws in the United States.
Rape rates in all 31 countries studied increased between 1990 and 2017. "But the increase in prohibited countries is clearly greater than in" control countries or in countries that liberalized prostitution laws, say the researchers. "From 1990 to 2017, the average rape rate in prohibited countries increased from 7.70 to 36.81 (380 percent). In contrast, the rape rate increased from 6.49 to 9.71 (50 percent) in liberalized countries and from 4.67 to 8.48 in control countries (82 percent)."
Gao and Petrova note that "in recent years, the antiprostitution movement, fueled by ideological concerns about gender inequality and human trafficking, has gained momentum." But "our results suggest that policies aimed at prohibiting prostitution can have the severe unintended consequence of proliferating sexual violence," they write.
Countries with and without prostitution law changes had "parallel trends" in rape rates prior to any policy changes. Most of the divergences in rape rates started occurring after a country changed its prostitution laws—suggesting that these shifts may not be merely correlated but causal, say the researchers.
They find further support for the causal interpretation in the fact that shifts in rape rates seen in countries with prostitution policy changes did not correspond to shifts in the rates of serious nonsexual crimes such as homicide, burglary, or robbery.
Gao and Petrova do offer the caveat that "changes in prostitution laws might not be random. It is possible that a country changes the laws as part of a general program to improve women's social status and is thus instituting other policies that may affect rape rates," and although they attempted to control for this in various ways, these techniques "may not fully address the possible nonrandomness of prostitution laws."
But their findings are in line with a spate of previous research linking liberalized sex work laws to decreases in sexual violence. For instance, a 2018 study showed that rapes in Rhode Island decreased when the state temporarily decriminalized indoor prostitution. A 2017 study found fewer sexual assaults after legal street prostitution zones were opened in 25 Dutch cities. Another 2017 study linked the launch of Craigslist "erotic services" ads in various U.S. cities to decreases in female homicide rates.
Meanwhile, rape rates in Sweden went up when the city implemented the Nordic model, according to research from Riccardo Ciacci, an economics professor at Madrid's Comillas Pontifical University. And the 2015 criminalization of sex work in Northern Ireland was associated with "increased sexual violence committed against women," according to the 2021 paper "The Effect of the Sex Buyer Law on the Market for Sex, Sexual Health and Sexual Violence."
---
FREE MINDS
States move to stop cops from lying to kids. Reason's C.J. Ciaramella has more details:
Based on mounting evidence that minors are especially susceptible to false confessions, criminal justice reformers in several states are demanding tighter rules for juvenile interrogations. The latest such push is happening in New York, where reformers hope to pass legislation requiring that minors have access to legal counsel prior to police interviews.

Maryland and Washington state already enforce such a rule. And in 2021, Illinois and Oregon became the first two states to ban police from lying to minors during interrogations.

Wrongful convictions have shown that teenagers are less likely than adults to understand their Miranda rights and more likely to focus on immediate rewards rather than long-term consequences. According to the Innocence Project, nearly 30 percent of DNA exonerations involved false confessions, and roughly a third of defendants in those cases were 18 or younger when they confessed.

Similar bills have previously been introduced in New York, but none have passed, due partly to opposition from the New York City Police Department (NYPD). "Parents and guardians are in the best position to make decisions for their children, and this bill, while well-intentioned, supplants the judgment of parents and guardians with an attorney who may never have met the individual," a police spokesperson told The City in December.
More here.
---
FREE MARKETS
Biden budget proposal to include tax increase. President Joe Biden is scheduled to release his budget proposal today, and what Biden scheme would be complete without plans to raise taxes on high earners? Accordingly, the president will propose raising Medicare taxes for U.S. households with incomes of more than $400,000 per year—from 3.8 percent to 5 percent.
The proposal underscores "the degree to which Mr. Biden has fully embraced the political upside of taxing high earners," write Jim Tankersley and Margot Sanger-Katz at The New York Times. The silver lining: "Administration officials have conceded there is little chance those tax increases will pass Congress."
---
QUICK HITS
"A state Court of Appeals ruling Wednesday could effectively end civil forfeiture in Oregon, finding that such cases are the same as unlawfully punishing someone twice for the same crime."https://t.co/GGs1iJwkSC

— Shane D. Kavanaugh (@shanedkavanaugh) March 8, 2023
• The Department of Justice says Louisville, Kentucky, cops are guilty of routinely violating residents' constitutional rights through the use of excessive force, illegal traffic stops, discriminatory policing, retaliating against protected speech, and more.
• Economist Emily Oster points out the flaws in a new study that purportedly shows drinking in the months prior to pregnancy "may alter the face of your child."
• Arkansas Gov. Sarah Huckabee Sanders has signed a school voucher bill.
• The tech industry trade association NetChoice is suing to block California's Age-Appropriate Design Code Act (A.B. 2273), which would require companies offering digital services "likely to be accessed by children" to "estimate the age of child users with a reasonable level of certainty appropriate to the risks that arise from the data management practices of the business or apply the privacy and data protections afforded to children to all consumers."
• A proposed blogger registration bill in Florida does not have the support of Gov. Ron DeSantis.
• "While Republicans are increasingly bullish about simply banning TikTok, Democrats are stuck in between national security concerns and the reality that many of the voters they want to reach in the next election are highly active on the platform," notes Yahoo News' Jon Ward.
• After 20 years, it's far past time to abolish the Department of Homeland Security: