Ron DeSantis Disavows Bill That Would Require Political Bloggers To Register With the Government
State legislators "have independent agency to do things. I don't control every single bill that has been filed," said DeSantis on Tuesday.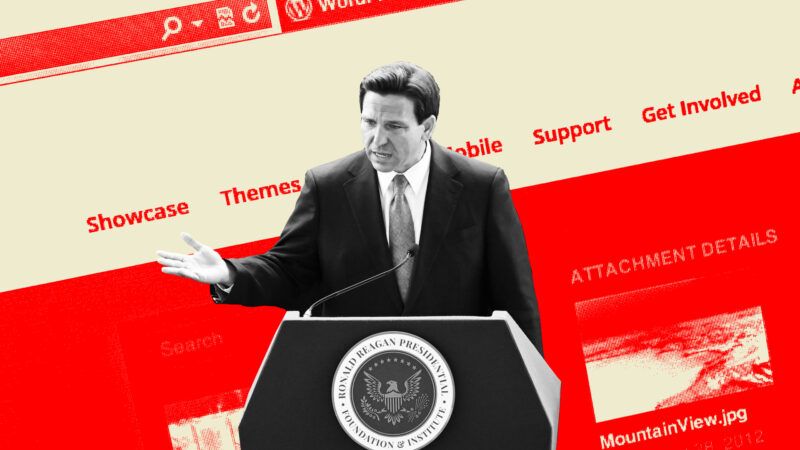 (Illustration: Lex Villena; Salleva)
A recent bill filed in the Florida Senate has been receiving a torrent of backlash—including from Republican Gov. Ron DeSantis, who the bill is supposedly meant to protect.
SB 1316, introduced last week by Rep. Jason Brodeur (R-10), would require any "blogger" who makes money off posts related to the state's governor, lieutenant governor, cabinet officers, or members of the state legislature to file monthly reports with the state. The bill says these reports must include how much the blogger made, who paid them, and when and where the post was published. Failure to comply with the law would result in up to a $2,500 fine.
"Every person in the legislature can file bills, right?" said DeSantis during a Tuesday press conference. "I see these people filing bills and there's articles with my face on the article saying that 'oh, bloggers are going to have to register [with] the state,' and it's attributing it to me. And I'm like, okay, that's not anything I've ever supported, I don't support [it]."
In addition to lacking DeSantis' support, the bill is also unconstitutional. "The First Amendment protects not only a free press, but the right to speak anonymously," Will Creeley and Adam Steinbaugh, attorneys for the Foundation for Individual Rights and Expression, a First Amendment nonprofit, wrote last Friday. "Yet SB1316 would compel Americans who exercise their right to criticize a state's highest officials to reveal themselves to the very government they criticize."
The bill received swift backlash. "Dear Ron DeSantis.  I am a Florida blogger, and I will NEVER register with the state, nor pay a fine," tweeted one user. "Your daily reminder Ron DeSantis is a fascist," added another. However, as the original fervor cooled, some writers noticed that it did not, in fact, have DeSantis' backing. "That Florida bill about bloggers registering with the state had a single sponsor and everyone was acting like it was going to pass tomorrow with Ron DeSantis's blessing?" tweeted NewsNation reporter Zaid Jilani on Tuesday. "There's always a few weird bills out there in every legislature."
On Tuesday DeSantis firmly put rumors about the bill to rest, saying during a press conference that he's never supported the bill and that state legislators "have independent agency to do things. I don't control every single bill that has been filed."
While opposing Brodeur's bill, DeSantis has supported a series of speech-stifling bills in recent months, including a bill directly aimed at making it easier for public figures to pursue defamation claims against journalists.