Yes, You Have a First Amendment Right To Livestream Cops
Plus: Some State of the Union fact checking, a livestream discussion about gun rights and violence, and more...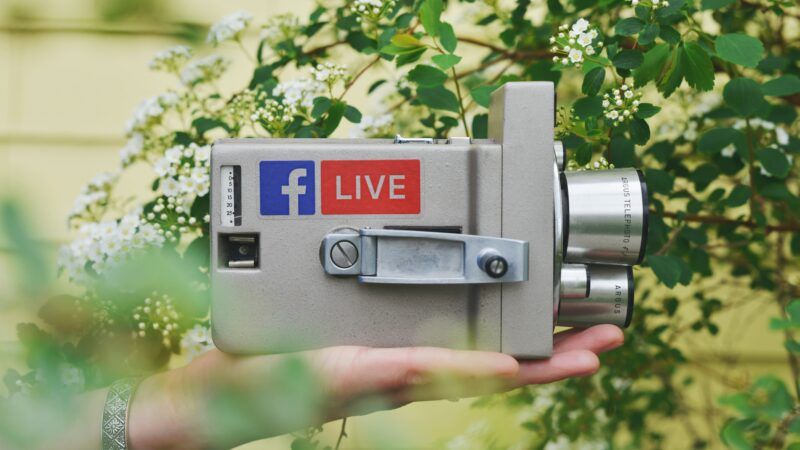 Yes, you are well within your First Amendment rights to livestream video of police officers in action. The U.S. Court of Appeals for the 4th Circuit confirmed that in a ruling released this week.
It really shouldn't have been a question. Courts have, on a number of occasions, upheld the right to photograph or take video of police officers.
But police officers in Winterville, North Carolina, insisted that livestreaming that video on social media is different. During a 2018 traffic stop—which car passenger Dijon Sharpe started sharing on Facebook Live—an officer tried to take away Sharpe's phone, calling it an "officer safety issue." Another officer told Sharpe, "In the future, if you're on Facebook Live, your phone is gonna be taken from you…and if you don't want to give up your phone, you'll go to jail."
Sharpe sued. And a U.S. district court sided against him, writing "that an individual's right under the First Amendment to record a traffic stop" and to "real-time broadcast a traffic stop from within the stopped car" was not "clearly established." That meant the officers involved were entitled to qualified immunity.
Sharpe then took the case to a federal appeals court, with a horde of civil liberties groups —including the American Civil Liberties Union, the Institute for Justice, the Cato Institute, and the National Police Accountability Project—backing his position.
This time, the court sided with Sharpe in part.
Winterville "failed to establish that the alleged livestreaming policy is sufficiently grounded in, and tailored to, strong governmental interests to survive First Amendment scrutiny," the court held in a Tuesday decision, penned by Judge Julius N. Richardson. "So we vacate the district court's order declaring the policy constitutional and remand for further proceedings."

"Creating and disseminating information is protected speech under the First Amendment," noted Richardson:
And other courts have routinely recognized these principles extend the First Amendment to cover recording—particularly when the information involves matters of public interest like police encounters….

We agree. Recording police encounters creates information that contributes to discussion about governmental affairs. So too does livestreaming disseminate that information, often creating its own record. We thus hold that livestreaming a police traffic stop is speech protected by the First Amendment.
Nonetheless, the Winterville police officers are still entitled to qualified immunity, the court held. Under the doctrine of qualified immunity, police officers are only open to individual liability if they violate a clearly established right that is protected by the Constitution. But the legality of livestreaming traffic stops was not clearly established, the judges said.
---
FOLLOW-UP
"The State of Our Union Sucks." In yesterday's Roundup, we covered President Joe Biden's 2023 State of the Union address and his weird quest to micromanage the minutiae of American travel. Since then, Reason has published a half-dozen posts tackling various other facets of Biden's comments and proposals.
"The state of our union sucks," writes Reason Editor at Large Matt Welch, taking a big-picture view of Biden's speech. "The bipartisan (if shouty!) embrace of big-government nationalism ensures our populist moment won't end any time soon."
Other Reason writers have tackled Biden's comments on immigration, schooling, policing, and more. Check them out:
• Biden's Foreign Policy Is Adrift
• The Cops Who Killed Tyre Nichols Could Be Convicted of Murder and Still Get Qualified Immunity
• Biden's Claims About Universal Pre-K Are Malarkey
• Biden's Proposed Assault Weapon Ban Is Unconstitutional, Unlikely, and Ineffectual
• Biden's Anti-Vaping Policies Undermine Cancer Moonshot
• Calls To 'Close the Border' in Response to Fentanyl Deaths Are Misguided
Bonus: Joe Lancaster takes a look at the GOP rebuttal to Biden's speech, which was "light on policy and heavy on grievances."
---
FREE MINDS
On vanity license plates, selective censorship, and Tennesseans' fondness for DEEZNTS:
Do vanity plates communicate secret messages from Tennessee's government? Listen to today's argument to find out: https://t.co/Q9G61IVHPJ. https://t.co/5q2Cv9q7s2 pic.twitter.com/YPrdnbehcs

— Daniel A. Horwitz (@danielahorwitz) February 8, 2023
The case in question involves a Nashville woman, Leah Gilliam, whose vanity plate—69PWNDU—was deemed by the Tennessee Department of Revenue to be illegally offensive. More from the lawyer bringing the case here.
---
FREE MARKETS
Gun rights in Biden's America. Today, Reason Editor at Large Nick Gillespie, Reason Senior Editor Jacob Sullum, and the Heritage Foundation Legal Fellow Amy Swearer will be having a live discussion about gun rights and gun violence in Biden's America.
Biden is definitely no fan of gun rights. But a series of court decisions and policy changes "have expanded Second Amendment rights over the past several decades," notes Gillespie. So are gun rights actually growing or shrinking these days? And what about gun violence?
Tune in on YouTube starting at 1 p.m. Eastern time to hear them discuss.
---
QUICK HITS
Google lost $100B of market cap today as its Chatbot Bard made a factual error during its first-ever demo and its AI event fell flat.

Must be the most costly live demo fail of all time

— Tanay Jaipuria (@tanayj) February 8, 2023
• "The Labor Department's internal watchdog identified nearly $30 billion more in pandemic unemployment benefits that were wrongfully sent out than previously estimated," reports Politico. That brings the total of wrongful payments to approximately $191 billion.
• The House Oversight Committee is fighting Twitter censorship the wrong way, Robby Soave writes. "The approach taken by the Republican House majority—haul tech executives before Congress and attack them for being the victims of government pressure—is both counterproductive to the goal of defending free speech online, as well as a galling example of Republican members of Congress doing the very thing they claim to oppose."