Detroit Woman Sues City After Police Officers Shot Her Dog and Left It in a Trash Can
Tiffany Lindsay says officers never contacted her to let her know they shot her dog. Instead, a neighbor found it in their trash can.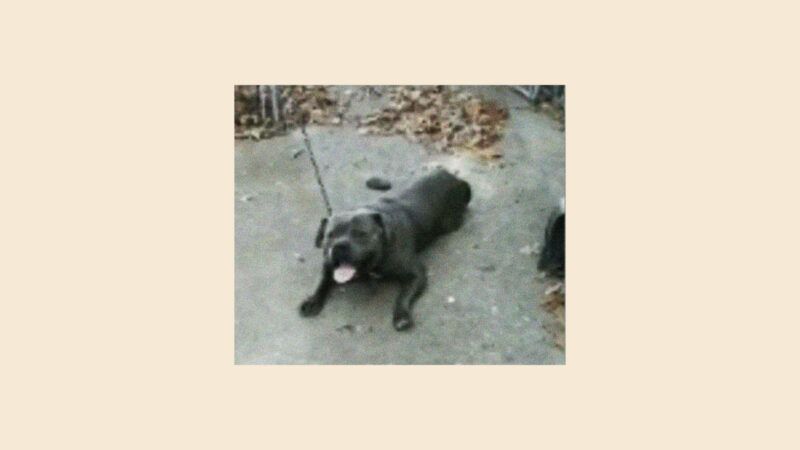 (Illustration: Lex Villena | Reason)
A Detroit woman filed a federal civil rights lawsuit against the city today after police shot her dog and left it in a neighbor's trash can.
In a complaint filed against the city of Detroit and an individual Detroit police officer, Tiffany Lindsay says her Fourth Amendment rights were violated last September when the officer entered her enclosed backyard without a search warrant and shot her pit bull, Jack.
As Reason previously reported, Detroit police were searching for a carjacking suspect on the night of September 4 when an officer and his K-9 unit entered Lindsay's backyard, peeked into a doghouse and, unsurprisingly, found a dog.
According to a police report filed in the incident, Lindsay's dog lunged at the officer and K-9 unit, biting the officer on the forearm and tearing his pants. It also bit his K-9 unit. The officer hit the dog with his flashlight several times before drawing his gun and killing the animal.
But it's what happened next that had Lindsay demanding an apology from the police. The next morning, Lindsay's neighbors informed her that her dog Jack had been dumped in their trash can.
In an interview with Detroit TV news outlet WDIV Local 4, Lindsay said she wanted an apology and answers from the police department. "That was my K-9, my protector, that my best friend," she told the news outlet. "He was my emotional support dog."
Police records obtained by Reason show that a post-shooting investigation by the Detroit Police Department cleared the officers involved of any violations of department policy. According to the investigation summary, a lieutenant on the scene knocked on Lindsay's door to try and contact her, unsuccessfully, and also tried to call the Department of Public Works to remove the dog's body, also unsuccessfully since it was after hours.
"Rather than leave the destroyed animal in view of the public, specifically the owner, Lieutenant Guntzviller decided to place the destroyed animal into a courville trash container," the summary says. "The destroyed animal would remain there until such a time that the Department of Public Works was open/operating."
Police arrived the next day to retrieve the dog's corpse.
However, Lindsay's lawsuit says that officers never knocked on her door that night. Her suit alleges that the warrantless search of her backyard, the shooting of her dog Jack, and the dumping of the body in a neighbor's trash can were all violations of her Fourth Amendment rights against unreasonable searches and seizures.
Lindsay's case is the latest in a string of lawsuits against Detroit police for wantonly killing dogs. In 2015, the city approved a $100,000 settlement to a man after police shot his dog while it was securely chained to a fence.
A 2016 Reason investigation found Detroit police had a track record of shooting dogs during drug raids. Public records obtained by Reason showed that one officer on the department's narcotics unit had shot more than 80 dogs over the course of his career.
In 2018, Detroit paid $225,000 to settle a lawsuit brought by Kenneth Savage and Ashley Franklin, who claimed Detroit police officers shot their three dogs while the animals were enclosed behind an 8-foot-tall fence—all so the officers could confiscate several potted marijuana plants in their backyard.
In 2019, Detroit agreed to pay $60,000 to Nikita Smith, whose three dogs were shot by a Detroit narcotics unit during a marijuana raid in 2016. That same year, Detroit police shot a family dog in front of a 9-year-old boy, and a woman filed a civil rights lawsuit alleging Detroit police yanked open her door and then shot her two dogs when they ran outside.
In 2020, the city doled out another $75,000 to settle a dog shooting lawsuit after body camera footage contradicted the officer's claims that two dogs were lunging at him and barking when he shot them during a drug raid.
Detroit is far from alone in generating these kinds of suits, though. Just browse the "puppycide" tag on Reason's website, where there are decades of stories about police killing family pets.