Detroit Cop Shoots Family Dog in Front of 9-Year-Old
"She's not a vicious dog at all. … She's a sweetheart."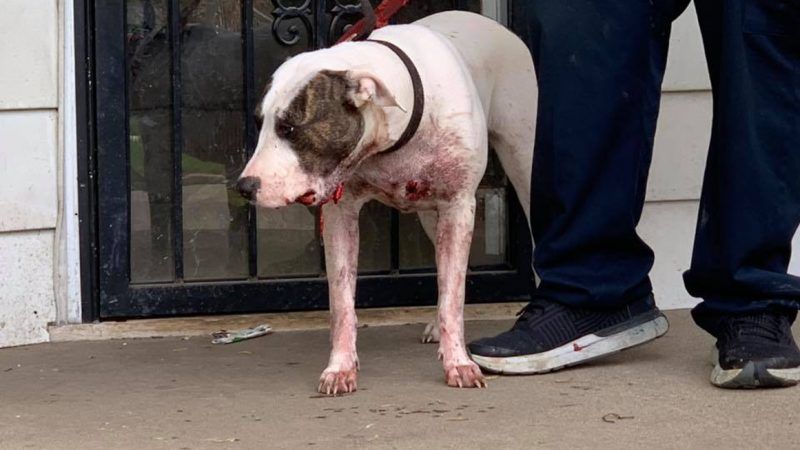 A Detroit family is distraught after a police officer shot their 15-month-old dog on Friday. A 9-year-old had been walking the dogs when they got loose and took off. The boy flagged a police officer down for help retrieving the animals, but local news outlets report that the officer instead shot the dog.
Nine-year-old Elijah Hughs, the nephew of Sonya Davis, was preparing to take Davis' two dogs for a walk when they got loose and ran down the street. There are conflicting stories about what happened next, but a Detroit police officer shot Stormy, a 15-month-old pit bull mix, in the face. The family is now facing approximately $8,000 in medical bills to fix the dog's completely shattered lower jaw.
"I was devastated," Davis told The Detroit News. "She's not a vicious dog at all. … She's a sweetheart."
Detroit TV news outlet Fox 2 reports:
Elijah tells Fox 2 he was walking Stormy and their other dog Bandit Friday afternoon on Detroit's East Side.

They got loose and ran Elijah flagged down a Detroit Police car telling them his dogs got loose.

"One of the police officers jumped out the car and they shot Stormy and then she ran," he said.

Detroit Police say they had gotten a 911 call about vicious dogs in the area, when they got on scene they say Stormy charged at them.

"We don't know if the dog is friendly or not its running toward the officer and the officer have to make a split decision at that time," Captain Keeth Williams with Detroit Police said.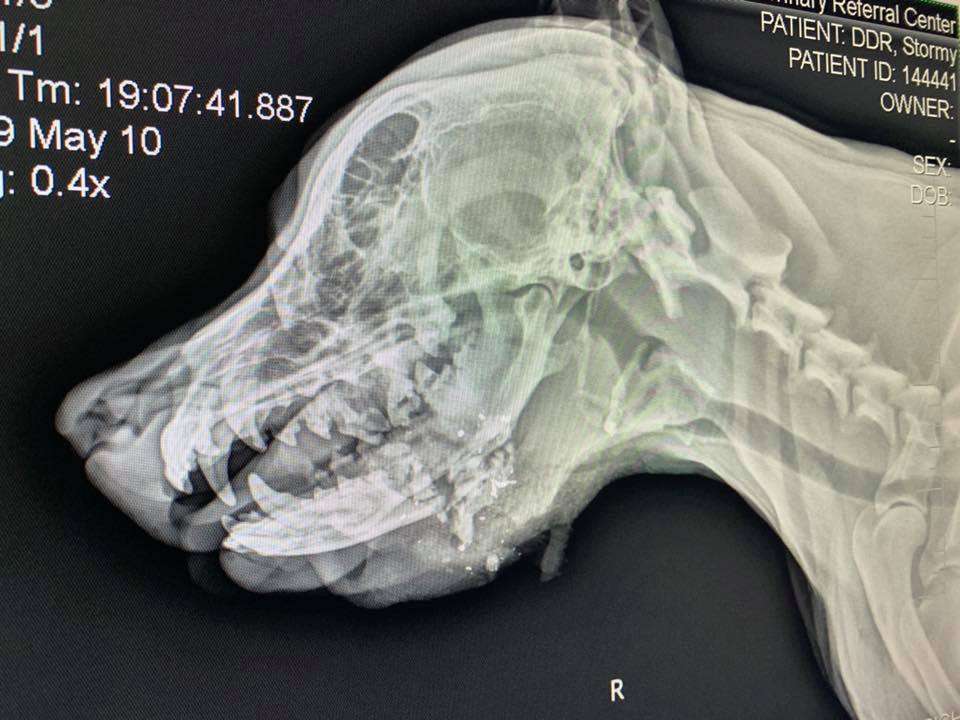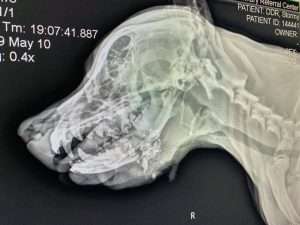 According to Detroit Dog Rescue (DDR), a local no-kill shelter, police left the family to deal with their grievously injured pet. The family contacted a local news station, which put them in touch with the DDR. The group is fundraising to cover the Davis' veterinary bills.
The Davis family is filing a complaint with the Detroit Police Department, which said it is investigating the incident. If the family pursues legal action, they'll join a string of civil rights lawsuits against the city for wantonly shooting dogs.
The shooting happened to occur on the same day Reason reported that Detroit agreed to pay out $60,000 in another dog shooting lawsuit brought by Nikita Smith, whose three dogs were shot by a Detroit narcotics unit during a marijuana raid in 2016.
Last year, Detroit paid $225,000 to settle a lawsuit brought by Kenneth Savage and Ashley Franklin, who claimed Detroit police officers shot their three dogs while the animals were enclosed behind an 8-foot-tall fence—all so the officers could confiscate several potted marijuana plants in their backyard.
In 2015, the city approved a $100,000 settlement to a man after police shot his dog while it was securely chained to a fence.
Last year, Reason reported that Detroit police shot 54 dogs in 2017—twice as many as Chicago, a city with roughly 2 million more people. About a third of those shootings were by the Detroit Police's Major Violators Unit, which conducts drug raids throughout the city. A previous Reason investigation found the Major Violators Unit had a nasty habit of leaving dead dogs in its wake and generating lawsuits.
While violent drug raids are responsible for many of the dog shootings, Detroit also has a large number of stray dogs and little in the way of help for police who have to deal with them. In many of the cases reviewed by Reason, officers struggled to corral aggressive dogs running loose on the street while waiting in vain for animal control to arrive.
But in other instances, Detroit residents said their dogs were shot with little hesitation. For example, in May 2015, local country singer Alison Lewis was playing with her cattle dog mix Millie in the open field where the old Tigers Stadium used to stand when the dog ran up to a police officer. The officer shot Lewis' dog in the face. Police described it as a jumping, barking pit bull that charged the officer, according to the Detroit Free Press. "That's absolutely not true," Lewis told local news channel WXYZ. Detroit settled with Lewis for $8,000.
"What we do know is Detroit Police are asked to do too much and they're not trained to work with all dogs," Detroit Dog Rescue wrote on Facebook. "The city STILL needs adequate animal control officers, vehicles, extended hours, and a facility."
Detroit is a particularly notable example of a national problem. Exactly how many dogs are shot by police every year is unknown, but there have been so many that there are databases and Facebook groups dedicated to tracking the phenomenon. In January, an Arkansas cop was fired after video showed him casually shooting a 9-pound dog. Reason has a whole category for "puppycide" stories. Last year, I reported on a new pilot program to train police officers how to read dog behavior, a tacit acknowledgment that police have a dog problem.
Until such training is more widespread, stories like this, and expensive lawsuits, will continue to play out.