Detroit Will Pay Out $60,000 to Woman Whose Dogs Were Shot on a Marijuana Raid
The settlement is the latest in a string of costly settlements resulting from violent drug raids by Detroit police that left family pets dead.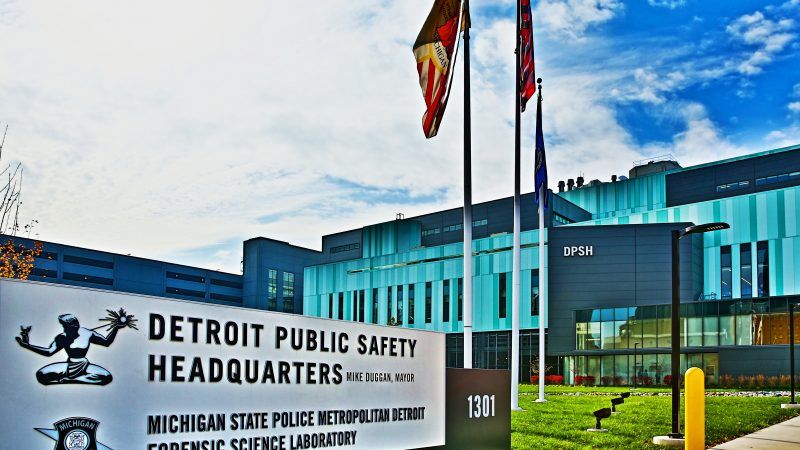 The City of Detroit will pay out $60,000 to settle a federal civil rights lawsuit by a woman who says police wantonly shot and killed her three dogs during a marijuana raid three years ago.
The plaintiff, Nikita Smith, claimed in a 2016 lawsuit that officers from Detroit's Major Violators Unit acted as a "dog death squad" when they executed a narcotics search warrant on her house for a suspected marijuana offense, shooting three of her pit bulls, including one that was behind a closed bathroom door. Extremely graphic photos entered into evidence in the case show bullet holes riddling the outside of the door and the dog dead inside the bathroom.
Smith was arrested for marijuana possession, but the charges were later dropped when officers failed to appear in court.
The settlement is the latest in a string of costly payouts for Detroit due to dog shootings during drug raids. It also set new precedent in Fourth Amendment law. Detroit tried to argue that, since Smith's dogs were unlicensed, in violation of Detroit's municipal code, she had no legitimate property interest in them under the Fourth Amendment. The court rejected this argument.
Smith's attorney, Chris Olson, calls the decision "a milestone in police-dog shooting cases that continue to plague the United States.
"The decision was significant because it denies police a 'get out of jail free card' if the deceased dog is later discovered to have been unlicensed," he continues. "The decision is especially significant because the vast majority of dogs are unlicensed. The upshot is that the Fourth Amendment prohibits police officers from shooting dogs where the shooting is more intrusive than necessary, and citizens do not have to pay a dog license fee to enjoy their Fourth Amendment rights."
A 2016 Reason investigation found that the department's Major Violators Unit, which conducts drug raids across the city, has a nasty habit of leaving dead dogs in its wake and generating civil rights lawsuits. A follow-up investigation found that Detroit police shot 54 dogs in 2017, twice as many as Chicago.
Last year, Detroit paid $225,000 to settle a lawsuit brought by Kenneth Savage and Ashley Franklin, who claimed Detroit police officers shot their three dogs while the animals were enclosed behind an 8-foot-tall fence—all so the officers could confiscate several potted marijuana plants in the backyard.
In 2015, the city approved a $100,000 settlement to a man after police shot his dog while it was securely chained to a fence.
One officer involved in the Smith raid has shot 80 dogs over the course of his career, according to "destruction of animal" reports filed by Detroit police officers in 2017 and obtained by Reason. Two other officers involved in the Smith raid testified in depositions that they had shot "fewer than 20" and "at least 19" dogs over the course of their careers.
Smith's case was also an unprecedented test of the Fourth Amendment as it applies to pets. In such cases, police departments typically argue that an officer's actions were reasonable under the circumstances—and courts give much deference to those arguments. Smith's case appears to be the first time federal courts had considered the question of whether unlicensed pets are protected by the Fourth Amendment.
A U.S. District Court judge agreed with the city, dismissing Smith's lawsuit in 2017. "When a person owns a dog that is unlicensed, in the eyes of the law it is no different than owning any other type of illegal property," the judge ruled. But the Sixth Circuit Court of Appeals reversed and remanded the lower court's ruling against Smith last year. The Sixth Circuit declared that not only was Smith entitled to some process under Michigan law before her dogs were "seized" (i.e. killed), but that her dogs, even if unlicensed, were still protected from unreasonable seizure under the Fourth Amendment.
"Just as the police cannot destroy every unlicensed car or gun on the spot, they cannot kill every unlicensed dog on the spot," the appeals court writes.
The case was kicked back to the lower court, but instead of continuing to trial, Detroit decided this week to settle.
A similar lawsuit is still pending in federal court in the case of Joel Castro and Nicole Motyka, who say narcotics officers raided their house and shot two of their pitbulls, despite the dogs being behind a barrier in the kitchen. The officers found 26 marijuana plants inside, which shouldn't have been a surprise. Castro was a state-licensed medical marijuana caregiver.
Marijuana charges against the couple were later dropped.
The Detroit Police Department and the Detroit Law Department did not immediately respond to requests for comment.