Detroit Police Sued Yet Again for Shooting a Woman's Dogs During a Warrantless Search
The lawsuit claims two cops yanked a woman's door open, then shot her two dogs when they ran outside.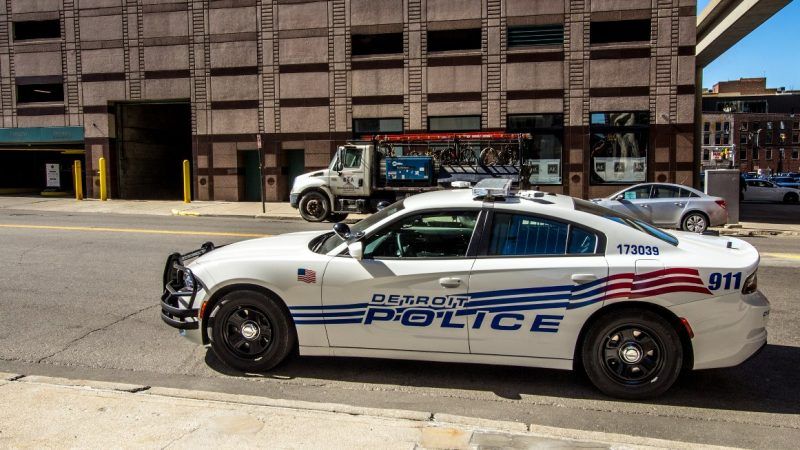 (Ehrlif / Dreamstime.com)
Two Detroit police officers illegally pulled open a woman's door during a warrantless search and then shot her two dogs after they ran outside, killing one of the pets, according to a federal civil rights lawsuit filed this week.
The lawsuit, first reported by The Detroit News, claims two unnamed Detroit police officers, responding to a report of gunshots in the area, arrived at the home of Teresa Thomas on July 19, looking for a suspect. Thomas said that the suspect didn't live there and that she was alone in the house with her two dogs. She refused to allow the officers inside without a search warrant.
The lawsuit claims one of the officers then "pulled [Thomas] out of the house because she was holding the door shut at that time."
Thomas' two dogs, Tiny and Winter, "then went out the front door and around the corner to where their food bowls kept," the document continues. "Police officer Doe #2 shot both Tiny and Winter. Defendant Doe #1 laughed at Plaintiff as she tried to help her wounded animals."
Tiny died, and Winter was wounded by a bullet to the muzzle. The suit alleges that both the illegal search and the shooting of Thomas' dogs violated her Fourth Amendment rights.
The suit is the latest in a string of costly lawsuits against Detroit police for shooting dogs. Thomas' lawyer, Chris Olson, has represented several plaintiffs in similar suits against the Detroit Police Department. He says the incident is yet another case of poor training leading to a preventable shooting.
"This is an example of what not to do," Olson says. "This is an instance where the homeowner told them, 'Look, there's a dog here,' and they were trying to keep the dogs separate from the police. This particular officer opened the door. I have to believe if these officers were trained properly, they wouldn't have done that.
A 2016 Reason investigation found that Detroit police officers responded to hundreds of calls a year regarding loose and aggressive dogs, which are a serious problem in the city. This August, a loose pit bull killed a nine-year-old girl. But the investigation also revealed a disturbing pattern of Detroit police officers, especially on the narcotics squad, shooting family pets during drug raids and searches.
Earlier this year, Detroit agreed to pay $60,000 in another dog shooting lawsuit. That suit was brought by Nikita Smith, whose three dogs were shot by a Detroit narcotics unit during a marijuana raid in 2016.
Last year, Detroit paid $225,000 to settle a lawsuit brought by Kenneth Savage and Ashley Franklin, who claimed Detroit police officers shot their three dogs while the animals were enclosed behind an 8-foot-tall fence—all so the officers could confiscate several potted marijuana plants in their backyard.
In 2015, the city approved a $100,000 settlement to a man after police shot his dog while it was securely chained to a fence.
The Detroit Police Department did not immediately respond to a request for comment, but The Detroit News reports that
the department said officers had been responding to a report of shots fired on Beals, near Thomas' home. 

Police said when they started an investigation there, two dogs ran in front of them. One charged at an officer, who fired two shots, striking both canines, according to the statement.

The Police Department said at the time that the incident would be investigated since it involved an officer using force.
The Sixth Circuit Court of Appeals is currently considering another lawsuit by two Detroit residents, Nicole Motyka and Joel Castro, who say narcotics officers raided their house in 2016 and shot two of their pit bulls, despite the dogs being behind a barrier in the kitchen. The officers found 26 marijuana plants inside, which shouldn't have been a surprise. Castro was a state-licensed medical marijuana caregiver. Marijuana charges against the couple were later dropped.
"I don't want anything to do with the Detroit police anymore," Motyka told Reason in 2016. "You grow up being taught these are the people you're supposed to trust, and then they come in and kill your family. I have no love for them. None. They probably sleep well at night. We don't."