Why Did Other Cops Fail To Stop the Lethal Assault on Tyre Nichols?
"Active bystandership" training aims to overcome the pressures that discourage police officers from intervening when their colleagues use excessive force.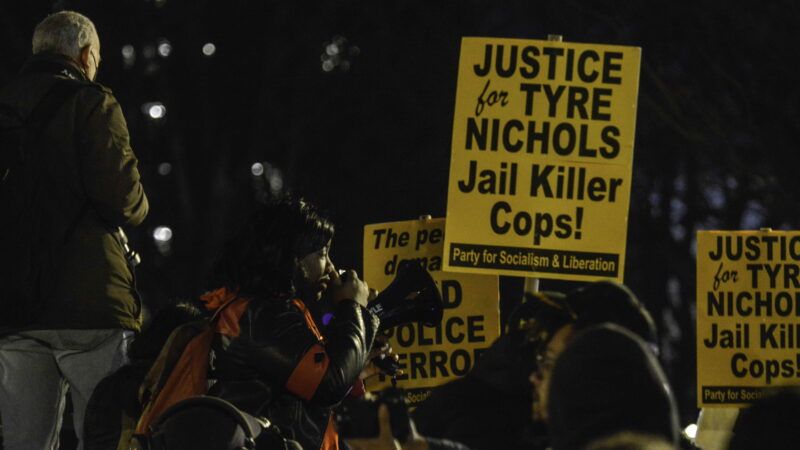 (Deccio Serrano/Zuma Press/Newscom)
The Memphis, Tennessee, police officers who lethally beat, pepper-sprayed, and tased Tyre Nichols after a January 7 traffic stop were clearly out of control, delivering punishment for what they perceived as "contempt of cop" in the guise of making an arrest. Yet during the 13 minutes that elapsed between the stop and the police radio report that Nichols had been taken into custody, no one else who was present intervened to stop the blatantly illegal use of force.
That sort of failure is familiar from other notorious cases of police abuse, including the 2020 death of George Floyd in Minneapolis. Even when officers recognize that a colleague is using excessive force, they do not necessarily act on that knowledge. Given the strong social and institutional pressures against second-guessing a fellow officer, that problem cannot easily be remedied through legal reforms. But there is reason to think that training in "active bystandership," which builds on psychological research that illuminates the barriers to intervention in situations like these, can make a difference.
Nichols ostensibly was pulled over for reckless driving, although Memphis Police Chief Cerelyn Davis says she has not seen any evidence to support that charge aside from one officer's statement. Davis fired the officers directly involved in what she called the "heinous, reckless and inhumane" treatment of Nichols—Tadarrius Bean, Demetrius Haley, Emmitt Martin, Desmond Mills Jr., and Justin Smith—on January 20, about a week and a half after Nichols died from his injuries. Last Friday, they were charged with second-degree murder, aggravated assault, aggravated kidnapping, official oppression, and official misconduct. But the responsibility for Nichols' death goes beyond what these five officers did; it extends to what other people at the scene failed to do.
Video released by the Memphis Police Department (MPD) on Friday evening shows other officers milling about as Bean et al. pummel Nichols, kick him, and strike him with a police baton. "The available footage does not show any sign that the officers present intervened to stop the aggressive use of force," The New York Times notes. "If anything, it shows the contrary. At one point, footage captured an officer saying 'I hope they stomp his ass' after Mr. Nichols's attempt to flee the scene."
After viewing the body and pole camera recordings on Friday, Shelby County Sheriff Floyd Bonner Jr. said he had "concerns about two deputies who appeared on the scene following the physical confrontation between police and Tyre Nichols." Bonner said he had "launched an internal investigation into the conduct of these deputies to determine what occurred and if any policies were violated." The deputies "have been relieved of duty pending the outcome of this administrative investigation."
Although Bonner said the conduct that bothered him occurred "following the physical confrontation," the video shows a squad car from his office arriving after Nichols, who at that point had been tackled, tased, and pepper-sprayed, fled police. That suggests deputies were present during the vicious beating that Nichols received after the cops caught up with him. Body camera video also shows at least eight MPD officers at the scene of the initial confrontation before the second assault.
Last week, Davis said the internal investigation prompted by the deadly traffic stop was not limited to the officers "directly responsible for the physical abuse of Mr. Nichols." She said it includes an unspecified number of "other MPD officers" who "are still under investigation for department policy violations."
Davis did not say exactly which "department policy violations" she had in mind. But the MPD's policy manual includes an admonition that "any member who directly observes another member engaged in dangerous or criminal conduct or abuse of a subject shall take reasonable action to intervene." It adds that "a member shall immediately report to the Department any violation of policies and regulations or any other improper conduct which is contrary to the policy, order or directives of the Department."
Disregarding that duty can be a criminal offense as well as a policy violation. Official misconduct, one of the charges against Bean et al., occurs not only when a "public servant" does something that exceeds his legal authority but also when he "refrains from performing a duty that is imposed by law or that is clearly inherent in the nature of the public servant's office or employment."
Discipline or prosecution, of course, happens only after an officer fails to intervene. What can be done to increase the likelihood that an officer will do what he is supposed to do when he sees a colleague "engaged in dangerous or criminal conduct or abuse of a subject"?
Active Bystandership for Law Enforcement (ABLE), a training program that was established in 2021 and so far involves more than 300 law enforcement agencies, offers one potential answer. ABLE, which was developed by Georgetown University's Center for Innovations in Community Safety, grew out of a New Orleans program known as EPIC (Ethical Policing Is Courageous) that was launched in 2014 under the guidance of Ervin Staub, an emeritus professor of psychology at the University of Massachusetts in Amherst. It is based on insights gained from research into why people either intervene or fail to intervene in emergency situations. The obstacles to intervention include deference to authority, diffusion of responsibility, and fear of retaliation and ostracism.
Jonathan Aronie, a partner at the law firm Sheppard Mullin, which sponsors ABLE, co-founded the program and chairs its board of advisers. He says ABLE, which includes a weeklong certification program for officers who conduct eight hours of training for their colleagues, is based on principles that have proven effective for hospitals and airlines seeking to prevent surgical and pilot error. The challenge in those contexts is similar to the one exemplified by police officers who fail to question the use of excessive force: overcoming the natural tendency to go along rather than risk negative consequences by challenging the judgment of colleagues and superiors.
ABLE, which demands explicit and conspicuous buy-in from police executives, local politicians, and community groups, strives to create a culture that reinforces the duty to intervene. The program, which is free to police departments thanks to support from Sheppard Mullin and several corporate donors, uses case studies and role-playing scenarios to identify and overcome barriers to intervention.
Does it work? "It is difficult to quantify the success of active bystandership training," ABLE concedes, "because, in most cases, when it works, nothing news-worthy happens." But the organization cites research in other fields that "confirms the skills necessary to intervene successfully can be taught and learned." It says "extensive field experiments" by Staub and other researchers have shown that "the inhibitors to an intervention can be overcome even in hierarchical, high group-cohesion environments, like policing." ABLE also cites testimonials from officers who have participated in the program and says it is conducting surveys and collecting policing data that could provide more rigorous and specific evidence.
So far, ABLE's list of participating agencies includes the Knoxville Police Department but not the MPD or any other law enforcement agency in Tennessee. As the MPD's code of conduct illustrates, police already theoretically know they are not supposed to tolerate illegal conduct by fellow officers. But the brief, pro forma instruction they receive on that point during standard training is plainly no match for the countervailing pressures they encounter on the job. Additional training that focuses specifically on the skills needed to resist those pressures seems like a promising approach that agencies such as the MPD should consider if they are serious about preventing horrifying incidents like the one that killed Tyre Nichols.