Louisiana Sheriffs' Offices Have Been Destroying Public Records Without Permission
"Comprehensive and accurate records are critical if patterns and causes of harm are going to be identified and corrected," said an attorney representing Louisiana inmates.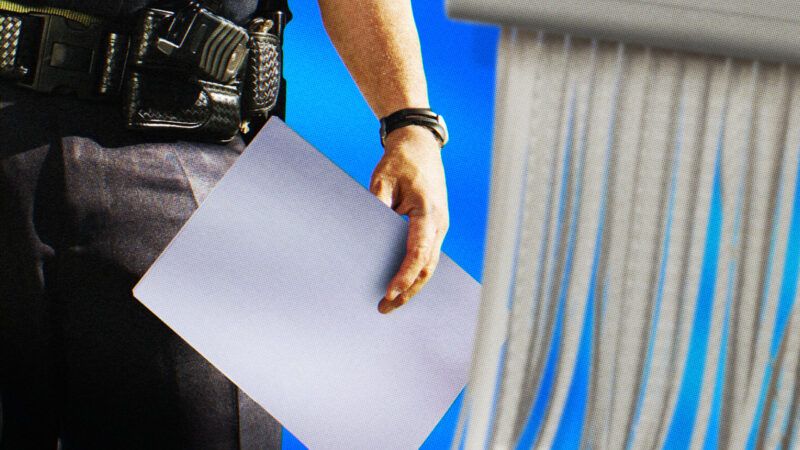 (Illustration: Lex Villena)
Almost half of Louisiana's sheriffs' offices are breaking state public records law, according to a new investigation from ProPublica and Verite, a New Orleans–based nonprofit newsroom. Lacking formal document retention policies, as required by state law, Louisiana sheriff's offices have been accused of destroying public records, including documents showing evidence of police misconduct.
According to state law, Louisiana requires that all sheriffs' offices—as well as other state agencies—write a formal public records retention policy and submit it for state approval. The law also requires these agencies to seek permission to destroy public records from the state archivist.
However, documents provided to ProPublica and Verite show that 30 out of the state's 64 sheriffs' offices have not sought approval for their policy, have allowed their policy to expire, or have a policy that only applies to a small percentage of public records. Further, nearly two-thirds of sheriffs' offices have reportedly failed to seek permission to destroy public records.
As a result of this practice, individuals seeking information on alleged police misconduct often find it difficult to obtain needed documentation due to unclear public records policies. Further, some Louisiana sheriffs' offices have even been accused of deliberately destroying public records that contain evidence of police abuse. For example, in the case of Eric Parsa, an autistic teenager who was killed in 2020 when Jefferson Parish police officers placed the boy in a prolonged chokehold, Parsa's family claimed in a 2021 lawsuit that police illegally destroyed accused officers' disciplinary records. According to ProPublica, a judge later ruled that the Jefferson Parish Sheriff's Office "should have known to preserve the disciplinary and training records of deputies involved in the case."
However, Louisiana sheriffs' offices appear to be brazenly confident in their practice of destroying public records—even as it conflicts with state law. According to ProPublica, the Louisiana Sheriff's Association interprets state law as allowing individual offices to keep records for a minimum of three years in lieu of a more detailed, formal policy. "We believe that Sheriffs utilizing the statutory alternative of a three year minimum retention period in the absence of a more formal retention policy are not acting unlawfully," Michael Ranatza, executive director of the Louisiana Sheriffs' Association, told ProPublica.
When sheriffs' offices fail to create a public document retention policy—and follow it—the consequences can be devastating. "Comprehensive and accurate records are critical if patterns and causes of harm are going to be identified and corrected, for example when looking at staff deployment or employee discipline," Elizabeth Cumming, an attorney representing inmates held at the Orleans Justice Center, told ProPublica. "Without a robust practice of record generation, maintenance, review and assessment, our clients will continue to experience preventable violations of their rights."