Beto O'Rourke Wants To Legalize Weed and Expunge Records, Too
Anti-prohibitionists are now trying to help those still impacted by old drug convictions.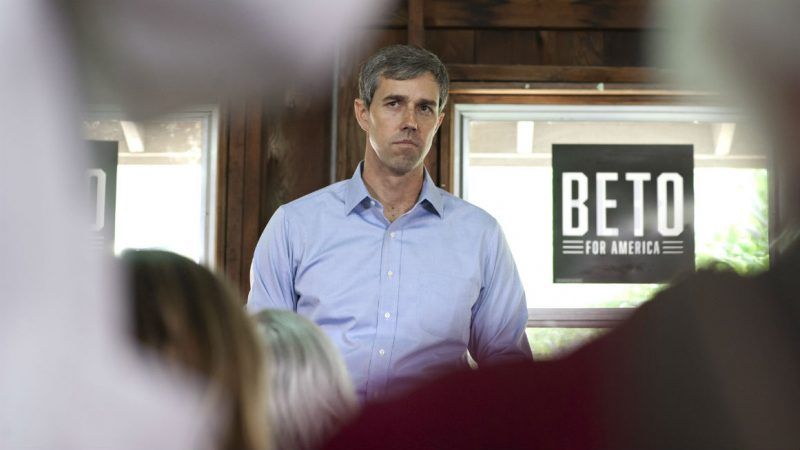 (Jeff Topping/Polaris/Newscom)
Rep. Beto O'Rourke (D–Texas) is making it clear that his anti-prohibitionist view is about more than simply ending the war on weed.
On Tuesday evening, the Democratic presidential contender answered questions about his presidential platform during a CNN town hall. When asked if he would decriminalize drug use, O'Rourke took his call to end the war on drugs one step further.
"Let's end the war on drugs … let's end the prohibition on marijuana, and expunge the arrest records of everyone arrested on possession of a substance that is legal in most of this country," he said.
His website similarly states that expungement is needed in addition to ending prohibition. Though the website itself lacks a specific plan for pushing this kind of reform, it is still significant to see this position from a major presidential candidate.
Legalization was long thought to be the proper solution to combat disproportionate sentencing and the rapid growth of the prison population. However, several of the states that legalized recreational weed earlier than others are now revisiting state law to pass clemency measures for those still facing consequences from outdated drug laws. States that are just now choosing to repeal prohibition nationwide have already carved out methods to clear old drug convictions in their new legislation.
The crowded primary has attracted anti-prohibitionists and drug warriors alike. One of the most prominent and persistent reformers among these candidates is Sen. Cory Booker (D–N.J.), who has long supported criminal justice reform during his time in the Senate, even reaching across the aisle on occasion. Most recently, Booker reintroduced his Marijuana Justice Act, which includes a (legally questionable) provision for expungements.
In March, he slammed jokes from a few of his challengers who spoke of casual drug use "almost as if it's funny." He argued that jokes from these politicians discount the realities that many Americans face as they continue to be arrested for the same crimes.
According to recent polls, an increasing number of Americans support legalization. It's possible that all 50 states could see legalization and a better criminal justice system in this lifetime, whether those decisions are state-based or come from the federal government.