Clean Slate Act Would Seal Marijuana Possession Convictions
Plus: marijuana in the 2020 election, Harris follows up on voting behind bars, another Palm Beach massage arrest, and more...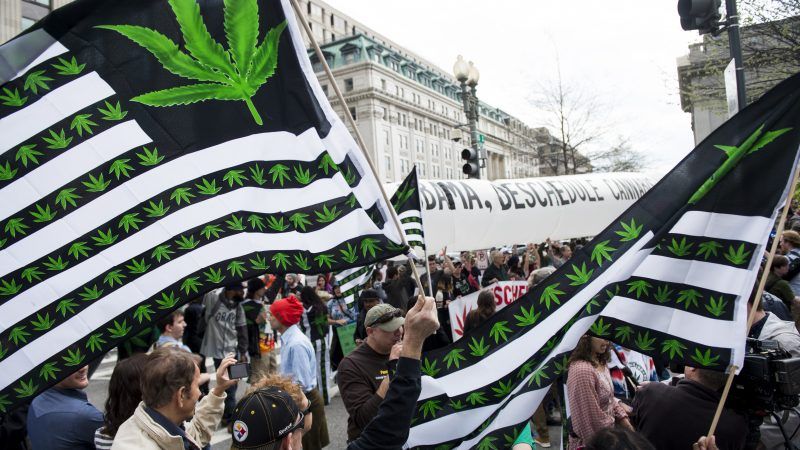 (Bill Clark/CQ Roll Call/Newscom)
A new criminal justice reform push is building in Congress. The Clean Slate Act would help diminish the destructive power of previous drug convictions, automatically sealing records of simple marijuana possession charges. It would also let people with other sorts of nonviolent offense convictions on their records petition to have those sealed, too.
A bipartisan measure (which doesn't spell disaster for a change), the bill comes from U.S. Reps. Lisa Blunt Rochester (D–Del.) and Guy Reschenthaler (R–Pa.). "I've seen so many stories of people who, because of a minor offense, it has stuck with them for the rest of their lives," Blunt Rochester told Politico.
"We are still in the early stages for this bill, but I believe the prospects are good for strong, bipartisan support, especially given the White House's continued push for criminal justice reform," said Reschenthaler in a statement.
The bill (H.R. 2348) says that "at the time of sentencing of a covered individual"—covered individuals being anyone convicted of a federal, nonviolent possession offense involving marijuana—"the court shall enter an order that each record and portion thereof that relates to the offense shall be sealed automatically on the date that is one year after the covered individual fulfills each requirement of the sentence, except that such record shall not be sealed if the individual has been convicted of a subsequent criminal offense."Additionally:
Sixty days after the date on which a covered individual is acquitted, exonerated, or otherwise subject to a judgment which did not result in a conviction for a Federal offense, each record or portion thereof that relates to the Federal offense shall be sealed automatically.
You can read the whole thing here.
"People have paid their debt, they just need a slate that's clean so that they can go to work, so that they can get a home, so that they can go to college," Blunt Rochester told Delaware's NPR station. "But around the country, we need to do this in every state as well."
Right- and left-leaning groups back the bill. "Both the Center for American Progress on the left as well as the American Conservative Union Foundation and the Koch-brothers-backed FreedomWorks have endorsed the new bill," notes Marijuana Moment.
Sen. Bob Casey (D–Pa.) will reportedly file a companion bill in the Senate.
---
FREE MARKETS
Freer marijuana markets not a voter priority. "A majority of Americans support legalizing cannabis, but a recent CBS News poll found the issue may not have have much sway from voters," CBS reports.
According to the poll, 65 percent of Americans think marijuana should be legal, but 56 percent said the issue wouldn't sway their vote for a candidate across party lines.
---
FOLLOW UP
Massage parlor worker arrested. Another woman has been arrested for prostitution in conjunction with January video surveillance at a Palm Beach County, Florida, massage parlor and the arrest of workers, managers, and customers there. The woman's identity and alleged activities have been known by police since raids and arrests in February. But police documents suggest they were trying to get her to cooperate as a "victim" and testify in the human trafficking case they were trying to build.
---
ELECTION 2020
The question isn't "should this particular terrible criminal get to vote?"

It's "should the party in power be able to reshape the electorate to its advantage with criminal laws that target their opposition's voters en masse?"

— Jacob T. Levy (@jtlevy) April 24, 2019
"I'm a prosecutor," says Harris. After telling a televised town hall audience Monday that we should "have a conversation" about voting rights for the incarcerated, senator and presidential candidate Kamala Harris amended her answer on Tuesday. "Do I think that people who commit murder, people who are terrorists should be deprived of their rights?" asked Harris, answering her question:
Yeah, I do. I'm a prosecutor. There has to be serious consequences for the most extreme types of crimes.
Meanwhile, checking in with candidate and Sen. Elizabeth Warren:
My new plan would cancel up to $50,000 in student loan debt for 42 million Americans, and completely wipe out student loan debt for more than 75% of Americans. This would free an entire generation of families from crushing debt and give our economy a boost.

— Elizabeth Warren (@ewarren) April 23, 2019
---
QUICK HITS