The Anti-Pot Editorial That Cost $140 Million
After an ardent prohibitionist bought Nevada's leading newspaper, a formerly libertarian editorial board suddenly turned against marijuana legalization.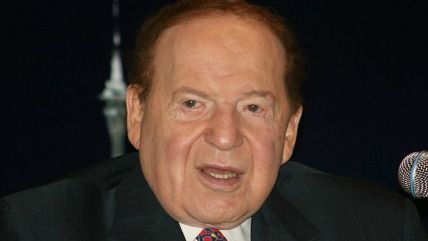 In May 2014, when activists began collecting signatures for a marijuana legalization initiative that will appear on Nevada's ballot this November, the Las Vegas Review-Journal welcomed the measure as "an opportunity to reset America's costly drug war." The paper's editorial board said "taxpayers finally seem to understand that spending vast sums of money at the local, state and federal levels on police, prosecutors, public defenders, judges and jails to lock up nonviolent offenders and enable the enrichment of gangs and thugs has done nothing to diminish demand for marijuana."
Last Wednesday the Review-Journal came out against the very same ballot initiative, saying "recreational weed comes with health, safety and social costs that make legalizing marijuana a dangerous proposal for Nevadans." It warned that "legalizing weed would jeopardize the health of countless Nevadans, expose more people to drug abuse and addiction, put excessive stress on the state's health-care facilities and do little to relieve the state's bloated prison population."
Sheldon Adelson, the billionaire casino owner and Republican megadonor, paid good money for that startling reversal, which was first noted by Tom Angell at Marijuana.com. Adelson, an ardent pot prohibitionist who bankrolled the opposition to a 2014 medical marijuana initiative in Florida that fell two points short of the supermajority required to pass a constitutional amendment, bought the Review-Journal last December for $140 million. That's 25 times what Adelson spent to defeat Amendment 2 in Florida, where he hopes to open a casino, but still just 0.5 percent of his fortune at the time, which Forbes pegged at $28 billion, making him the world's 18th richest person.
Adelson lost little time in pressuring the editorial writers at his new acquisition to reverse their position on marijuana legalization. Angell reported last January that Adelson and his wife, Miriam, "are asking editorial board members to visit a drug treatment center and reconsider the publication's support for ending prohibition." The three staff members scheduled for re-education were Glenn Cook, then interim editor and now managing editor, who last February was listed as "senior editorial writer"; Steve Sebelius, the paper's political columnist; and Patrick Everson, an editorial writer who seems to have been replaced by John Kerr, a former editorial page editor. Sebelius says he has occasionally written editorials for the paper "on an ad hoc, fill-in basis" but no longer does so and is not a member of the editorial board.
The Review-Journal's editorialists are now dutifully parroting prohibitionist talking points. "Marijuana contains nearly 500 dangerous chemicals when inhaled or ingested, including about five times more tars and other cancer-causing agents than tobacco smoke," says yesterday's editorial. "Cancer, respiratory diseases, mental illness, birth defects, reproductive problems and irreversible brain damage are all linked to marijuana use." The paper adds that "marijuana is both addictive…and a gateway to more deadly drugs." It claims "marijuana tourists are wreaking havoc on hospitals and health clinics in Colorado."
Unlike a court overturning a precedent, the paper's editorial board does not mention the Review-Journal's flip-flop, let alone try to justify it. Craig Moon, who recently replaced Jason Taylor as publisher, told Angell "the editorial was written at my request," although he claimed "the [Adelson] family was not involved."
This cannabis conversion is a sad development for a newspaper that for many years took a libertarian approach not only to marijuana but to drugs in general (as well as other issues). "This editorial page has long supported decriminalizing, regulating and taxing the sale of currently illegal drugs," the Review-Journal noted last July in an editorial criticizing New Jersey Gov. Chris Christie, who was then seeking the Republican presidential nomination, for continuing to support prohibition. "Legalizing drugs won't send Americans running to dispensaries to get stoned. It will simply bring the commerce out of the black market, subject it to taxation, and put drug dealers who answer to violent syndicates out of business."
The Review-Journal's opposition to the war on drugs goes back decades. The libertarian writer Vin Suprynowicz, who from 1992 until 2013 worked for the paper's opinion section (which has periodically carried my syndicated column) and ran it for part of that time, was a relentless critic of drug prohibition. A 1999 collection of his columns, titled Send in the Waco Killers, had a section devoted to "The Fearless Drug Warriors." That same year Suprynowicz began a column, "Perhaps, if we wait a little longer, the War on Drugs will grow more insane…though it would be hard."
In 2000 the Review-Journal endorsed the ballot initiative that legalized marijuana for medical use in Nevada, and two years later it supported another measure that would have gone further. The 2002 ballot initiative would have allowed adults 21 or older to possess up to three ounces of marijuana and charged legislators with creating a regulatory system for commercial producers and suppliers. The paper called the initiative, which ultimately lost by more than 20 points, "a promising first step" toward ending "the needless harassment of individuals who peacefully and privately use marijuana." As Angell notes, the Review-Journal's impatience with pot prohibition was evident as recently as December 27, when it criticized the U.S. Postal Service's attempt to discourage the mailing of periodicals that contain ads for state-licensed marijuana businesses.
But an editorial published a week earlier had already warned that change was coming in the wake of Adelson's purchase:
The Review-Journal was one of the first editorial boards in the country to condemn the failed federal war on drugs and advocate decriminalization of narcotics, starting with marijuana. The newspaper endorsed the state constitutional amendment that legalized medical marijuana and backs the approval of a 2016 Nevada ballot question to allow legal recreational marijuana. Mr. Adelson, who lost a son to a drug overdose, opposes the legalization of marijuana for any use.
The editorial predicted that the new ownership would mean "a complete reversal" of the Review-Journal's stance on drug policy. It also warned that Adelson would push the paper to abandon other libertarian positions, including its opposition to prohibition of online gambling—in which Adelson, as the owner of brick-and-mortar casinos, has a vested financial interest. Even though he made a fortune by tempting people into making losing bets, Adelson has tried to mount a moral case against online gambling. He fervently believes it is moral to put money into his pockets by gambling at his casinos but immoral to put money into his competitors' pockets by gambling online. That hypocrisy is mirrored by his stance on drugs: He insists that the government punish marijuana suppliers and consumers while he sells people alcohol, a competing intoxicant that is substantially more dangerous.
These inconsistencies make Adelson's moral crusades look more like protectionism than puritanism. But don't expect to read about those complicating contradictions in the Review-Journal.
This article originally appeared at Forbes.com.