Canadian Businesswoman Says Three Male CBP Officers Sexually Assaulted Her
They searched her body cavities for drugs, which they did not find.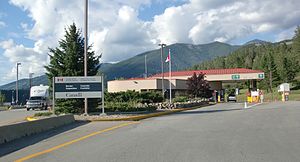 A Canadian businesswoman says she was sexually assaulted by three U.S. Customs and Border Protection (CBP) officers during a motorcycle trip on May 14. The three male officers were ostensibly searching her orifices for contraband, which they did not find. Even by the depraved standards of the war on drugs, the ordeal she describes is outrageous, since the agents do not seem to have had the "reasonable suspicion" legally required to justify a body cavity search at the border and CBP policy says such examinations should be conducted by agents of the same sex as the traveler.
The 51-year-old woman, whose name was removed from the Kelowna Now article about the incident after the story provoked "an overwhelming barrage of criticism" that "impacted her business and family," planned to ride with a female friend from Radium Hot Springs, British Columbia, to Elmo, Montana. At the Roosville, Montana, border crossing, she was questioned by a CBP officer who wondered why she was visiting Elmo, which he described as "Indian country." The woman says she was then separated from her friend and ushered into an inspection building, where three officers searched her motorcycle and her wallet, in which they found a perfectly legal interim motorcycle license that they deemed suspicious. To resolve their suspicions, they said, she would have to remove her clothing and submit to probing of her anus and vagina.
"I said, 'I've done nothing wrong; I don't know why you would need to do that,'" the woman told Kelowna Now. "I got scared. I got really scared. I said, 'Can you please call the police?' And they said, 'No, we're not going to call the police.' They said that they have more power than the police, and the police have no jurisdiction now, and whatever they say goes."
That is not quite true, but according to the Supreme Court constitutional restrictions on searches and seizures are relaxed at the border, where brief detention and questioning do not require any special justification and searches can be conducted based on "reasonable suspicion," as opposed to the usual standard of "probable cause." Reasonable suspicion is supposed to be be based on "specific and articulable facts," "taken together with rational inferences from those facts." It amounts to more than an "inchoate and unparticularized suspicion or 'hunch.'"
In this case, the only basis for suspicion seems to have been the fact that the woman was riding to Elmo, Montana, with a temporary motorcycle license. If that is enough to justify a strip search and body cavity probe, novice Canadian bikers would be well-advised to avoid the United States.
"They took my clothes off," the woman said, "and did an internal cavity search of my body. And it was awful. It was really bad, and I just can't understand. I just kept saying to them, 'How could you do this to a woman? This is not right.'" The search, which took about 45 minutes, turned up nothing illegal. "The part that makes me feel worthless and dirty and crappy is the fact that these people have such incredible power to make a female disrobe and that they can enter their body," she said.
The woman was so shaken by the experience that she and her friend cut their trip short, staying overnight in a hotel before returning the next day to Canada. After crossing the border, she was pulled over for speeding by an RCMP officer, who after hearing her story "comforted her and set her up with victim services in Canada." She said she repeatedly tried to lodge an online complaint with the CBP, but her report kept disappearing when she tried to submit it.
CBP spokesman Jason Givens declined to comment on the incident, citing privacy concerns, but confirmed that a female traveler should have been searched by a female officer. "Customs and Border Protection takes complaints very seriously," Givens told Kelowna Now. "If a traveler feels they have been mistreated or that the inspection was not conducted in a professional manner, they should ask to speak with a CBP supervisor immediately."
[Thanks to Mark Sletten for the tip.]