Rand Paul: I'm 'the one candidate that doesn't want to make the sand glow in the Middle East'
The senator talks about his Audit the Fed vote tomorrow, why he belongs on the main debate stage, and how the GOP 'needs to become more diverse, not only ideologically but ethnically as well'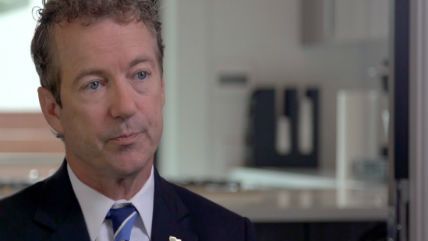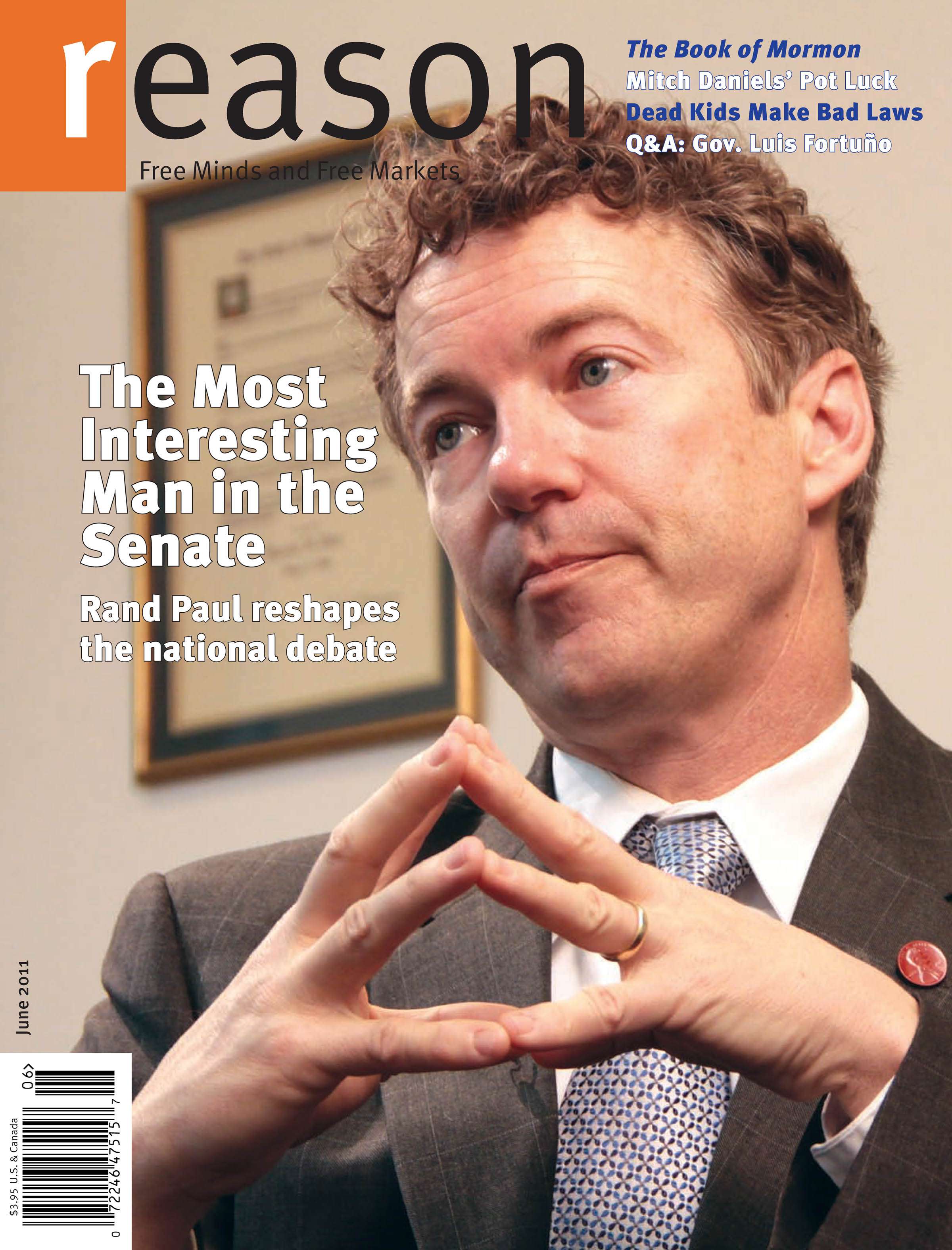 Tomorrow, the United States Senate is scheduled to make a procedural vote on the Federal Reserve Transparency Act, sponsored by Sen. Rand Paul (R-Ky.). The bill, co-sponsored by 24 Republicans (including fellow presidential candidates Ted Cruz and Marco Rubio), has been a core goal of the Paul family for more than a decade, but faces an uphill battle due to some Republican skepticism, including from Senate Banking Committee Chair Sen. Richard Shelby (R-Ala.). Paul co-wrote a piece about the legislation for Reason last August, and has a new one out for Time as well.
I interviewed Rand Paul about the bill on SiriusXM Insight this afternoon; we also touched on Donald Trump, this week's GOP debate, and the policies that separate the "libertarianish" candidate from the rest of the field. Here's a transcript:
MW: You've got an Audit the Fed bill teed up; tell us about its likelihood and prospects for passage.

RP: Well you know I've been trying for five years to get Audit the Fed up for a vote; I tried for four years with Harry Reid without a whole lot of luck—in fact we even reminded Harry Reid that once upon a time he was for auditing the Fed, and had given speeches on the Senate floor in favor of auditing the Fed, but we never had any luck. But we are getting a vote; it'll be tomorrow at 2:30.

We think the Fed is probably the largest bank in maybe the world, and also the most powerful, and controls a lot of the aspects of whether or not the economy will thrive or fail. And I think as a government institution, or a quasi-government institution that was created by Congress, that we ought to have oversight, and we ought to have transparency.

The bill has passed a couple of times in the House, with virtually every Republican and a hundred Democrats. It's been largely uncontroversial the last two times it's passed in the House. But in the Senate we've had a difficult go of it, and the Democrats have made it kind of partisan. I think we will get Democrat votes, but I guess it's unknown whether we will get enough votes to get to the 60-vote margin.

MW: Do you think it's going to be unified Republicans on the Senate side?

RP: I think three-fourths of Republicans are for it, and…we're suggesting that people call their senators and let them know that they're going to be unhappy if Republicans don't vote for this. But I think there are some establishment Republicans that we will lose, and that's part of the problem; frankly that's the problem in Washington, is that about a third of Republicans up here have given up the power of the purse to side with the Democrats. And it may well happen on this Audit the Fed vote, too.

But we'll see; we're still pushing hard, and we're hoping to get all the Republicans. We'll find out tomorrow.

MW: Let me have you run quickly through [one of the] most common objections I hear about this… [Which] is that, "Hey look, yeah, the Federal Reserve is kind of opaque, and it's at an arm's length, but we wouldn't want the House of Representatives to oversee such an important financial institution. Sometimes you need to have some kind of layers between voters and the Federal Reserve, or even other institutions of government." What do you respond to that?

RP: Well you know the Federal Reserve pays about $12 billion in interest payments to very, very wealthy banks in our country, and I think there should be oversight on that, whether it's a good idea or a bad idea. That money basically exacerbates income inequality, in that the Federal Reserve, when it creates money, gives it to very wealthy people. By suppressing interest rates, [the Fed] makes it harder for average people to make money in an interest-bearing savings account. And that the people who make money are those who can trade in the commodities and assets which are being run up and bid up by the Federal Reserve at this point.

So no, I think there is every reason why there should be more oversight, and I don't think that many Americans really will accept that argument, that we shouldn't shine some light on the Fed.

MW: What do you expect to find there? I mean, this is something your father has been working on, you have been working on for a long time. You know, it's like the gold in Fort Knox–what are they building in there?

RP: Well, the asset sheet is what the Fed holds, and before 2008 they held about $1 trillion worth of assets. They bought during the crisis $4 trillion worth of assets. We did discover what some of these assets were, but only because we had an extraordinary one-time audit, and we determined that $16 trillion was used to bail out banks in the 2008 period.

We also determined—but we haven't determined which countries—that foreign banks were actually bailed out, and foreign countries were actually bailed out. And that, really, should be public knowledge; they shouldn't be able to make decisions on trillions of dollars. I mean, you can put it as simply as this: What if it's someone's brother in law [who] owns the bank? Wouldn't you want to know that?

Now, the Fed will say they itemize all of these assets on a sheet of paper, but they don't break down which mortgages are included in this bundling, it just says "Item 5329" or whatever. And so I think there's a lot of information that should be known.

There's been kind of a revolving door, and it's kind of united the left and the right on the Fed, because very wealthy bankers go to work at the Treasury, and then they go to work at the Fed, and then they go back to Wall Street. And so there are people making money off this system; it isn't simply a benign system where everybody has, you know, the taxpayers' best interests at heart. There may well be conflicts of interest, and when there are, and when people make, you know, $100 million a year off the banking system, shouldn't we know whether or not any governmental policy is aiding and abetting that?

Reason

MW: […] You were supposed to hear today, right, from Fox Business Network about who is going to be at the adults' table at the debate…; you were kind of on the bubble of that conversation right now. You have pre-announced that you won't be taking part in the debate if you are not on the main stage, is that correct?

RP: Well, we have a first-tier campaign. We've raised $25 million, we have college campuses organized in 400 colleges around the country, we've organized all 20 college campuses in Iowa, we this week announced a thousand precinct chairs. So that's not really a second-tier campaign. And we don't think the media should have the power to artificially decide who has a chance and who doesn't have a chance. […]

The recent polling—actually the last half a dozen polls have shown us in fifth or sixth place; in fact CBS national just last week had us one point out of fourth. And so we just don't really think that either the party or any kind of media should get to decide who gets to participate, particularly with only about three weeks to go. I'd rather let the voters kind of decide the tiers after the election.

MW: […] One of the propositions that you've always had in your campaign is that you, kind of uniquely in the field, can appeal to independents, to Democrats, to people who just don't exactly fit in, to theoretically a lot of people listening to the SiriusXM Insight Hour with us right now. And then this thing called Donald Trump kind of escalatored down into our lives, and whatever you think of Donald Trump—and my thoughts are not charitable—he has appealed to a lot of independents and fence-sitters and Democrats….What's working for him?

RP: Well, you know, there's a variety of types of independents, and we still think that there's a great deal of independents and youth who don't like the government collecting all your phone records; we think that we attract them to the party. We also think that young people and independents don't really want the government locking up young people for non-violent drug use; I think we appeal to those as well. And then finally we're the one candidate that doesn't want to make the sand glow in the Middle East; we don't really want to carpet-bomb cities, thinking that somehow killing civilians is going to allow for less terrorism.

So we think we do have a unique voice, and I think that unique voice not only attracts independents but it's really the future of the Republican Party surviving, is [that] it needs to become more diverse, not only ideologically but ethnically as well. And so our advocacy for criminal justice reform, for reinstitution of voting rights for those who may have committed a drug felony in their youth, we think all of those things actually means that the Republican Party would be really foolish to try to push us out.

MW: […] Would the prospect of a Donald Trump-headed party…do some kind of lasting damage to the Republican brand on precisely these fronts? He…doesn't want to just expel 11 million illegal immigrants, but 4 million of their legal kids; it's a different kind of campaign than we have seen in a long time. Do you think that it would do, on those kind of questions and for those kinds of people, lasting damage to the brand?

RP: I think it's a little premature. Until he wins a primary, I think it's kind of premature to speculate. I think that there are a lot of other choices out there, and people have libertarianish choices like myself, they have choices of people like myself who don't want to lock everybody up for non-violent drug crimes, or send them to war in the Middle East. I think we just have to wait and see how the voters vote on this. But I think it's premature to speculate on any kind of nominee.

All of the things you mentioned, mass deportation and rounding people up, are things that I'm opposed to, and I think as people see that there are choices, I think it'll be interesting when the votes are counted up. But I think we have so much air time for people to discuss things, that we've spent a lot of time speculating on Donald Trump, when in reality, we ought to–let's have a fair fight, let's have all the voices heard, and then if someone gets more votes, then we'll kind of direct it in that direction.
Reason TV interviewed Paul in June 2015:
Others interviews include October 2014, July 2014, and March 2011. More from the archive here.